Lee Grant's assessment of cricket results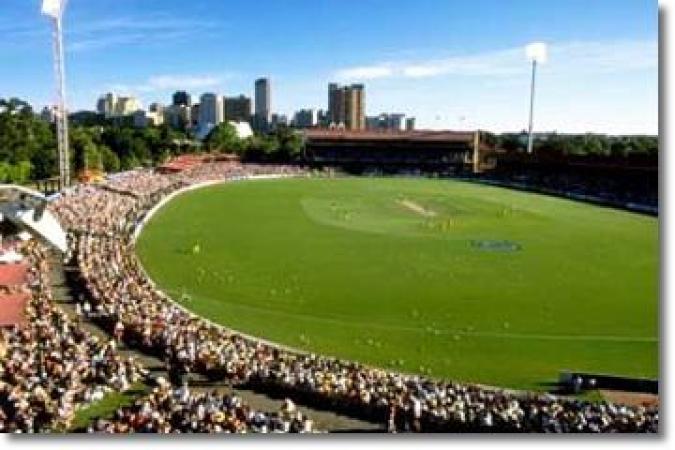 Exciting Cricket
By Lee Grant
April 23 2004
India was involved in two big tours to Australia and Pakistan during the period. The hard-fought series in Australia was drawn and India had a rare overseas victory against inexperienced but talented Pakistan team. The outstanding series in Oz was drawn but the visitors had the best of it. On the other hand, Oz could have won it except for a couple of cheap dismissals, to Tendulkar of all people, around tea on the 4th day at Adelaide. They were going aggressively for the runs to get time to take 10 wickets later but they over-amped and lost whereas, in wonderful hindsight, a draw would have won the series.

The Indian batsmen were supreme in the series but the bowlers lacked the ability to bowl Oz out twice, except as explained, in Adelaide.

However, India discovered a considerable seamer talent in 19 y.o. Irfan Pathan. Even the Queensland B team before the first test said to watch out for this fellow who was reminiscent of Wasim Akram and even better at the same age, they said. He has carried his form into the Pakistan series and is also showing us that, like the great man, he can handle a bat as well. Balaji had a good series in Pakistan, and Kumble was good in both tours.

Sehwag also showed signs here that he is more than a cartoon opening test batsman and this was confirmed by his triple ton at Multan recently. Unlike Oz opener Hayden who strides to meet the bowlers, Sehwag bats deep and assaults them after getting better aim. They are unloved equally by the bowling fraternity. The other opener Chopra is a different player but has become an excellent foil to his manic partner. He was dropped for Rawalpindi but will be back.

Dravid and Laxman were superb in Oz and we wondered how to get them out but never found a convincing answer. Even SRT came back in the final test for his highest test score after being strangely out of form. Until then it was like watching Tiger Woods driving into the rough, hole after hole. Yuvraj Singh showed us briefly what he could do in the ODIs in Oz. Then when Ganguly was injured he took his place in Pakistan, and with Pathan saved Indiaís first innings in Lahore. When Ganguly became fit for the third test the India selectors dropped Chopra and promoted Patel to open to keep Yuvraj in the side. The lad can bat.

I wonít write about the recent series in Pakistan as we had only 90 minute daily highlights on TV here in Oz but it confirmed that India are the most improved test side in the world now, starting back in England 2 years ago, and have a very well balanced team. I will wait until I see them playing test cricket away from the subcontinent again, against a good opponent, before I pick them as the team to take over from Australia should my fellows stumble. However, after Oz beat them comfortably in ODI tournaments both home and away, they are still far behind us in that discipline.

New Zealand had a good season but it could have been a great one. In a drawn and sometimes negative series in India they saved the first test and had the better of the second. In the meantime a few batsmen learnt how to handle spin. They looked like beating Pakistan at home until Shoaib had an angry hour and the Kiwis collapsed to lose the test series 0-1. In the ODIs they were thrashed in Pakistan, then beat them at home, then smashed South Africa like men against boys. They were pressing to beat the Proteas in the test series too but faltered in the third test when the Kiwi bats performed the difficult trick of making Boje look like a good test bowler. So the series was drawn 1-1.

The Kiwis will be touring England in the NH summer. They lack good openers with a solid technique though Astle could make up for that in the middle order if he has recovered from injury. At home this summer they lacked a third seamer who could earn his place just by bowling. They had to rely on all-rounders to fill this role, and this cost them in the 3rd test. When Bond returns, supported by Tuffey and Martin, this weakness will be overcome. If Styris can keep his super batting form and all-rounders Oram and Cairns perform as well in England as they did at home, the Kiwis, skippered by the excellent Fleming, could embarrass the Poms big time, and I hope they do.

South Africa had a poor season. After losing a short series in Pakistan they thrashed the Windies at home but the Poms have put that series into correct perspective in the Caribbean. The Proteas were whipping boys for the Kiwis in the ODIs and just saved a disastrous tour after Kiwi bats faded to Boje of all people in the third test to draw the series.

One plus for the Proteas is that their no.3 Jacques Rudolph, who I had hitherto labelled as flaky and not of international class in that position, rose in adversity. He will need to keep playing at that level to make up for the retirement of the gentleman Gary Kirsten, who finished on a good note at the Basin.

The South Africans have good players in their team, including a world class-opening pair, and Kallis, the elite all-rounder, and they will come back. Pollock is an world-class bowler who provides enough pressure for wickets at the other end, but the others donít back him up well enough. They need a third seamer to help them to take 20 wickets in a test and a better spinner than Boje, though he got the stats in the last test. They also need keeper Boucher to make runs again and better contributions from their lower order generally. These comments would look silly a couple of years ago.

At the end of the Lahore test and the series 1-1 Pakistan looked poised to stop Indiaís progress but they were smashed in Rawalpindi by a better team and India took the chocolates having beating them earlier in the ODI series. The Pakis managed to beat South Africa and NZ in short test series but like all teams do, they have suffered from the retirements of great players. They have set great store by their seam bowling dominance in the past but they have not been able to replace Waqar Younis and Wasim Akram with bowlers of like ability. Who could? Nor has the retirement of Saeed Anwar helped their batting stability. Nevertheless, it was nearly a great test season for them, but for the last match.

Australia are still rightfully ranked top in both forms of the game. They beat the visiting Indians easily in the ODIs at home but earlier had a difficult time taking 20 wickets in the tests without McGrath and Warne, except in Melbourne. The visiting bats outclassed our bowlers and we were lucky to draw the series Ė but, bowling badly, draw we did.

Oz won the ODIs in Sri Lanka recently, and the test series 3-0, but if the Lankans had held their test catches it would have been closer. In the last five years or so, one of our greatest strengths has been that different players have been responsible for winning or saving matches and the Oz batsmen rose to the occasion in SL as each, in turn, scored well. It wasnít the case with our bowling though and without Warne we would have lost the series.

People are saying that Oz is in decline and they are right, but we are still beating other teams or at least holding our own. It is completely normal that a dominant team in any sport will fade. Oz will always have a good cricket team because our domestic comp is the best in the world but great players win matches and we can never be sure that our comp will throw up great players to replace our present ones, because that is random.

We missed two unavailable great bowlers against the Indians at home and it showed because the likes of Lee and McGill did not step up. In hindsight we found out that Lee was in pain but it was ugly sometimes as he struggled through the crease. The biggest concern for Oz though is our poor spinning depth.

Having said we are in decline, it is relative to a high peak. Other teams still have to beat us. Whoever takes our place whilst we are in transition in the next three years or so, they will have to do as we have done: be consistent and play with composure when things go wrong as they always do, especially in tests.

If others donít step up and we find some new players in that period to replace the likes of McGrath, Warne, Hayden and Gilchrist as their powers fade or they retire, we could be back at the top before ever left it.