Wadekar's winners vs Ganguly's greats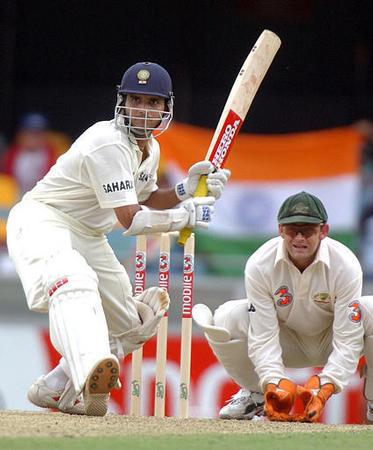 Captain Greatest?
By Gaurang
April 23 2004
The recent success of the Indian team overseas, where they dominated the Test series in Australia and then, not only dominated, but won the series in Pakistan, has people asking whether Sourav Ganguly's team is the best Indian Test team ever? The only other Indian Test team that could arguably be considered in the same league is Ajit Wadekar's from the early 1970s which defeated the two biggest cricketing powerhouses of the day, West Indies and England, in back-to-back overseas series wins.


1. Sunil Gavaskar v. Akash Chopra: There is no real comparison. Sunny, even back in the early stages of his career, was already the better batsman. His ability to leave the ball was as refined as Chopra's but in addition to that he had a rock solid defense to good balls on the stumps and the concentration as well as the range of strokes to make good starts count in a major way. Four centuries including a double century and a century in the same match, in his first Test series, an average of over 154 in that series, plus an aggregate of 774, the highest ever by an Indian in any series, let alone a debut series, make this a "No-Brainer". The winner is Gavaskar hands down.

2. Ashok Mankad v. Virender Sehwag: Once again there is no comparison. Mankad's first class batting average may be comparable to Sehwag's but that's where the comparison ends. Ashok was a plodder, with none of Viru's ability to blast world class bowling to all parts of the ground at a tremendous run rate. Mankad never managed a Test Century in the 20 odd matches he played, while Sehwag has already scored 6 hundreds, including a triple century, in the 20 odd matches he has played so far. The winner is Sehwag by a very big margin.

3. Dilip Sardesai v. Rahul Dravid: Once again there is a mismatch. Rahul Dravid is streets ahead of Sardesai as a batsman. Though Sardesai with a Test average of 40 and a couple of double centuries, including a famous one in West Indies, was more accomplished a batsman than many would give him credit for. The one thing in common they both had, was that they were willing to bat for long periods in the interest of the team. But with no disrespect to this stalwart from Bombay, Dravid wins this head-to-head hands down.

4. G.R. Viswanath v. Sachin Tendulkar: Here the comparison is much, much, closer. Despite the big edge Sachin holds statistically, with a batting average about 15 runs higher than Viswanath's, the gap, if any in their ability is vanishingly small. Viswanath like Sachin was a player with complete mastery of all facets of batting and was comfortable against top quality pace or spin. Viswanath also had an uncanny ability to make his big innings count towards the success of the team. Each and every hundred by Vishy led to an Indian win or a draw. That is a tremendous record. Sachin, however, has been more consistent than Vishwanath, and his batting average reflects that, but when the chips were down, either batsmen would be equally valuable. This comparison is so close that I am very hard pressed to make a choice between these two "Little Geniuses." I however must give the edge to Sachin who is recognized as an all-time legend and one of the modern game's superstars, while Viswanath for all his talent was not thought to be quite in that league.

5. Ajit Wadekar v. Sourav Ganguly: Again the comparison is closer than it may appear from the record books. Wadekar and Ganguly would both qualify among the top 5 left-handed batsmen India has produced. Wadekar was more solid against top class pace. In fact, in England Wadekar was India's best batsman against the pace of John Price and John Snow, the former, according to Gavaskar, bowled the fastest spell of bowling he's ever faced. And Sunny should know, having faced Thomson, Holding, Imran, Roberts, among others. Wadekar however was not as fluent against anything less than top class pace as Ganguly and didn't have Ganguly's silken touch and timing. Wadekar was by far the better fielder, though Ganguly balances that with his utility as a medium pacer with a knack of taking key wickets. The other key area of comparison for this exercise is their captaincy skills. Ajit may have been a better tactician on the field, but Sourav is better at man management and at inspiring the best from his team. Also, Wadekar only won 4 matches as captain, while Ganguly is now the winningest Indian captain of all. Thus the overall edge would have to go to Ganguly.

6. Abid Ali v. V.V.S. Laxman: Here we are comparing apples and oranges as the only thing in common between Abid Ali and V.V.S. Laxman is that they both are Hyderabadi. Laxman is a genuine Test match batsman, one of the best in Indian history, while Abid Ali was an all rounder with utility batting skills, utility bowling skills and excellent fielding skills. The players picked for this position reflect the different balance of Wadekar's and Sourav's teams. Wadekar's team had more utility players and batted deeper though not necessarily better than Sourav's. It is hard to compare such very different players. If however one had to pick, I would pick Laxman, because he is just a more classy player and more likely to win a match through his own contribution than Abid Ali.

7. Farokh Engineer v. Parthiv Patel: Though they look very different, Engineer, big and solidly built, and Patel, small and delicately built, have much in common. For starters they both are quite good batsmen, especially against pace. Engineer opened the innings on occasion and so has Patel. As wicket keepers though they are quite different. Parthiv is small and athletic and dives around like a jack in the box, especially to pace. Engineer was solid as a brick house, and crouched low and close to the stumps to the Indian spin quartet, and was superb keeping to them. Of course he didn't have much chance keeping to pace bowlers in the Indian team, as there were none really worthy of the name in his time. But he did keep to some very fast pace bowlers both for Lancashire and for the Rest of the World teams he was chosen to play for, and showed he was more than competent there too. Parthiv does have the potential to match and even surpass Engineer in his career, if he keeps improving, but at this stage, the edge would have to go to Farokh.

8. Eknath Solkar v. Irfan Pathan: Again the comparison is that between apples and oranges. Solkar was a utility player supreme. He batted very solidly as a left handed foil to Dilip Sardesai on many an occasion, rescuing India from trouble. So much so that in the West Indies they were known as the Laurel and Hardy Act (referring to the skinny Solkar and the rotund Sardesai). Solkar also was very useful with is left arm medium pace, that normally didn't appear like it would trouble Test openers, though he dismissed the very difficult to dismiss Geoffrey Boycott, on several occasions, making the great opener his "bunny". In the field Solkar was the greatest short leg fielder to ever play for India, and one of the best in the world. Irfan unlike Solkar is a genuine Test match left arm pace and swing bowler and has also shown very good technique with the bat. Irfan though has yet to score a Test 50 compared to Solkar who scored a Test hundred and many fifties in his career. This is a very hard choice to make but due to the key role Solkar played fielding against the spin quartet, adding a cutting edge to their already penetrative bowling, as well as his utility with bat and ball, he edges Pathan.

9. S. Venkataraghvan v. L. Balaji: Once again the difference in the bowling balance of the two sides is apparent. Wadekar's team relied heavily on spin, while Ganguly has a trio of fast bowlers who seam and swing the ball. The only fair comparison would be to look at their wicket taking abilities, especially overseas, regardless of the type of wickets. On this basis Venkat who was the leading wicket taker in the West Indies, against a team that included Gary Sobers, Rohan Kanhai, Clive Lloyd, etc. and who then had the best bowling average against England in England, would get the edge over Balaji. This is not to say that Balaji won't develop into a key strike bowler for India in the future, but at this point his compatriot from Tamil Nadu, Venkat, has the edge.

10. Bishan Singh Bedi v. Ashish Nehra: Bishan Bedi with his mesmerizing slow left arm spin is an all-time great, with a record both away and home that is very impressive. There can really be no comparison of the two as wicket taking bowlers at the Test match level. Bedi could also hold the bat a bit, as his rearguard efforts against the pace of Jeff Thomson in Australia, and his Test fifty against Macolm Marshall and the Windies indicate. However one area where both Nehra and Bedi were equally awful was in the field. However, Bedi no doubt would get the nod over fellow Delhi-ite, Ashish Nehra for being a much superior bowler.

11. B.S. Chandrasekhar v. Anil Kumble: This comparison is much, much closer. Both were freakish leg spinners, who didn't actually bowl that many genuine leg spinning deliveries, but rather mixtures of quick flippers, googlies, faster ones, and in the case of Chandra even the odd bouncer! Until recently Anil Kumble's record overseas had been disappointing, though his record at home is second to none. Chandra on the other hand split the 16 five wicket hauls he took equally, with 8 coming at home and 8 overseas. Purely as a wicket taking phenomenon on all types of wickets, I would give Chandra a slight edge over Kumble.

So in the end the score reads six to five in favor of Wadekar's side. This is about as close as it can get. Also as could be predicted, Ganguly's side wins in the batting department, with its awesome line up, while Wadekar's side wins the bowling, wicket keeping, and all rounder slots. It would be a fascinating prospect to imagine a best-of-three Test series to be played at Mumbai, (Wadekar's hometown) Kolkata (Ganguly's hometown) and Chennai (an excellent "neutral" venue) between these two teams. Any takers?