Leave Murali alone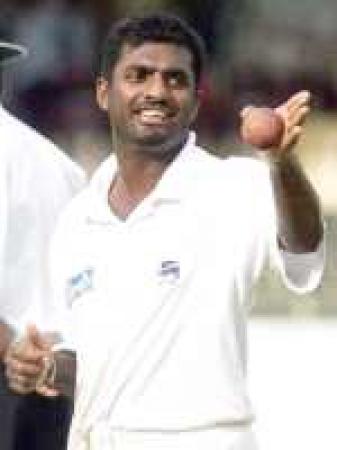 By Anil - 19 May 2004
May 19 2004
Muthiah Muralitharan, who only a year back was declared the best-ever bowler in cricket, and has now become the highest wicket-taker in Test cricket, is embroiled in a controversy right after reaching the landmark. Supporters of Murali, which include not just his fans all over the world, but also great spinners of yesteryear like Prasanna and today's greats such as Kumble, ask a good question: why is it that Murali is being attacked at his finest moment: when he has become the undisputed greatest bowler of the world?
ICC has never hinted at the effort ball of controversial bowlers Brett Lee and Shoaib Akhtar being outlawed in the way they have outlawed Murali's doosra. This is a delivery he claims to have been bowling for over 5 years, yet the Australians -- who initiated the controversy -- and the ICC who responded to the Aussies, have chosen to put Murali through humiliation when they should have been joining the rest of the world in celebrating his achievements.
Meanwhile, politicians have (as is their wont), muddied the waters further. John Howard, the PM of Australia who never shies back from making statements that alternately anger and bewilder the world of cricket, has said that Murali is a chucker, which prompted Murali to announce that he would boycott Sri Lanka's upcoming tour of Australia. In response, Sri Lanka's PM said that his premiere spinner would be defended fully by his government. ICC president Ehsan Mani has, in effect, asked both governmental figures to butt out.
Murali has ended up the most gracious figure in the whole controversy. While it certainly seems that the ICC has singled him out for investigation throughout his career whilst allowing other suspicious-looking actions to continue uninvestigated, even in spite of doctor reports which indicate that the Sri Lankan great has a permanently bent arm, Murali has not allowed himself to get discouraged. People seem to have forgotten that the ICC rules clearly mention the word "straightening" -- something that Murali is incapable of doing. Chris Broad, the ICC referee with a disreputable past as a cricketer, reported Murali for chucking in spite of the fact that ICC laws do not allow a referee to take any action without the field umpires raising an issue. However, there has been no talk of punishing Chris Broad for his contravention of ICC rules.
Instead, this gentlemanly cricketer, well-liked throughout the world, has reacted in a sporting manner which it would be difficult to imagine anyone of his stature in international cricket doing. Charge ahead and keep breaking records Murali -- the fans are with you!