Laxman: Top 10 Career Highlights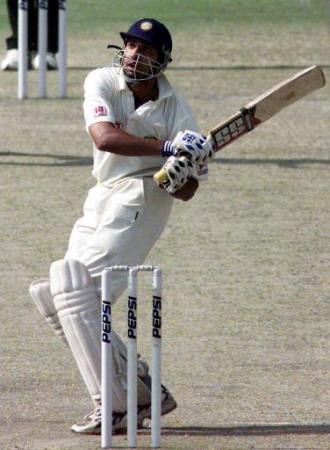 By Rahul Nair
May 27 2004
With the season having quieted down for Team India, ICF invites fans to provide their top ten moments of their favorite player. We start with Rahul Nair taking a short, mid-career look at Venkatsai Laxman's tumultuous career in India colors: 1. With a career in medicine beckoning the son of two doctors, maternal uncle B Krishna Mohan steps in and takes matters into his own hands to set Venkatsai down a career path in cricket. Nobel committee's loss is Indian cricket's gain.

2. Begins knocking at the doors of India selectors with a string of astounding domestic performances. Makes his Test debut against Hansie's boys on 20 November, 1996. Makes an excellent, fighting fifty against a rampaging Donald and Co. on an extremely dicey pitch at Ahmedabad's Sardar Patel stadium.

3. Criticized and dropped from the Test team for scoring attractive 20s and 30s without going on to the big one, Laxman again gets back into the reckoning, blazing ten tons in as many matches during the 1999 Ranji season, with a blistering, boundary-strewn triple hundred thrown in for good measure.

4. A paucity of slots in the Indian middle order then forces Laxman to volunteer for the opening spot for the upcoming tour to Australia. Fails to impress in first two matches, and has a chat with Ian Healy before walking in to bat in the second inning at SCG in a hopeless cause. He tells Ian, "I think this is the last time I will ever represent my country. Guess I am not good enough." Healy replies, "All of us here have heard so much about your talent with the bat - we want to see that for ourselves. So if this is going to be your last match, please play a great knock so that we can all witness your skills with the bat..." Laxman goes on to score a legendary counter-attacking 167, smashing 27 fours off Lee, McGrath, Fleming and Warne (with Sourav Ganguly's 25 and extras at 21 being the next highest scores).

5. Has a quiet 2000, but hits a blazing fifty in the first inning of what looks like another lost cause in the second Test at Eden Gardens, Kolkata against the Aussies who are on an unparalleled Test-match winning streak. Promoted to #3 for the second inning in place of an a typically faltering Dravid. Proceeds to hit a career-best 281 with Dravid and bat Australia out of the match and series. Ranked as one of the all-time best knocks in the history of cricket by Wisden Almanack.

6. Hits crucial fifties in both innings of a good away win by India over West Indies at Queen's Park Oval. India win the Test by 37 runs.

7. The shotmaker makes way for the responsible fighter who hangs in there for a painstaking unbeaten century at Eden Gardens to ensures a draw in the mast match of the series for India against the West Indies.

8. Again bats India out of trouble, this time against Fleming's Kiwis at Mohali, Chandigarh with an unbeaten ton and a half-ton in the two innings of India replied with to a mammoth kiwi total of 630/6 declared.

9. A very classy and typically strokeful 148 at Adelaide enables Rahul Dravid (his old comrade-in-arms) and Agarkar to lead India to a win against Steve Waugh's Australians in their own backyard. He follows it up with a brilliant 178 at SCG but a series of umpiring goofs and wicket-keeping gaffes lets Australia escape with a draw.

10. Celebrates his marriage to computer analyst Sailaja with a superb ton in the finals of the Samsung ODI series that clinches India's first series win in any format in Pakistan. Also helps Dravid (yet again) to set up India's win in the third and deciding Test at Rawalpindi with a remarkably astute and strategically sound counter-attacking 71 with 12 boundaries after Tendulkar is dismissed for a single and Akhtar and Sami have their tails up.