Knocking Around The Nets - Volume IX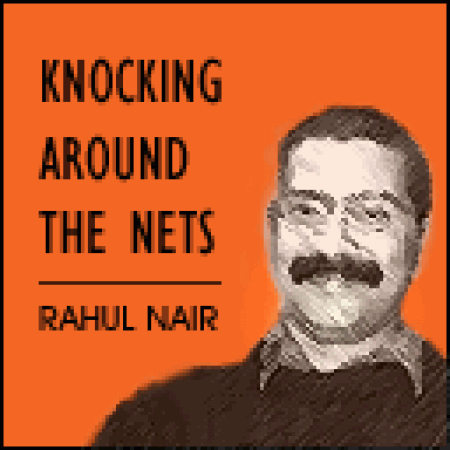 By Rahul Nair
June 6 2004
There have been reports that things were more twisted than Muralitharanís fixed flexion deformity-ridden arm in Zimbabwe. An expected walkover in the Caribbean is turning into the arrival of an emergent team and, possibly, Laraís swansong. At Lordís, Hussain anchored a superb chase and then gave up his England cap. But the most scurrilous rumors came from Delhi that Gibbs and Boje would be questioned by the Delhi police for their complicity in Cronjeís match-fixing ring.

BACK IN CRICKETING WHITES
Some good news came for Team India fans, when Zaheer Khan turned out for Surrey with Harbhajan Singh to shortly follow him by playing a few matches for Lashings Cricket Club. While the joy was short-lived in Zaheerís case (and even shorter in the case of Harbhajan, since the most recent reports say that he will not go to England and will prefer to attend the Bangalore training camp instead), since he had a sensational start but has pulled out due to injury yet again, a lot of folks have been wondering if Khan will ever recapture the form that made him Indiaís premier strike bowler in recent times. To answer this letís look at some bald facts: Zaheer Khan is only 25 years old. He has played 29 Tests and 82 ODIs in about three and half years. Considering that Shoaib and Sami and even the likes of Agarkar and Nehra (not exactly what one would call express bowlers) have played less cricket than him over a longer period of time, with less wickets and at a higher average and lower strike rate speaks for itself. Also, his injury (from all appearances) seems to be the hamstring (a muscle injury). Since it has nothing to do with skeletal tissue damage, it is not inconceivable to assume that he will be back with a bang.

Maybe Khan needs to change his training habits, since heís more powerfully built than any other Team India bowler and what works for them may be not good for him. But Team Indiaís world-class physio/trainer team should be able to sort this out soon enough and provide Zaheer with a regimen more suited to his body and his strenuous bowling action. Given the ridiculous amount of ODIs that BCCI makes the golden goose called Team India play and the possible increase in the number of Tests per year under a revised ICC schedule, it is not inconceivable that the likes of Pathan and Balaji will also be injured sooner, if not later. This could eventually lead to a system of forced rotation for the fast bowlers, like in baseball, where, as coaches and managers came to grips with increased match play and the physical limits of pitchers, it evolved from 3-man to 4-man to the current 5-man rotation for starters. India has a reasonable pool to do this from with Agarkar, Nehra, Irfan, Balaji, Khan, Salvi and Bhandari, with youngsters like Patel, SS Paul, Usman Malvi and others coming through.

OF SMELLY INDIAN JAILS
Herman Gibbs, a self-appointed authority on the Indian judicial system has expressed concern over the possibility that his son, Herschelle, may be questioned or remanded to ďsmelly Indian jailsĒ by the Delhi police over his involvement in the match-fixing scandal with the late Hansie Cronje. Considering that the aforementioned jails are not exactly meant for tourists, his umbrage is not only surprising, but downright ridiculous, since his son, by his own admission, broke the Indian Penal Code and never had to answer for it. When such great stalwarts as Azharuddin, Jadeja and Mongia have become personae-non-grata, why shouldnít Gibbs be at least required to explain his actions in the courts of the country he broke the laws of? For the record, Delhi Police Commissioner Dr. K. K. Paul has categorically denied that any correspondence was generated from Delhi police concerning charge sheeting or questioning any of the South African players. This is the same Gibbs (Herschelle, that is) who didnít think there was anything wrong in smoking pot when touring the Caribbean.

TIGERSí CALYPSO
Habibul Basharís pack of Tigers made the off-color West Indies side huff and puff through five days intermittently affected by rain and pulled off a draw. This prompted skipper Lara to first castigate the selectors for not picking a spinner, then the Beausejour Stadiumís curator for not preparing a wicket better-suited to his five-prong pace attack and, lastly, to dramatically announce that if they didnít win against Bangladesh at Kingston, Jamaica, he would step down as skipper. If this was an elaborate ploy to motivate his team-mates, it has not worked, since the Tigers wriggled back from a perilous 145 for 6 at tea to a reasonable 264 for 9 at the end of the first day. The pitch has something for the disciplined bowler, a virtue thatís more in abundance in the young Bangla side than the West Indies. One imagines that the statement may merely be the set-up for another Lara special.

LAST WORDS
Letís hope that Muralitharan keeps his dignity and refrains from releasing ďpersonal statementsĒ that he believes his ďdoosraĒ is legal in the face of overwhelming evidence that it is not. In any case, it will be very interesting when he does tour Down Under.

Letís hope Zaheer Khan has a six-month layoff after which he comes back and bowls some sharp spells.

Letís hope Bajji utilizes his stint at the Bangalore training camp to regain his loop and flight and not worry too much about bowling the doosra. At his peak, he bowled it with the purest action west of Saqlain Ė thatís how a doosra should be bowled.

Letís hope Hussain has a good time in retirement Ė one of the grouchiest, whingiest Poms who has displayed some of the best counter-attacking batsmanship against this columnistís second-favorite team, Australia.

Letís hope Bangladesh draws against West Indies at Kingston signaling the end of Laraís reign.

Letís hope Ridley (the Pious) Jacobs is asked to warm the seat until Ramnaresh Sarwan comes of age. And while we are at it, letís hope Shivnaraine Chanderpaul regains his run-making ways.

Letís hope ICC comes out with a very clear-cut plan vis-ŗ-vis the proposed multi-tier system.

And lastly, letís hope the BCCI doesnít again prevaricate on the issue of contracts. Maybe it is this uncertainty that is causing supposedly sensible folk like Zaheer Khan to return prematurely from injuries. And, for crying out loud, this issue has been roiling since the last time Gangulyís boys toured England.