Yuvraj-Chopra: A good "problem"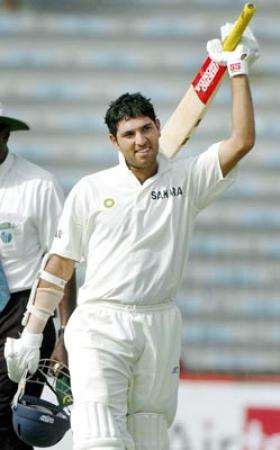 By Gaurang
June 22 2004
Once again India has a problem with its Test opening pair, and once again it looks like a change is in the cards. But this time around, it's a good problem to have. Unlike in the past, when in 36 Tests between India's visits to Australia in 1999 and 2003 thirteen men were used in the opening position, this time the change has little to do with a desperate search for openers who can get the job done, and more to do with the management principle first highlighted by Robert Kriegel and Louis Patler, in their management best seller "If It Ain't Broke...Break It!"
In the last three Test series played, India have found in Virender Sehwag and Akash Chopra, a pair of chalk-and-cheese openers who have allowed Indian fans and more importantly India's vaunted middle order to breathe easier.
The reason is obvious: In eight Tests together so far, they have amassed a combined 864 runs in tandem at an average of nearly 60 runs per partnership. They have amassed four century partnerships, i.e. one every other Test match, and have at least one partnership over fifty runs in every Test they have played except two. That these figures were achieved against three attacks with opening bowlers of proven quality, i.e. Australia , Pakistan and New Zealand is all the more creditable.
Any country would be ecstatic to have a pair as prolific as these two. Yet India's captain, Sourav Ganguly thinks the combination can be improved upon. He proposes to do what the best and brightest CEOs have done: challenge preordained goals, conventional behavior and consensus decisions by practicing innovative rule-breaking, based on calculated and educated risk taking.
The old rule was that if something is working, don't mess with it. This however presupposed that the competition will remain static, and won't adapt. In the real world, especially now with instant access to reams of video and analytical data, it makes complete sense to think ahead of the curve. This is why Ganguly's promotion of Yuvraj Singh as an opening partner to Virender Sehwag is sensible.
Yuvraj is a proven entity against quality pace bowling. He has made batting against the fastest and canniest of pace bowlers, including Jason Gillespie, Shoaib Akhtar, Brett Lee and Mohammad Sami look ridiculously simple. He also has shown a presence and swagger in the middle that can intimidate opponents without even laying bat on ball. In tandem with Virender Sehwag, he can help India demoralize attacks and sieze the innitiative even before they encounter the might of the Indian middle order. If both of them get going, or even if just one of them gets going, the opponent could be in for a long day. This threat can only make the middle order even more effective.
That is a scary thought, especially for opposition bowlers and their captains. In fact the Australian captain, Ricky Ponting, has already indicated that he doesn't relish the prospect of facing two batsmen of the destructive capacity of Sehwag and Yuvraj against his new ball bowlers, when he pointedly injected himself into the discussions surrounding this issue and plumped for the less destructive Chopra.
What will be even more worrying to opponents is that if Yuvraj, for whatever reason, is not as effective against the moving and seaming ball as expected, India can always fall back on the solidity of Akash Chopra.
In fact it may be wise, depending on the nature of the pitch and opposition, for one or the other to be asked to open with Sehwag. Such a "platoon" system should keep each player fresh and eager, using the natural competition between them in a healthy way, to the benefit of the team. And benefit of the team is the captain's main job.
India now face a problem of plenty with their opening pair that just a few short months ago they could have hardly dreamed about, as they struggled to find a worthy partner to Virender Sehwag. Most teams in the world would bless their lucky stars to have a problem like this. The players involved know this, Sourav Ganguly knows this, the Indian team as a whole knows this, even knowledgeable fans know this. Everyone knows this, except the majority of India's chicken little journalists who seem to consider this uncertainty as proof positive that the sky is falling!