Irfan Pathan: Galli Ka Spearhead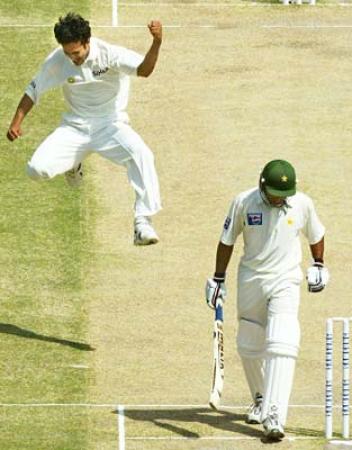 Airborne Pathan
By Gaurang
June 23 2004
19 year old Indian prodigy Irfan Pathan has consolidated his position in the Indian team in a record short span of time, especially for an Indian fast bowler. This article, the third in a trilogy on the aggresive young quickie, looks at his dazzling progress and high promise. Ex-Pakistani batting legend and now ex-Pakistani coach, Javed Miandad in typical fashion, dismissed the promise of young Irfan Pathan prior to India's series against Pakistan, with his condescending statement to the media claiming that bowlers like Pathan are to be found in every galli of Pakistan. When the Pakistan "A" team then collared a wayward Irfan and other Indian pace bowlers on a flat pancake of a pitch in a practice game at Lahore prior to the first ODI, following which India dropped Pathan from the team for the first two ODIs, the taunt seemed to ring true.
At the end of the series, however, Miandad and Pakistan's battery of pace bowlers, were eating humble pie, while Irfan could be forgiven if he took a sip or two of champagne in celebration, his tender age and strict religious beliefs notwithstanding. Anyway the "high" from beating Pakistan in Pakistan first in the ODI series and then in the Tests, while inflicting crushing innings defeats, the second bigger than the first, to wrap up a Test series win over the arch rivals, would have meant that any "buzz" that champagne could provide would have been a pale imitation of the real deal.
Through the course of that series, Irfan's rebel yell was seen and heard umpteen times, while his critics were silenced one by one with his ever improving bowling performance. However, even the most ardent of Pathan's fans couldn't have imagined the progress he has made in the space of six short months, half a dozen Tests, and a dozen ODIs, from when he made his international debut as a raw 19 year old rookie.
The amazing thing about him, as batsmen as talented as Ricky Ponting, Adam Gilchrist, Matthew Hayden, Steve Waugh, Yousuf Youhana and Inzamam ul Haq, who he all scalped, soon realized, is that he swings the ball a lot. Even more crucially he swings it late and swings it both into and away from the batsman. To be so young and possess such a complete armory of the weapons which are the essence of swing bowling is indeed rare.
It doesn't matter if the ball is white or red, if the pitch is brown or green, or if the atmosphere is heavy with moisture or dry as a bone, there seems to be some magic of arm action, seam position, wrist position and pure bowling alchemy that makes the ball swing when bowled by Pathan. Add to that the ability to bowl a mean bouncer, a very good yorker and several improving change of pace deliveries, plus the heart for the fight of a young lion, and you have a bowler who not only keeps things tight, but also threatens to take wickets in almost every spell he bowls.
These traits make Pathan's the first name the Indian selectors and captain now probably pencil in when deciding the make up of the bowling line up. To go from a rookie to spearhead in five Test matches is an almost unbelievable feat that takes a very special talent. The only Indian bowler who can truly claim to have achieved this was another 19 year old kid who also did it against Pakistan almost 25 years ago. Kapil Dev Nikhanj then went on to take 434 wickets in Test cricket. If young Irfan follows in Kapil's footsteps and even takes half as many wickets as the legendary Kapil Dev, India will be superbly served for the next decade or so.
The exuberant Pathan leap and cry, may then indeed be heard from young hopefuls and pretenders, bowling in every galli, building, maidan and mohallah of India and who knows, maybe even Pakistan?