Asia Cup: Woolmer's Whinge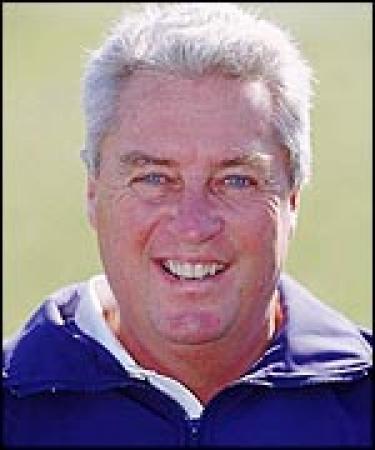 By Anil
July 28 2004
Bob Woolmer comes under fire for his bitter criticism of the rules in the Asia Cup tournament ever since his team was eliminated from the tournament after a thrilling match between the eventual finalists. The ongoing 2004 Asia Cup in Sri Lanka has been contested by 6 teams, but only 3 of them were true contenders. Nobody in their right minds expected Bangladesh, Hong Kong, or UAE to mount a serious challenge to India, Sri Lanka, or Pakistan, and indeed they did not spring any surprises. Thus, everyone knew going into the tournament that it would be the games between these 3 teams which would decide the finalists.
In the end, all 3 top teams lost a game each in the second round, but one was thumped badly: beaten by 7 wickets with a huge 18 overs to spare, after being shot out for 122 runs.
The points sytem had to establish a tie-breaker in the case that the number of wins was the same. Whether it's a bonus point, run rate, or whatever: the important thing is that once a tie-breaker has been decided, each team understands it fully and does its best to progress based upon the established rules. Those rules are part of the game. In this case, it was a bonus point system that rewarded a big win.
Above all, when a team has been eliminated, it should not stoop to criticizing those rules. The focus, instead, must be to learn from mistakes made and improve the next time around.
It is sad then that Bob Woolmer, the English coach of Pakistan who in earlier times was a coach of South Africa during Hansie Cronje's reign as captain of that team, and who is now being paid a fortune by Pakistani standards to bring discipline to their cricket, finds it his job to lead the whinging effort. In fact, he has been the most vocal critic of the rules, even as current members and ex-cricketers of that team graciously concede their loss and praise the efforts of the two teams that did make the finals.
Woolmer has gone on record to complain bitterly about rules that took into account "one bad game" which caused his team to miss the final. I have news for you, Bob: it happens in every sport, when you get close to a final.
If Pakistan wanted to get to the final, all it had to do was prevent tailenders from hitting 6 runs an over towards the end of their match with India. Or it could have put up a better fight against Lanka, instead of capitulating to a massive loss.
Ex-cricketer Javed Miandad, known for an uncanny ability to hold his nerve under pressure during his playing days, said it best today: "Everybody knew about the bonus points system before the tournament began. The rule applied equally for all. If I'd been part of the team now, I wouldn't have raised questions about the bonus point system."
Woolmer would be well served to focus on the job for which he is being paid the big bucks: to bring about positive cricketing change to his team. To do that, he will have to spend several months (at least) with the team instead of taking regular breaks to go back to the comforts of home. John Wright has done precisely that for India, and Woolmer will need to commit himself to similar sacrifices.
Here's hoping that if India wins the final on Sunday, the Sri Lankan coach won't take a page out of Woolmer's book and complain that one bad game lost them the tournament.
Woolmer fumes over bonus points system
Miandad pulls up Woolmer for crying foul over bonus point
'The bonus-point system is flawed' - Woolmer