The Agarkar Conundrum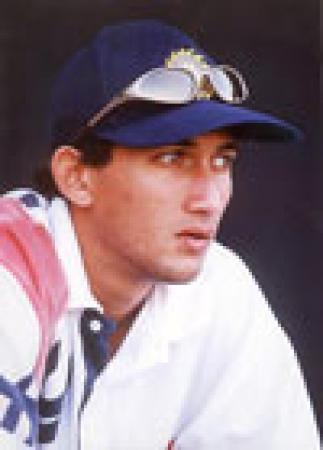 By Jagarkar
August 7 2004
A fan muses on the many faces of an India international who inevitably evokes strong reactions wherever he is discussed: fast bowler Ajit Agarkar. Agarkar is one of the most mysterious cricketers to have ever played the game. He is full of contradictions.
He will score 7 ducks in a row, and when people have counted him out, he will suddenly score a century at Lords.
People will laugh at his strike rate in bowling, and the Aussies will call him a joker. And then out of nowhere, he will take six wickets and bowl India to a historic Adelaide win.
When you have zero expectations of him, he will perform. When you have a lot of expectations of him, he will flop worse than Mithun da's movie. He will give an Adelaide Oval performance of 6-41, and then a 0-116 and 0-46 performance in Sydney.
No matter how badly batsmen massacre him, he always tries hard. He may end up bowling wides, but darn it he always tries.
Even his own wife (who is quite gorgeous) doesn't have faith in his cricketing abilities. When people called her to congratulate on Adelaide, her first question was, "Did he get out for zero again?"
The first match he ever played was on, yep, April Fool's day 1998. He has been fooling his fans, his wife, and his critics ever since by always failing when Indian team needs him and delivering results when no one expects him to.
When they mocked him for his duck in Oz, he replied in absolute brilliant fashion -- he raised his bat after scoring a single. That is sheer genius.
He is a phenom among cricket fans. There are places where you can't even mention his name. He is just refered to as "He".
Three cheers for the perennial trier -- Ajit Agarkar!