Natwest Challenge Preview: England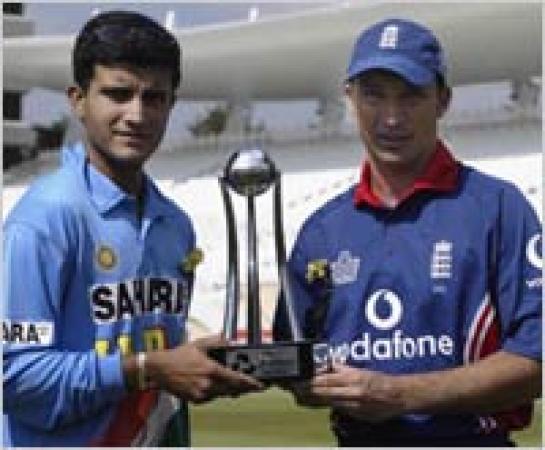 By Chris
August 30 2004
As the ICC Champions Trophy draws nearer and nearer, India embark upon their final preparation, a series of 3 one day internationals against an England team whose one-day performances have failed to live up to the huge improvement witnessed in their Test form over the last 12 months. For both sides, these matches will be vital in solving key questions regarding the personnel and line-up of their side. The forthcoming Champions Trophy promises to reveal much about which international teams have progressed since the World Cup in South Africa nearly 18 months ago, and both hosts and visitors will be keen to show that their side is progressing in the manner expected if they are to challenge the Australians in 2007.
At first glance, England would seem to have the most pressing queries to answer. A visitor to Lords' for the Natwest Series Final of 2003, in which a young, vibrant England side comprehensively demolished a South African previously regarded as being ranked number 2 or 3 in the world, would find their one-day form and selections since then baffling in the extreme. A heavy defeat in Dambulla to Sri Lanka, followed by a washout of both other ODIs in the series, was followed by a patchy series in the Caribbean, in which England again suffered from the rain, but proved themselves incapable of defending a total, twice in two days posting large first-innings scores in St. Lucia, only for the West Indies to overturn them. These defeats were offset by two chases in Guyana and Barbados, and the problems St. Lucia raised were overlooked.
This summer's NatWest Series against New Zealand and the West Indies illustrated the problem exactly. Teams won the toss, put England in to bat, kept them to a manageable total, which was then pulled in with comfort, despite the efforts of Steve Harmison, who took his Test form into the ODI arena. One win in 5 completed matches was simply not good enough, and the Lords' Final took place without the home side. Part of the problem was seen to lie in the proliferation of 'bits and pieces' players, and two of them, Rikki Clarke, a promising Surrey all-rounder whose time may come again, and Ian Blackwell, a beefy Somerset slogger who has simply been found not to be good enough, have been dropped. The third, Anthony McGrath, Yorkshire's purveyor of medium paced swing bowling and a battling batsman, has been retained, although what role he will play is uncertain.
These players have been replaced, and the England side for the Challenge is essentially the 2003 NatWest team with a couple of changes. The batting looks deeper than it did, with Vikram Solanki likely to get his third, and (if he fails) probably final go at the top of the order, alongside Marcus Trescothick, whose one-day form has rarely fluctuated as his Test performances have. Andrew Strauss, the most assured newcomer to international cricket of the past 12 months, will bat at 3, with the captain, Vaughn, at 4. Andrew Flintoff, Paul Collingwood and Geraint Jones will form the late middle order. The batting is certainly vastly improved from earlier in the year.
As for England's bowling, the veteran Darren Gough, believed by some to have bowled his last international ball in the Caribbean, only to be retained for the summer, will take his place alongside 2004's leading fast bowler, Steve Harmison. James Anderson will probably be fighting for the third fast bowlers' slot with Glamorgan's Alex Wharf. Spin, as per usual, will be provided by Ashley Giles, who will be hoping that the improvement in his ability to take wickets in Tests continues into the shorter form of the game. Back up spinner Gareth Batty may come into the equation should pitches prove to be unusually dry.
Put simply, England's team for the second half of the home ODI season looks considerably stronger than the earlier version. The fielding looks set to be sharper, the batting deeper and now that Flintoff is fit to bowl 10 overs of his famously economical seamers, the bowling has a far more complete air. However, some questions are yet to be answered. Is Gough really a spent force? Can England find someone younger with his ability to bowl at the death? Are they too reliant on Flintoff for impetus in the middle order, with Vaughn yet to fire in one-dayers, Collingwood more of a nudging, nurdling player in the mould of Graham Thorpe, and Jones virtually untried? What exactly is the point of Anthony McGrath?