Time to Reopen Aussie Wounds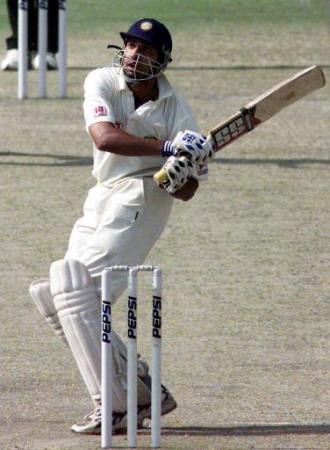 By Blade Bhai
October 2 2004
In the last ten years, India and Australia have squared off five times for the Border-Gavaskar Test Trophy. India has won three series, the Aussies have won just one, and one was drawn. India retain the BG Trophy, and the Aussies have arrived on these shores to try once again. Everyone is familiar with the mental agony suffered by the Aussies in their last tour. Arriving on a record winning streak of 15 wins, they won in Mumbai easily to go up 1-0 in the 3-Test series, had India following on in the next match in Kolkata, and still lost the series. The kind of thrashing given them in the end was unimaginable after the way it had started. That defeat had to hurt, and Steve Waugh and his team are unlikely to ever forget it.
They sought revenge when India toured Australia in 2003-2004. They spoke brashly before the tour started. Justin Langer said that the Indians would be greener than the green in the pitch, hinting at the pace-friendly conditions that Australia is known for. Matthew Hayden, in a bout of temporary insanity, declared that VVS Laxman would flop in Australia. Steve Waugh guaranteed a 4-0 Aussie win.
And then Gabba happened. An Aussie summer of furious Indian defiance had begun. Sourav Ganguly set the tone, thrashing the Aussie fast bowlers to all parts of the ground like club cricketers in their own backyard. Then, in Adelaide, Ajit Agarkar (considered a "joker" by the Aussie players according to their media) produced one of the most devastating spells by a touring bowler to wreck their batting lineup. As a news wag said, the Joker got the last laugh. For good measure, Rahul Dravid and VVS Laxman performed an encore of Eden Gardens. India had gone up 1-0 in Australia, much to the shock and dismay of the hosts.
The Aussies then won narrowly in Melbourne, thanks largely to injuries to key Indian bowlers, and pathetic umpiring by David Shepherd.
Finally, in Sydney the Indian batting erupted like a furious volcano. A miserable Brett Lee got caned for 200 runs in an innings to end up with the worst figures by an Australian bowler at home and India piled up 700 runs and declared in the first innings, a record by a touring team. India ended up taking the BG trophy, and Steve Waugh left cricket a broken man, his goal of defeating arch nemeis Sourav Ganguly unfulfilled. The Aussies were brought down to their knees in their own backyard.
And now, the Aussies are back in India and old wounds threaten to re-open. Their batting lineup isn't looking too strong. Ajit Agarkar owns Justin Langer, having had him LBW 5 times in the last series. Ricky Ponting's injury is a major blow to Australia's chances: he scored 600+ runs in the last series, and will be difficult to replace. In the last 6 test matches against India, replacement captain Adam Gilchrist has averaged 9 runs. Michael Clarke is inexperienced, and may go the same way as Symonds in Tests.
The bowling isn't looking too good either. Aging veteran Glen McGrath is a pale shadow of what he used to be, and last month went for plenty of runs even against the Poms. Jason Gillespie is a class bowler, but will he last for 4 Tests, given his history of frequent injury? Shane Warne, likely still suffering nightmares from the belting he has taken in the past courtesy Sachin Tendulkar and the Mumbai team, has taken the easy way out and refused to bowl to Mumbai this time. This bowler is running scared, and with good reason. In 11 tests against India, he has taken just 29 wickets at an average of 55.
To compound Aussie misery, Zaheer Khan looks fully fit and is bowling with venom. This time they will have to deal with not just the much-feared Harbhajan Singh, but also Anil Kumble who was the most successful bowler in Australia this year, and on spin-friendly tracks. Add to the mix the dangerous Irfan Pathan and unlikely Aussie slayer Agarkar, and it becomes a menacing attack. Of course, there is always the dynamic duo of Dravid and Laxman. The Indians now have an edge in captaincy as well: Ganguly is a sly devil who will have Gilchrist for brunch!
Things aren't looking good for the Aussies. They are mentally scarred from previous encounters against Ganguly's side, and coming off a humiliating loss in the Champions Trophy. The BG trophy and ICC KO trophy are two trophies they don't have, and they have just lost in the ICC KO trophy -- just a preview of what awaits them in India.
I am sure they will find India a very welcoming place. Indians are known for their hospitality. But, in the cricket field, the Aussies are about to find out just how hostile the Final Frontier really is.