Ind-Aus Test 1: Frustrating Day for India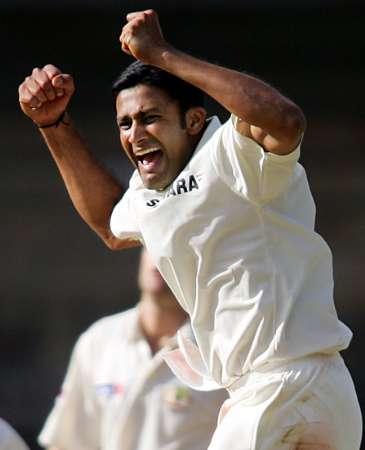 By Taps
October 6 2004
In what turned out to be a frustrating day in Bangalore for Indian fans and players alike, Australia ended their first day of Test cricket in the 2004 BG Trophy at 316/5, with their team holding the edge in this game. There was welcome news for Indian cricket fans in the US, with Dish Network Satellite TV telecasting the matches live after much drama and suspense. Further icing on the cake was that it was available without buying it on PPV -- at least the first day, although it is learned that a package deal of $139 for 3 series may be on the cards. The efforts of Indian fans in the USA (with special mention to ICF) may have gone some way in the match being telecasted.
The day started in exciting manner, with Irfan Pathan trapping Justin Langer in front with the very first ball of the test. It looked plumb, and the bowler's disappointment was palpable when umpire Billy Bowden turned it down. Replays showed that height may have caused the doubt, but Langer was considerably lucky -- that appeal would have been given 9 times out of 10. Langer continued scratchily, not looking at all convincing.
Matthew Hayden, on the other hand, was solid as always. But mention must be made of Pathan and Zaheer Khan's immaculate line and length. There were no loose balls on offer in the first 12 overs, every ball was on target. The normally aggressive Aussies were scoring at just 2 an over! Considering this was a dry, flat pitch with two of the most aggresive opening batsmen in the world playing, it was a good start by the seamers. Their performance probably won't get the praise it deserves because they didn't get the wickets, however they were on target and did not allow the batsmen to get set.
Sure enough, Hayden who looked to be the more comfortable of the two, started to stamp his authority by getting more aggressive. He tried to slog Zaheer, and miscued a couple of shots. Then the very next over by Harbhajan Singh, he tried the slog-sweep, a shot so successful for him in 2001 -- but this time, the Indians had done their homework and Yuvraj Singh, perfectly placed for that shot, took the catch. 1/50.
Simon Katich came in and looked comfortable from the word go. Langer kept nudging away, and these two had a decent partnership. Bhajji after the Hayden wicket looked strangely ineffective. It may that he was trying to bowl slower, but his bowling seemed to lack the zip of his previous legendary series against the Aussies.
Finally, Langer was put out of his misery with an absolutely brilliant yorker by Pathan reminiscent of his idol Wasim. Pathan was routinely clocking 85 mph or above, and seems to have added a yard of pace to his bowling. But Langer had made good use of his luck and completed his half-century.
Katich meanwhile had his own share of luck after being dropped by Parthiv Patel off Bhajji, and then surviving a caught-behind appeal as replays proved inconclusive whether Parthiv had caught the ball cleanly. Mention must be made here of Parthiv's keeping. He looked edgy, jerky and missed a number of leg-side takes in addition to his regular misses. There were several times when Ganguly appeared displeased with the keeping, and Parthiv will need to prove his worth with the bat.
Damien Martyn and Darren Lehmann were both quickly picked up by Anil Kumble, who was his usual dangerous self in Indian conditions. This day, he bowled reasonably well, but bowled plenty of loose balls too. The Indian spin bowling looked increasingly ineffective as the day wore on, a fact that was accentuated when Michael Clarke came in.
India was ahead of the game at 149/4, with a rookie and a newbie at the crease. Yet these two played beautifully to wrest control back. Clarke must surely be the superstar of the coming generation. He was untroubled against spin and pace alike, and played positive, attractive and superb cricket. He added 107 with Katich, who was eventually bowled trying to pull a rank poor short ball, giving Kumble his 400th wicket. Hats off to this tireless worker for Indian cricket on his great achievement. 256/5.
At this stage, a quick wicket would have put India on top. Most teams would look to consolidate and play till stumps with 10 overs remaining and a new batsman walking in on the first day of a crucial series. But captain Adam Gilchrist and Clarke had other ideas. They played their strokes and the last 10 overs produced 60 runs with Gilchrist looking ominous at 35 while Clarke looked classy at 76. In hindsight, this session was the difference between the two sides today.
India has much work to do tomorrow. The match has by no stretch of imagination slipped from their hands, although the final session did put brakes on their ascendancy. The need of the morning will be to display the same spirit as the pacemen showed today and get an early wicket. These two are the last recognized pair, and the rest should be easy meat to Kumble and Bhajji. But this partnership must be split early, or Australia will move so far ahead that India will play catch up for the rest of the match, and perhaps the series. The Indian game plan must be to restrict the Aussies to less than 400 and then score big.
All in all, an enthralling day of Test cricket, albeit a frustrating one in the end for India supporters.