The first two days - an Aussie view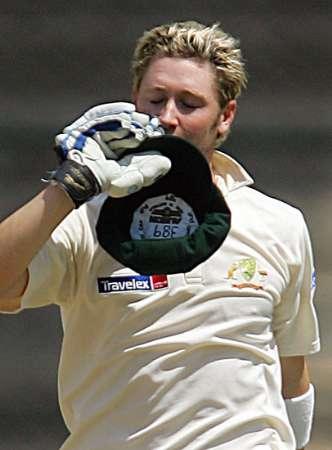 By Lee Grant
October 7 2004
As India seemingly crash towards a follow-on at the end of Day 2 of the first Test of their 4-Test series against Australia, thoughts from an Aussie fan on the action in Chinnaswamy Stadium so far. Day 1
Lucky Langer lived up to his nick-name when he might have been given out first ball to IP. His career has been saved a couple of times with Langer Luck when needed. His career is safe for the time being, even with Elliot in good form for Glamorgan this year, but if he doesnít stop falling over his feet, inswingers will have him on the ropes again, lbw. Was also lucky that Aggie wasnít picked to play.

Another sterling performance from Irfan Pathan and combining well with Kumble. The Bangalore pitch is supposed to be the only dry patch of grass in the city after all the rain theyíve had there and doctored to blunt the 4 Oz seamers, but it stymied the 2 Indian seamers also. Just as well for the Oz openers it did. I have no objection to Indians preparing their wickets for their spinners, but is it legal to use a wire brush to get rid of the grass? Sounds unlawful to me, or at least unseemly. Unseamly, certainly.

I doubted the ability of Katich to play at 3 but what do I know? He had a terrific innings in Sydney against India so I shouldnít have been too surprised. His temperament made the other first 5 batsmen look like chooks running around with their heads chopped off. He is not a compact man but plays compactly. I would like his first stride to be longer but he is so light on his feet that he can make a second one and stay in balance. It was a disagreeable way to get out but thatís cricket. Langer would have got 4 off a bottom edge to that ball - between keeper and stumps to third man.

Full marks to the great Kumble for getting his 400th test wicket. The ball he bowled to dismiss Katich didnít have lipstick or any other makeup on it, in fact it was ugly, but the great fighter will put that one in his bag with a smile. Well done.

That was the worst test innings I can remember Lehmann playing. His mother is very ill and I know he is distracted but it was a poor innings from the Boof. Martyn was on the verge of being dropped when we toured SL earlier this year but he made a century and came through. After watching his panicky dismissal he might need another one. If Katich and Clarke keep playing like that in their next 3 innings either Boof or Marto might have to go when the Punter comes back for the third test.

I was going to write last week about why Brad Hodge should get Pontingís spot. It made sense. The patient run accumulator has had a good FC batting average recently, including 67 last summer in Oz and 62 for Leicester this year, plus a test match temperament, albeit untested, if you know what I mean.
I was going to add that it should not be Clarke, the exciting ODI player, who had only 3 FC matches in Oz last summer because of ODI duties and averaged a measly 35 for Hampshire. In his career he averages 10 runs less than Hodge in FC matches Just as well I didnít make that post, and expose myself as a poor judge of cricketers.
Clarke was terrific in his debut innings with twinkling feet though with a steady head, and sometimes looked like a RH Neil Harvey. And the ďPupĒ has the impudence to admonish his skipper Gilchrist for a windy whoosh!! The most impressive thing was his temperament, as though he played in sub-continent tests with a roaring crowd all the time. Heís had this attribute since his teenage years but it hadnít translated into FC results. Maybe this is his quantum step.
Day Two
Clarke was teary-eyed when he was presented with his baggy green cap by Shane Warne on the morning of the first test and so were his parents on the second when their son got his ton in his first test innings - and grandparents too, and a sister was bawling in Sydney. Who said Aussies were unemotional? What a knock! What a future! And letís not forget the 50 runs after the ton.

Gilchrist bludgeoned the bowling like a robber with a mask whacking people on the head for their wallets. A pity he was peckish for his chicken salad at lunch and scooped a ball to Harbhajan who took a nice catch.

Talking of whom: yeah, Harbhajan got a five-for, and good for him, but he looked out of form against the specialist batsmen. Where is the dip of 3 years ago? Where the confidence? Maybe Iím wrong; could be, after all, five-for is good stuff in test cricket. And even if Iím right it doesnít matter: itís early days for the Turbanator in this series. Early days.

McGrath comes in rolling his arm over and easy pickings thought India fans, after all the old bloke is over the hill; everybody in India said so, but Chopra and Dravid are soon walking back. Dravid!! As commentator Jones said: a month late on the shot, out for a duck. Itís like the sun not coming up in the morning. It was a jaffa, and when McGrath comes back he strikes again - Yuvraj; then is it a plumb lbw against Patel? No, but these things even out.

In NSW we had this rugby player who didnít have the natural talents of others but he was strong and loved a scrap. Opponents found out that he was brave in adversity, was always at them, had a high work rate and was a great team man. That was Simon Kasprowicz and his bother Michael has the same attributes in cricket. He gets rid of Sehwag trying the Tendulkar wristy on-side push-drive but Lucky Langer is in the right spot. Then Kasper gets Ganguly who was looking fine: all bent over and walking sideways and poking the ball to the off through the gaps like a witch with a broomstick, but nicks one this time to Gilly who is having a great day as skipper.

Only Very Very Special is left of the batsmen. Warne is not the bowler of other years nor even as good as in Sri Lanka earlier this year, but Laxman misses one whose only merit was hitting the top of off.

Thus: India 150 for 6 and needing 124 more runs to avoid the follow-on. Gilly if you are in a position to make a decision, do not enforce the follow-on if the weather forecast is OK. Instead, bat until lunch on the 4th day unless there is an early collapse tomorrow in which case bat only an hour on the 4th day. Hear that Gilly? Gilly?