Aussies in Control, India still Fighting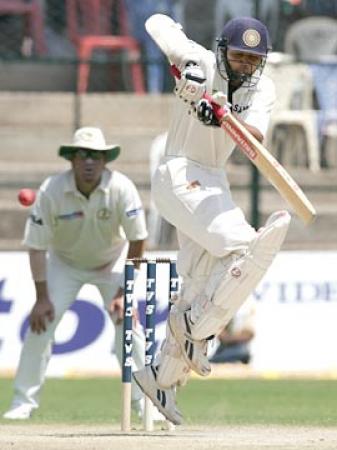 By Taps
October 8 2004
At the end of day three, the Aussies were well and truly in control but the Indian performance today suggests that this series and the next two days are going to be hard-fought. The day started with Patel and Pathan hanging on bravely and playing cool, calm and composed cricket. So steady was their batting that there wasn't even a appeal worth shouting for in the first 90 minutes of the day. Patel impressed with his dour display of guts and application, while Pathan's batting showed signs of great potential in the coming years. The two put up a 50-run partnership, but more importantly played for time and consumed plenty of overs. If India do manage to save this test, this performance will be a primary reason for doing so.
Pathan, looking the more fluent of the two was finally out to a pathetic decision by Bowden. The reason I use such a strong term is because of his reaction. If he had given Pathan out immediately, I would have been miffed but at least assumed that he just totally misjudged the edge. In this case, his decision seemed to be prompted solely by the prolonged appealing, and that's upsetting because the decision seemed to be based on the appeal than his own conviction.
Kumble and Parthiv hung around for a while and once the new ball was taken, India's innings came to a close at 245. The Aussie fast bowlers maintained a good line and length and Warne looked ineffective.
The Indians came out firing, perhaps buoyed by the fighting performances of young Patel and talented Pathan. This time, Pathan got Langer in the first over, again a border-line decision. Bowden has been inconsistent in this match and that's the biggest problem with him. Pathan and Zaheer were bowling well and then Bhajji produced a brilliant piece of fielding to run-out Hayden. Katich came, played a few shots and edged one to Dravid while Bhajji got rid of Lehmann who played another scratchy innings. The Indian bowlers looked very focussed and bowled well today. Also, they kept Martyn and Clarke reasonably quiet till the end of the day.
The pitch doesn't look very good but it is in fact placid and if it stays that way, India are in with a chance of saving this test. That raises an interesting question -- how much will Gilchrist be comfortable with? Will he score another 100 runs and declare, leaving India to face 5 sessions? 450-500 in 5 sessions is achievable, although it has never be done. Or will he delay the declaration until tea? Either way, India batting has to click big time tomorrow and on the fifth day.
The Aussies are still firm favourites to win this one. The Indians are down, but not out. Not yet.