Day 4: New headwear for umpires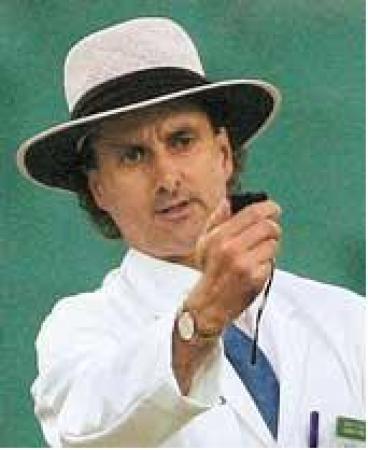 By Thaleel Bhai
October 9 2004
Day 4 of the first Test match between India and Australia was marred by some of the poorest umpiring seen in a long while by both Bowden and Bucknor, most of it going against the home side, as has been the case for most of the match. The case for appeals and technology has never been stronger. I started my previous column, on days 1 and 2, with a discussion about the opening conundrum -- and right now, I'm at a point of pessimism where it doesn't really matter.
Whether our opening partnership is Chopra & Sehwag, Jaffer & Gambhir, Bangar & Das -- it won't matter. All McGrath needs to do is appeal and wait for one of the umpires to raise a finger. At this rate, if he gets one to kick up and hit someone on the glove, he could probably appeal for handling the ball, and still have the appeal looked upon favorably. Someone who didn't see the telecast might find that a touch hyperbolic, but three of the decisions that saw India reduced to 24/4 by tea were nothing short of hypocritical, reeking of incompetence, and made one wonder whether the ICC plans on replacing the white umpire hats with the baggy greens.
Glenn McGrath's appeal against Sehwag was nothing short of ridiculous. Standing closer to Sehwag than anyone else, McGrath should have been more than able to see, and probably hear, the huge deflection off the bat. It led to an excellent point being raised in the commentary box as well. A couple of Australians (led by Adam Gilchrist) have been noted for recently walking when out if they know they've edged one, or like Gillespie, were out fairly in a bat-pad catch, will not even wait for the umpire's decision. But is this just one-sided hypocrisy to perhaps get on the umpire's good side? After all, an instance of Gillespie walking was followed by a series of loud, well choreographed LBW shouts - and who'd be surprised if Bowden and Bucknor also had thoughts along the lines of "They walked when they were out, so they play fair - so the appeal's probably legit." Dean Jones and several of his fellow commentators questioned how honest it was for Australians to walk when they knew they were out, while appealing for balls that no intelligent umpire would have given a second thought to.
While the Australians' attitude is definitely something to be questioned -- and after some of the appeals yesterday, the point was brought up as to whether they can be trusted in the field -- what about those of the umpires? Damien Martyn repeatedly padded up to Harbhajan, and despite half a dozen loud shouts (several of which looked as close as Laxman's LBW call), was not given out leg before. Sehwag smashed one into his pad and was sent to the pavilion; Chopra was struck on leg and middle with the ball angling down leg, and was sent for a walk; Laxman had a full stride forward and padded up in the same manner as Martyn's.
So if Australia were perpetually being given the benefits of doubt when batting, why did the umpires switch to 'trigger happy' mode when the men in blue came out? Bowden and another colleague of his, Simon Taufel, have made points about the fact that umpires get most decisions right. But 'most' isn't enough -- not when technology makes decisions with even more accuracy. If umpires want to keep their jobs, they can't look to the purists or quote a 92% accuracy rate; they need to improve. After all, can brain surgeons or cardiologists stay in their fields with 90% success rates, when they kill 1 in 10 of their patients? Absolutely not. If the current lot can't do the job properly, without being overawed by noise, a sense of occasion and the reputations involved, better get them replaced for something that'll keep cricket as a game of skill -- not a lottery based on who gets the more favorable umpiring decisions.
That said, India still have to take some blame for their performance yesterday. Some things cannot be blamed on umpires. Even though it can be argued that it would have not taken place had Sehwag and Chopra not been given out wrongly, Ganguly needs to improve his running drastically. His Pakistani counterpart, Inzamam, is unfairly made the butt of every joke in the book when running between the wickets is concerned - and I say unfairly, only because Ganguly's just as bad. Dravid was guilty of ball watching, true.
But it says something about Ganguly that batsmen, when faced with the choice of running with a slight injury or pain, or having the captain as runner - have opted to do it themselves. Tendulkar, Dravid and other senior players need to ball watch at times, because of Ganguly's inability to judge singles at times - such is the reputation he has developed. And what's more, in a game where 20 wickets need to be taken to win, we simply cannot give away our wickets. Umpiring decisions are already accounting for 20-30% of them... meaning the rest need to be prized even more heavily. Quick singles that belong in the one day game are of no need - especially when the first objective is simply to bat time.
India's other major issue is the batting of the top order. As I said in the last column, the opening conundrum is nothing new; but once again, the selectors need to think outside the box. Sehwag showed both in Australia and the first innings just what he can do if he gets going, and should remain at the top of the order with his record. However, with McGrath and Gillespie seaming the ball around prodigiously, Akash Chopra has looked at sea. There were several dangerous leaves against McGrath, as he showed no confidence when playing him, and his only convincing shot was a glide down to third man for two. While Chopra definitely has the guts and determination to put this dual failure behind him, India might need to reconsider possible partners for Sehwag.
Yuvraj, despite his attacking ability, cannot open with his mirror dismissals in both innings; caught chasing a wide delivery. Sanjay Bangar, a gritty stonewaller in Chopra's mould, might need to be considered -- and judging by the success McGrath has had by just bowling the ball in at a good length and line at the stumps, Bangar's utility medium pace could be of some assistance too if he were to be recalled.
Ganguly, despite his shortcomings between the wickets, might be another -- in both his 45 of the first innings and his brief second innings cameo, he has shown that he might be starting to put his short ball demons behind him. There were no half-this, half-that shots that so often see him head to the pavilion -- either he ducked, or he pulled, backing himself to send the ball to the fence. Gilchrist's close-in cordon for the fend or slice was not needed as Ganguly took on the bouncer in the first innings with aplomb, and left it well when he deemed it necessary -- and with his fighting abilities, and natural batting talent -- Ganguly just might be one other option to come up at the top of the order.
Perhaps the only positives of the entire day's play were the close in catching and Bhajji's bowling. I had earlier written that if Bhajji took the confidence from a five wicket haul into the next few games, it could do the side a lot of good -- and after his first innings success, Bhajji put the ball on a good line and length, attacked with a beautiful drift and loop and was looking more and more like the Harbhajan of old. There were no spitting cobras needed -- good variation with pace and turn kept Michael Clarke quiet early on, then foxed Martyn and Gilchrist repeatedly, and finally ran through the tail. If India can get runs on the board in the next match and let Bhajji continue to attack with a close in cordon, there might be no limit to the damage he can do to the Aussie top order.
On the close-in catching: Yuvraj's second blinder of the match, a catch plucked out of the air with one hand down low, showed that in him and Chopra, India might finally have an ideal close in cordon to complement the spinners. Rahul Dravid has been an excellent fielder at slip to boot, but it's the close in catching that's really helped India bowl the Aussies out -- Chopra and Yuvraj were nothing less than outstanding at short leg. Both dove when needed to stop vital runs here and there, and took several well judged catches. Seven catches were taken at the forward short leg position in the entire match, quite a few of which were blinders. Chopra took a couple of very well judged ones above his head, making both look easy, while Yuvraj pulled off a stunning dive in the first innings, then topped it with a pluck out of thin air. Despite the batting failings and the struggle so far with India playing catch-up cricket, the close in fielding and the bowling at least has given some reason for hope.
However, as far as this game goes, the only hope India has is in rain clouds. CNN weather might perhaps be run by an optimistic Indian fan, as rain is predicted in Bangalore tomorrow - but as the chances of 90 overs being washed out are unlikely, saving the game remains in Rahul Dravid's hands.
With an abominable record at the Chinnaswamy that needs to be corrected, a reputation for delivering the goods under pressure, and a defiant straight batted defense that can bring hope to Indian fans, Dravid might hopefully be able to bat out however much play takes place tomorrow (and yes, I am expecting rain. Wishful thinking, or a possibility? We'll see.) He also has a couple of able partners, as Irfan Pathan has shown temperament with the bat and an ease against McGrath, Gillespie and Warne that would make top order players in other countries envious, and Anil Kumble just might be able to stonewall for several overs on end without giving the bowlers too much chance.
But looking at the big picture - even if India do get lucky tomorrow, they can't perpetually rely on rain, Kolkata-esque miracles or double hundreds from Dravid (he's scored one in his last three test series - a sign to raise our expectations for the next few games, perhaps). The batting lineup needs to click urgently, and it cannot wait until the third or fourth tests. A few changes may need to be made with a few heads rolling here and there, if India are to make any sort of comeback into this series.