Tribute to Keith Miller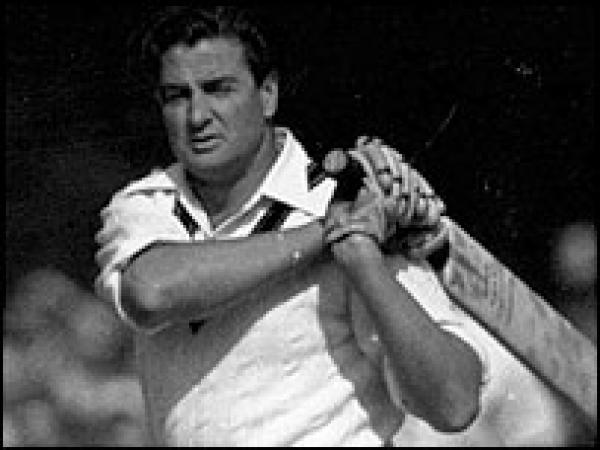 By Lee Grant
October 12 2004
Keith Miller died today at age 84 and people are mentioning what a great player he was and have looked up his stats and mentioned them, but they tell nothing about Keith Miller - 'Nugget'. He lived for many years up in Avalon, not far from where I live in the Northern beaches of Sydney and I often wished I could run across him at the local butcher, or more likely with 'Nugget', the liquor store or TAB, but it was not to be.
Greater than his stats and greater than his affect on Australian cricket was his love of life. He loved a party, loved a drink, loved a bet and loved the ladies in his single days but had no love for officialdom or their opinions on how Australian cricketers should conduct themselves.
He told many tales of his live in the RAF as a Mosquito pilot in "Cricket Crossfire" and the wonder is that he survived to play cricket after the war. He called it "Miller's luck". Mind you, many of those brave men who survived could tell the same stories.
There are many stories about 'Nugget' and hopefully most of them are true. I only say that because they seem too outrageous.
Amongst those I remember is one about when his plane was shot or forced down over England. After he managed to bring it down he wandered to some village and contacted his squadron. When they came to get him they found him fielding in a cricket game on the village green.

He loved classical music and would often whistle Beethoven symphonies whilst fielding. He diverted one of his return flights via the German city of Bonn, so he could see where Beethoven was born.

On the 1948 tour of England he was driving back to the hotel from a party late at night with an Oz journalist and pulled over because he said he needed a drink. He knocked on the door of a complete stranger and introduced himself to the householder who knew who he was and the three shared a 'long-neck' of beer talking about cricket.

He respected but had no great love for Bradman. He came into the team hotel one morning on the tour in evening dress and saw Bradman. "Good morning Braddles," he said. "Good morning Keith." Miller knew he was in for it because they were playing that day and Bradman had him fielding at fine-leg on consecutive overs for an hour or so against some county. Miller speaks to a spectator and at the change of overs there goes Miller riding a bicycle from fine leg to fine leg. Even Bradman had to laugh at that one and he was reprieved.

When Australia had racked up over 700 runs against Essex and Bradman hadn't declared or given the tail-enders a bat, he walked to the crease and deliberately didn't attempt a shot and was bowled for a duck.

In his third first-class game the young Bobby Simpson was to be skippered by 'Nugget' who had missed the first two games. Simpson walked close to Miller when they walked out, to pick up as much as he could of what the great cricketer said and what his field placings would be. All he said about that was: "Scatter".

Michael Parkinson worked with Miller in the 1960s for the "Daily Express" and tells a story about an annual cricket game against the "Daily Mail."
Miller had an interest in a race meeting at Ascot that afternoon and had arranged for a friend to stand by the sightscreen signalling the results as they came in. He was at first slip and Parky was at second. Miller was looking at his friend, who was about to announce the winner of the opening race, when the batsman flashed at the Express' quick bowler and the ball flew to Parky's right hand. It was too quick for him and gave it up but Miller took off, dived across him, made the catch, rolled over, gave Parky the ball and still gazing at his friend at the sightscreen said, "I wonder what won the 2.30."
As for his cricket others can look after his records more easily than I can, but it suffices to say that he was the best all-rounder we ever had. He was an athletic freak and like his good mate Dennis Compton a good footballer - not soccer for Arsenal like Dennis, but Aussie Rules for St.Kilda in Melbourne.
The stats don't show the man or the cricketer though.
When the great 1948 Oz cricket team was in danger of losing their first game on tour against Yorkshire on a turner, he reverts to off spin and Oz win. When he goes in at no. 3 in another game and the English crowd murmurs their disappointment in not seeing Bradman he apologises in dumb show and scores a quickish double ton.

He was not averse to riling a crowd, especially in England. Sometimes he would bowl bumpers just for this purpose - even at his old mate Compton. Sometimes a bumper was not a bumper but a ball bowled with the same grunt and landing in the same place as the previous ball but skidding on slower than excepted toward the stumps.

He was instinctive player and often experimented with a ball he thought of just before his delivery stride. He would also experiment with the bat and hit different shots to the same ball and delighted in delaying shots as if to make it more difficult. He was a great fielder at slip or in the gully but many thought he was the best cover field they ever saw.
As a man he was uncomplicated, consistent and generous. When he was voted into the best Oz XI of all time in 2000 he was appalled. He said he didn't belong with those other guys. We all disagreed.
In his young days he was a handsome dog and was likened to Errol Flynn, a fellow swashbuckler. He was admired by all men who wanted to be like him and also by women who wanted to be with him. He was a superstar of his day and dismissed by some as a show pony but by and large he was loved by all. Neville Cardus, the prince of cricket writers, called him "the Australian in excelsis".
In his book "Cricket Crossfire" he says: "I realise I am quick tempered and not the most reliable man you would wish to meet………I have numerous failings - but then I have never set myself up as a shining example of propriety. Yet whatever my faults, I've no time for the half-truth. I like to call a spade a spade."
Asked about death, at the time of his 75th birthday, 9 years ago, he said: "Never think about it. No regrets. I've had a hell of a good life. Been damned lucky."
That explains why we loved 'Nugget' so much. It is also explained by his answer to a question asked by a journalist about pressure on the cricket field. "Pressure? I'll tell you what pressure is. Pressure is a Messerschmitt up your arse, playing cricket is not".
Great knock Nugget. God Bless.