Australia still the global power? Part I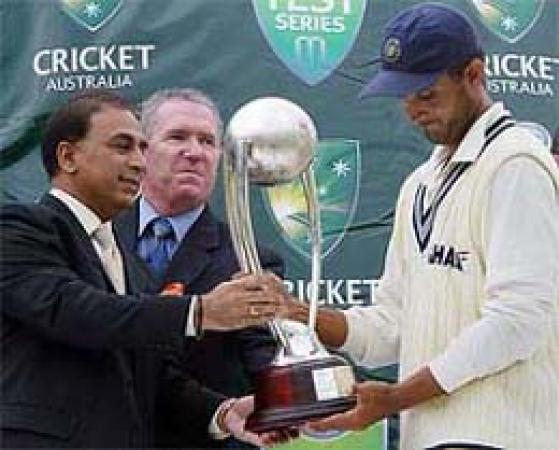 By Thaleel bhai
October 12 2004
Will Australia continue to be the global power in Test cricket at the end of this season in which they play India in India? Part 1 of a 5-part series in which Thaleel bhai looks at that team's credentials. Introduction
After a period of dominating the test arena for an exceptionally long period -- it's been almost ten years since Mark Taylor raised the Frank Worrell Trophy -- the moment when Australia relinquish the top spot in cricket will be one savored by many opponents of the past, all of whom will immediately set their sights on becoming the top test team in cricket.
Australia have had several moments that have challenged their superiority in the longer form of the game in the past - going down 0-1 in an Ashes series in 1997, being trounced by Sachin Tendulkar in 1998 in India, somehow being defeated on their last tour of India when looking at one point as if the series would be theirs 3-0, then almost losing a home series to New Zealand, before the recent epic Border-Gavaskar test series in Australia. Yet, they seem to have bounced back every time, appearing even stronger and more dangerous while most of the world keep waiting for a chance to take over the top spot. Claims that their last defeat in India meant the end of their reign were brushed aside as they hammered England for the umpteenth time, defeated South Africa, and then inflicted a pair of crushing defeats on Pakistan.
After the recent series with India, they went to Sri Lanka in what was expected to be a close battle - after all, they never had won a series there - and ended up with a return to their dominant form, thrashing the Lankans 3-0 in the series - before following up with a similarly one sided series at home, and with the conclusion of the Bangalore test, have won 5 out of their last 7 matches. However, the next five major test series that Australia play may very well rewrite the hierarchy in test cricket, with this series being followed by one against New Zealand, then Pakistan, the West Indies - and finally the next Ashes.
Part I: The Border-Gavaskar Trophy
In the recent past, Australia's supremacy has been mainly challenged by India, who've proved tough opponents - winning 2-1 in their two last home series, and drawing 1-1 abroad the last time they toured. However, despite their continuous lack of success, the Aussies have still persisted - and once again tour with what they hope is a winning formula. The biggest change in their touring formulas though, is the mindset that they're traveling with now. In 1998, there was a degree of confidence - but a great deal of worry about the in-form Tendulkar, who ended up tilting the series India's way in the first test itself with a regal 155. In 2001, there was overconfidence - arriving in India with a 15-match winning streak, they expected to add a couple more to it... and right when it looked as if it would become 17 at Kolkata, ordered for champagne to celebrate. The rest became history, as they were defied by VVS Laxman and Rahul Dravid on an epic fourth day's play, before losing the test match - and the one that followed to lose the series 2-1.
This time though, neither are prevalent. Ponting, Gilchrist and Buchanan have combined think tanks and decided on new plans for the side. Glenn McGrath's moved from the line outside off to bowling at the stumps, batsmen aren't trying to score at 4 runs an over with a sweep everytime a spinner bowls, and Australia now definitely recognize that while India are beatable, they can also outplay Australia on their day - hence a new degree of respect that seems to have been given to the Indians. Instead of coming in with predictions of another thrashing, the Australians are giving every measure of respect possible - right down to admitting that the Bangalore test "wasn't yet over" at stumps on day four, with only 4 wickets to get. However, the newly formed plans have all clicked so far - McGrath has troubled the Indian openers with a balanced field and close catchers both sides of the wicket, and the batsmen's new approach to spin paid dividends in the first innings.
However, the batting lineup that had Brett Lee holding his head in despair in Sydney hasn't clicked so far - although a single test is too little to judge the lineup by. The names though, even without Sachin Tendulkar, have worried the Australians recently - and will do in the future - VVS Laxman, Saurav Ganguly, Virender Sehwag... and of course Rahul Dravid. All have had some degree of success at points against Australia, all are players of genuine class who on their day could drive any bowling attack to despair - and particularly on the Indian wickets, all are more than adept at taking apart even the best attack in the world on their day.
So far though, with the form exhibited in the first test, the Indian batting has not looked to be a major threat to Australia - while the bowling has looked far more dangerous. Harbhajan Singh, the standout performer of the last test series in India, has already struck form in his first test in almost a year, with 11 wickets including a superb second innings performance, and with Anil Kumble fit for this series, and up-and-coming swing bowler Irfan Pathan consistently looking dangerous, Australia would be well served to treat the bowling with more than just a degree of respect.
However, even though India have the bowling to take 20 wickets in a match and the batting to pile up mammoth totals if it clicks, Australia so far has shown that it can match, and potentially outdo India in both regards. Glenn McGrath looks a younger version of himself at the moment -- bowling with more venom and incisiveness than we have seen from him in a while -- but whether he does so when he lands back in Australia, or even at Heathrow in June, might be another matter. For the present though, his forced hiatus has done him a world of good as he looks to be a lethal spearhead in the Australian attack. The old ball has reverse swung prodigiously for him, the new ball has seamed around enough for India to be reduced to 4/2 and 7/2 in their first test, and the maidens are coming one after the other for him.
Kasprowicz has looked just as impressive so far, moving the old and new ball around and breaking partnerships when needed to, while picking wickets up by the handful - and even if one of the three pacers breaks down, Brett Lee's explosive pace is still in reserve. The only bowler who has failed to impress is Shane Warne - which might be a telling point by the end of the series, if the Indians can attack him and use their record against him to pull themselves back into the series from being 0-1 down.
The batting as well has impressed. Matthew Hayden and Ricky Ponting, normally the most consistent scorers for the side, haven't done much - with one not getting off to anything more than a start, and the other sitting out the first two games. However, Michael Clarke stunned the Indian bowlers with a glorious century on debut, Adam Gilchrist is as destructive as ever, and Simon Katich has been a reliable fulcrum at no. 3 so far. The main thing for Australia will be to continue the consistency they showed on the first four days of the test if they are to win, or even draw this series, and retain their standing at the top of world cricket.