Australia still the global power? Part II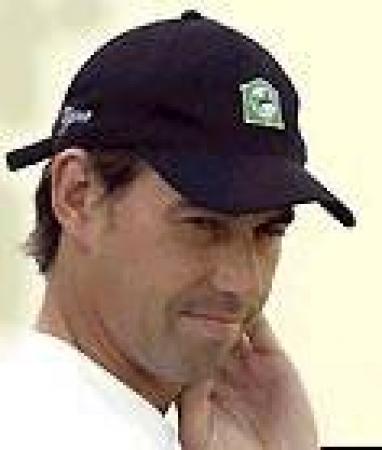 By Thaleel bhai
October 12 2004
Will Australia continue to be the global power in Test cricket at the end of this season in which they play India in India? Part 2 of a 5-part series in which Thaleel bhai looks at that team's credentials. Part II: The Trans-Tasman Series
If India has been the one team to step up and confront the Australians for their top slot in world cricket, New Zealand's been a thorn in the Australian side - making Australia aware of its presence and ability, but never showing enough to actually defeat Australia. But even then, it's been a huge thorn as most Aussies would agree.
Fans who saw the last test series between the two teams in Australia would probably have had fingernails missing by the time the series was over. The tour opener looked to be doomed to a total washout after day 4, when the Kiwi first innings was incomplete - before Stephen Fleming raised eyebrows with a tactical masterstroke. A declaration 199 runs behind, daring Waugh to set a target with 3 extended sessions of play available. Waugh set a sporting target of 284 - which the Black Caps chased down efficiently to the extent that the test match went right down to the wire. 7-8 an over were needed off the last few, and the suspense was that of a one day match - except that in a controversial finish, negative bowling two feet outside off and the umpires' inability to call a wide ensured the match was drawn, with New Zealand requiring just 10 to win at the close of play, with 4 wickets in hand.
If that didn't raise enough eyebrows in the Aussie camps, after a washout in the second test, New Zealand dominated the third with a first innings lead of over 150. From 293/7, New Zealand rebounded to well over 500 with centuries from Astle and Parore, before bowling the Aussies out relatively cheaply. Australia were left chasing just short of 450 to win, and ended at stumps 7 down, and almost 100 adrift - ensuring the series was drawn.
One thing will be certain though - if Stephen Fleming is fit and captaining the side, the Australia/New Zealand test series will be something to look forward to. Not only has Fleming been able to light up a dead test with declarations made with the intent of getting a result for his side, but as a captain, he's firstly gelled the Black Cap side together - and now leads it in a manner reminiscent of Steve Waugh - right down to the sledging. The off pitch exchanges might be one of the highlights of the series, as New Zealand's recent series with South Africa was notable for an incident when Fleming waited until television cameras and mics were off - then proceeded to verbally assault the South African captain, leaving him visibly stunned - and leaving the Proteas to lose their last three one dayers in the tour with some stunning captaincy blunders from Smith. Ponting has been around too long to be vulnerable to such verbal assaults, and as a Waugh protege, could probably return fire at Fleming with as much hostility - and with the "Ugly Aussie" stereotyped reputation for sledging, could make the series good viewing for plenty of reasons other than cricket.
However, after being whitewashed in England and now having had Chris Cairns retire, New Zealand probably would be no-hopers for this series - just as they were last time against an even stronger Australian team. Several of their players do have reputations for rising to the occasion when the occasion means a game against the baggy greens, and many times when they are on the verge of being written off (such as that last series), New Zealand have shocked viewers and more importantly, the opposition.
The major player though for the Kiwis has to be Shane Bond. No doubt about it - despite a horrendous bowling average in test cricket (excusable, perhaps - as the Aus/NZ series was just around the time of his debut), he's been the one bowler in the recent past to trouble Australia - just how many pacers average a shade over 10 runs per wicket in one dayers with 2 five-fors? And what was that news a month or two ago about Bond looking good for a real comeback around the end of this year- just in time for the Australia series? Good news for New Zealand - as with Bond, and Ian Butler in the side, they could have a potentially lethal bowling attack. Tuffey's not one who can be written off with some nagging lines and seam movement, and Butler's been known to bowl at around the 90 mph mark, with the trajectory that comes from being a 6' 6 paceman.
However, Australia have shown time and time again that almost every time a team poses a challenge, they can rise beyond it and still emerge victorious. With Michael Clarke possibly being a name set in stone in the lineup, by the time this series commences, they'll have a top seven to make just about any team envious - both in ability and performance. And let's not forget the bowling - but there's no telling what its state could be by the time December rolls around. Warne might have conquered his Indian demons, and with the Border Gavaskar trophy in hand, the bowlers might be in a frame of mind to run through New Zealand on day one. Or alternatively, if Tendulkar, Dravid and co. get around to savaging the Aussie attack - New Zealand might get the perfect chance to feed on bowling that's ripe for the picking. The batting has looked fairly impressive, with Stephen Fleming reaching new highs as a batsman, Mark Richardson being consistent enough to potentially rival Hayden as the world's top opener - and with players like McCullum and Oram developing in the lower order, New Zealand also possesses major depth that could be called upon.
Its last series though, ending in a 3-0 whitewash to England, has shown that the depth at times is no more than a mirage - with lower or middle order collapses being a common sight in front of the Poms. Steve Harmison, Andrew Flintoff and Simon Jones wrecked the middle and lower orders more often than not with a combination of steepling bounce from Harmy, reverse swing from Jones and some (actually, more like "lots of") genuine pace from all three. Brett Lee and Jason Gillespie will definitely be thinking along the lines of "If the Poms could do it, we can top them" - which might not bode too well for the likes of McMillan, Styris and company. However, if the side can remain injury free this time, New Zealand just might be able to once again give Australia an unpleasant shock. They've proven before that the more that they get written off, the harder they can hit - and with Australia the natural favorites for the series, another New Zealand stunner might just be on the cards.