Australia still the global power? Part III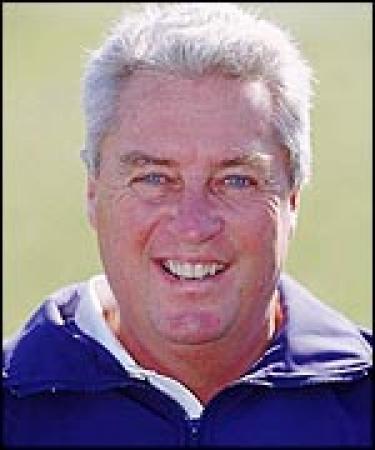 Bob Woolmer
By Thaleel bhai
October 12 2004
Will Australia continue to be the global power in Test cricket at the end of this season in which they play India in India? Part 3 of a 5-part series in which Thaleel bhai looks at that team's credentials. Part III: Pakistan Down Under?
Many Pakistani fans would either cringe or just change the subject if their last series against Australia was brought up. Their two lowest totals in test cricket, 53 and 59 all out came on their home-away-from-home at Sharjah a couple of years ago, against an in form Australian attack which saw them crushed by a substantial margin. And with a poor record against the Aussies recently (losses in their last two home series, and a whitewash in Australia), Pakistan will no doubt be aiming to set the record right - especially as things have changed.
After Bob Woolmer was hired as coach, following a 2-1 series defeat to India at home, Pakistan have started showing genuine signs of improvement. More than just their wins over India, the side's looked like a genuine unit, and the middle order has clicked. In Shoaib Malik, Yousuf Youhana and Inzamam, they have three outstanding players, who have the ability to take games away from the opposition at points - and in Abdul Razzaq, Shahid Afridi and Moin Khan, they have one of the most explosive lower orders around. But this is test cricket - one single century, or a 25-ball 50 won't change the match quite as easily. And even then, Pakistan does have a bowling attack to challenge an Australian top order that still seems to be smarting from the retirements of the Waughs.
However, the bowling will not be too much of a concern. Danish Kaneria is one of the most underrated spinners in world cricket, as well as being one of the most dangerous - and in Shoaib Akthar and Mohammad Sami, Pakistan have raw pace that can stun any lineup in the world. Rana Naved ul Hasan has shown development as a bowler from the caning he received on debut, while both Shabbir Ahmed and Umar Gul are useful seam bowling options.
The big thing though will be the batting as far as Pakistan is concerned. In tests against India recently, the batting rarely clicked - a young, profligate top order threw wickets away often with loose shots and drives on the up - and in Australia (especially at the WACA), there'll be little opportunity for that. And what's more, the record against Australia is abysmal - in the last five test matches played, Pakistan have only topped 300 in two innings, while twice being bowled out in double figures.
With Glenn McGrath in ominous form at the moment, and the option of Brett Lee and Jason Gillespie being set loose on the lethally quick track at Perth, Pakistan's batsmen will have reason for concern. Even at home, they've been inconsistent in the longer version of the game - outside of the odd knock from youngsters Imran Farhat or Yasir Hameed, they've been overly reliant of Yousuf Youhana and Inzamam - who average below 30 and 40 respectively against the baggy greens. Meanwhile, Shane Warne averages under 19 runs per wicket against Pakistan - and he'll be looking at only improving that record.
Much like India were before they toured, Pakistan have to be labelled as the underdogs here, by an even greater margin. India possessed a stronger batting lineup and had the luck of not playing at Perth - which is where Pakistan start their series (while recollecting an innings defeat the last time they played there). Whether Pakistan can emulate India and give Australia the challenge of their lives is doubtful - with the inconsistencies that still remain in the batting, they'll have their work cut out for them - and may need to play out of their skins just to improve on the 3-0 hammering they received the last time around.
But Bob Woolmer and his coaching abilities have shown that some miracles are possible. Pakistan winning a test in Australia will seem unlikely (then again, so might drawing one), but they definitely have the right man in the think tank to guide them towards those goals.