Test 1: The Umpiring Shockers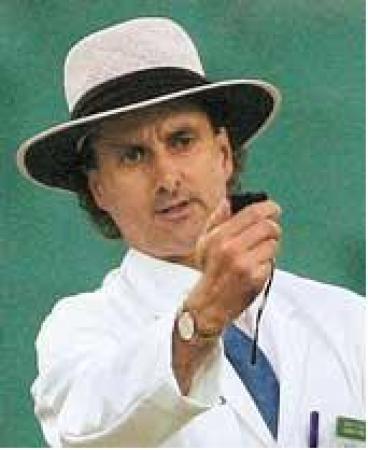 By Boss Bhai
October 12 2004
Incorrigible Indian cricket fan that I am, last week I sat through a farce so hard to believe it left me numb. The performances of Messrs Bowden and Bucknor drove me to drink. I was a mute witness to a farce difficult to quantify. The sheer magnitude of the umpires' brazenness left me shocked, with the beneficiary being the liquor shop owner down the road. Being American, he never understood my plight as the Yanks were dishing it out, but that's another story for another day.
The liquor did its job, and after almost 36 hours I now attempt to put it in words and estimate the damage.
Here it is in chronological order.
Australia First Innings
1. Justin "Lucky" Langer out plumb LBW off first ball of the match.
Not given: Went on to score 52 (Bowden).
2. Darren Lehmann caught off the gloves.
Not given: Runs added 10 (Bucknor).
3. Michael Clarke out plumb LBW on 92.
Not given: Went on to score 151, 59 runs added (Bowden).
Aussies make 474 in the first innings. Should have been no more than 474-52-59-10. That's just 353!
India First Innings
1. Akash Chopra given out LBW first ball to an identical delivery as the one on which Langer was given not-out.
Given out at 0. (Bucknor)
2. Irfan Pathan given out caught behind off pads after Mr. Sportsman Adam Gilchrist jumped up and down.
Given out when well-set at 31 (Bowden).
3. Parthiv Patel - should have been out first ball LBW.
Not given, went on to score 46 (Bucknor).
The Indians made 246, but should have been more like 300. But we'll never really know. Let's just say we got a couple of rough ones and a lucky one, so we'll live with 246, fair enough.
So, Australia 108 runs ahead after the 1st innings.
Australia 2nd Innings
1. Damien Martyn - struck on the pads repeatedly by Harby and Kumble when in single digits. Worse, he was just padding up.
Given not out. Went on to Score 45 (Bowden and Bucknor).
2. Gillespie - This one was hilarious. Given out as an afterthought after an initial firm No from Bucknor. Oh, but if you won't work with me I can't help you!
For the uninitiated, Gillespie was walking on his own. Now why did Gillespie walk? This guy ain't a saint. We will soon know.
Australia make 229. Should have made only 200.
Austrlia now 308 ahead, 309 to win.
India 2nd Innings
1. Sehwag out for a DUCK off the now famous Bat Before Wicket. Yes, given out for making contact with the best part of the bat.
Given out LBW at 0 (Bowden).
2. Chopra out to a ball angling in from wide of Crease by Gillepie hitting the knee roll and going past legstump. Now I think this is were the "Pseudo honesty" thing comes in -- Gillespie, already having displayed his honesty by walking, gets a "Reward" from Mr. Bucknor. Speculation you may say, but methinks it was choreographed to perfection.
Given out LBW at 5 (Bucknor).
3. VVS Laxman Out LBW to Warne stretching full length forward. Just the day before, the commentators were harping on how Hayden using his height takes out the LBW factor. I didn't see any small print "Valid only for Aussies", but what do I know ?
Laxman given out LBW at 3 (Bowden).
4. Patel was hit outside the offStump. If Martin wasn't out, surely this wasn't. But then again, what do I know?
Given out LBW at 4 (Bowden).
Despite all of these shocker LBWs, India made 239.
Laxman and Sehwag have averages of 52 and 47 (and 60+ v Aussies). But considering it was the 4th innings and they were playing on 5th day, let's say just 70 runs could have come from the 4 of them put together -- that would be less than 20 each!
That makes it 239 + 80 = 309.
Guess what would the result have been? A win for India!
The worst case scenario would have been a draw.
But we lose (or should I say, were made to lose).
Is this cricket?