T2D1: Getting the basics right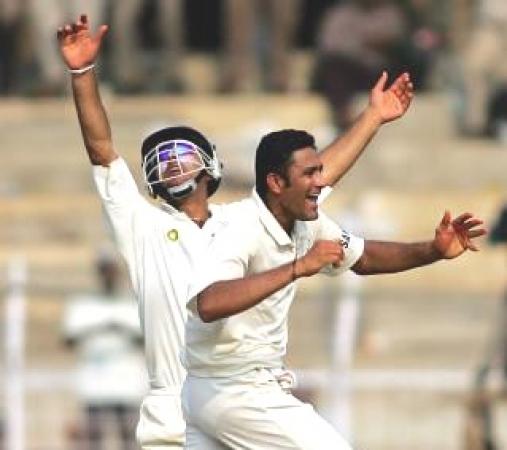 By Thaleel bhai
October 15 2004
After a generally insipid performance in the first test, India seem to have turned the tables on the visitors after the first day's play at the Chepauk. After a generally insipid performance in the first test, India seem to have turned the tables on the visitors after the first day's play at the Chepauk. At lunch, with the score on 111/0, Indian fans could be forgiven for turning their TVs off, and giving up hope - until their batsmen next came out. After all, both Hayden and Langer looked like making big scores - both had been scoring with ease in the first session, and with an in-form Katich, Clarke and Gilchrist to follow, carnage seemed to be on the cards for the rest of the day. 300+ looked simple - the question some were pondering was whether they would top 400 in a day's play... and judging by the scoring rate, it looked more than likely.

However, the day was turned on its head in a single session, as Anil Kumble once again silenced his ever-present critics, and responded to claims that he was getting old and ineffective on home soil, by tearing through the Australian lineup. None of the last seven even topped five runs, and some of the dismissals were vintage Kumble. Clarke was forced onto the back foot, when one went through his defence and rapped his pads for him to be adjudged LBW - and how many times in the past have we seen Kumble suckering out batsmen in that fashion? Gilchrist and several others were beaten comprehensively by googlies, or subtle changes of pace that had them poking and prodding - certainly, not the sort of thing that would be expected from a side claiming it could master spin on Indian wickets.

The big difference maker, between Bangalore and Chennai, was the change in the Indian attitude - right down to the little things. In the early overs, Ganguly saved a certain four with an excellent dive to his left, stopping a ball that had been creamed through cover by one of the openers. Boundaries were cut off, fielders dived inside the circle and saved singles where they could, and it was eventually a slight decline in the boundary rate that saw Hayden throw his wicket away, precipitating the collapse that followed. Parthiv Patel played as if he had two right handed gloves, giving his best impression of a sieve as he let through penalty runs and byes - but when it mattered, held onto a hard chance from Lehmann to make sure India would turn the tide. The catches were held, the throwing from the deep was good as easy twos and threes weren't leaked, and for once, India got the basics right - and the end result, 235 all out, said the rest.

Australia looked the inferior side at points today - Hayden played the sort of shot that would have been seen in the slog overs of a one day game, trying to club Harbhajan out of the ground one time too many, and vital catches were held by India, unlike Australia - when Clarke dropped Yuvraj initially. McGrath's always bowled with an increased degree of venom after an early wicket, and if India had been 0/1 - much like they had lost their first wicket early on in both innings at Bangalore, anything could have happened. A fired up McGrath could have torn through Dravid or the nightwatchman, and India might have lost the advantage they earned through Kumble's spell. Clarke's let off cost Australia a lot more than just the 8 runs Yuvraj scratched out - and tomorrow, if Sehwag and Pathan can see off the opening overs, India will have a chance to bat Australia out of this game.

Despite Australia's dismal performance with the bat, there were the few odd positives for them to enjoy - Simon Katich so far has been a revelation at no.3. Ponting, when coming in at that slot, often looks to give bowlers something of a chance at points, and can be too aggressive for his own good - and certainly might not be the sort of player Australia want coming in if one or both openers fall early. Katich has shown an ability that's rare in this Australian side, and can both graft runs slowly, while later opening up and playing his shots. Despite the half chance he offered Yuvraj at short leg, he'd made it very clear that India would need something truly out of the ordinary to remove him from the crease, and would no doubt have been disappointed at being left unbeaten, without a single partner to build a partnership with.

Saurav Ganguly though, will be a happier man tonight, knowing that if (and with current form, it's a big "if") his batsmen can apply themselves, India just might have the series leveled by the end of the match. The only other worry on his mind will be Zaheer's performance. Despite Ajit Agarkar boasting a far more impressive record against Australia, including a match winning six wicket haul, Ganguly's backed Zaheer to the hilt - and hasn't gotten any results to show for it. Khan reversed the ball well in his afternoon spell, but failed to put it in the right places, even though he showed some of his old aggression and speed. What was notably missing though, was the strike weapon he used to make his mark in international cricket - the yorker. After stunning several opposition batsmen in his first months of cricket with a well directed yorker, the delivery seems to have been saved only for the death of a one day game. With the ability to reverse the ball and send down a few sharp toe crushers, Khan could be potentially lethal - but despite the 'could be' and 'potentially', he's not bringing forth any results. If India can get a big lead, he might just need to lead the way in bowling out Australia again - else he might need to sharpen his skills in mixing the drinks and bringing them out by the time the Nagpur test begins.