Day 2: Sehwag Dominates, Nobody else does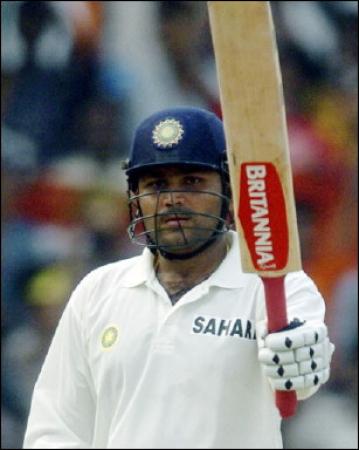 By Thaleel bhai
October 15 2004
At the end of second day's play at Chepauk, India is 291/6 with a healthy lead of 56 and four wickets in hand. An Indian fan looking only at the scorecard might initially get the idea that India dominated the second day's play. Nothing of the sort happened. India struggled with the bat, as is becoming a habit for the majority of the top order, but Virender Sehwag dominated as only he can.
Never mind the fact that on day two, balls were kicking up and turning from a rough patch outside Viru's off stump. Forget that no other batsman has passed 40 in the innings, and that Australia boasts the bowling pedigree of Glenn McGrath, Shane Warne (who now boast exactly 1000 wickets between them), Jason Gillespie and Michael Kasprowicz. Sehwag didn't care -- and judging by the way he went after the bowling, trying to slam McGrath back over his head and repeatedly smashing Warne against the spin into the midwicket fences, he probably rated the vaunted Aussie bowling attack as highly as a club team.
It was a pity the rest didn't, though. After Irfan Pathan's gritty, stonewalling performance in the morning, essential to the batting's success as he kept out McGrath and Gillespie at first with a fairly new ball, Dravid looked unusually scratchy at the wicket. His strike rate in the 20s only showed how difficult a time he had, with even singles being hard to come by, once again showing Sehwag's unusual ability to make any pitch look decent to bat on.
After all, this is a player who has smashed tons on green Kiwi wickets and seaming English tracks -- and even as he made batting look like child's play yesterday, his more illustrious colleagues failed. Sourav Ganguly walked over to have several words with Sehwag after each shot he played, perhaps to tell him the merits of fishing outside off stump. But it was a dismal performance from the Indian captain, who had two golden chances -- caught on 0 off a no-ball, and dropped on 4 -- and still couldn't pass single figures.
VVS Laxman looked just as unconvincing: not moving his feet at all, playing away from his body far too much and in defense, leaving a gigantic hole between bat and pad, thus making it unsurprising when he was eventually bowled.
It was left to Mohammad Kaif and Parthiv Patel, both of whom looked compact in front of the stumps, to rescue India from the point of 233/6 after Sehwag's dismissal -- a point at which he'd been caught for 155, with the rest of the batsmen having only added 78! Both Kaif and Patel have again sent a message to the seniors in the side, and it might not be long before some of the most established players start sweating over their places in the side.
Ganguly's run of poor scores looks to be continuing, especially with Kenya not yet at test level for him to bump up his average, while Laxman seems to have a major failing at this level: an inability to learn. He's been bowled in the same fashion far too much -- playing good-length balls on the back foot or without footwork, with bat well away from pad, and either a bit of seam movement, variable bounce or excess pace. Despite his class as a strokemaker, Laxman needs to learn from these mistakes and soon, else it just might be Kaif coming in at number 6 for the Indian team.
Kaif certainly looked the part yesterday, and it is now up to him and Parthiv Patel to try and extend the lead as far as possible. 100 runs might be a useful cushion and 150 might seem a long reach, but a touch more application just might see it become a lead. Then again, with the form of the Indian batting in general, a lead of 70 or 80 might not be surprising if McGrath and co. strike early tomorrow.
The Australian performance, bar Gillespie and Kasprowicz's spells in the final session, seemed fairly insipid -- with Parthiv, Ganguly, Kaif and Sehwag all being dropped or missed numerous times in the field, and some poor ground fielding and catching. Justin Langer's throw to gift Irfan Pathan with four overthrows perhaps showed how much the Aussies may have already wilted after their first innings collapse; if fielding is a measure of a team's spirit and mood, India would be more than happy to see those misses chances, and that wild throw that flew over Gilchrist's head for four runs.
McGrath looked particularly lifeless, going at 3 an over (with Dravid and co. scratching around), with 2 wides to boot, proving the theory that if batsmen do get on top of him, at this point in his career, there's only so much he can do in return. After the first hour, Sehwag unfurled his repertoire of strokes -- first smashing Pigeon through cover point in trademark fashion and then pulling him through midwicket -- after which McGrath's normally impressive analysis began to deteriorate rapidly. Perhaps a few Aussies might silently be cursing match referee Ranjan Madugalle for not banning Sehwag for this one match, as the match fee fine apparently didn't prevent him from slamming the bowlers all over the Chepauk.
However, the biggest threat to Australia now will be their dismal first innings score. From 111/0 at lunch on day 1, they would no doubt have been looking at a score of 400+, and defending a similar total in the fourth innings on a crumbling pitch. Instead, India have the chance to move into a major lead if they can hold their nerves -- and with Australia looking suspect against the quality bowling of Anil Kumble and Harbhajan Singh, India will hope for a lead of at least 100, and a second innings target of around 150 if they are to indeed level the series.
Neither team though can, or will, get even slightly confident. India's middle order have squandered a golden opportunity to turn the screws on the Aussies and build up a massive lead, and will know that Australia are capable of hitting back hard in the second innings. And what's more, India aren't the best chasers either -- as shown when they last played Australia on this ground and scratched their way to 155/8 in the fourth innings to scrape home by two wickets. With three days play remaining and over two innings to go, any outcome here looks possible.