Rain rescues ailing Australia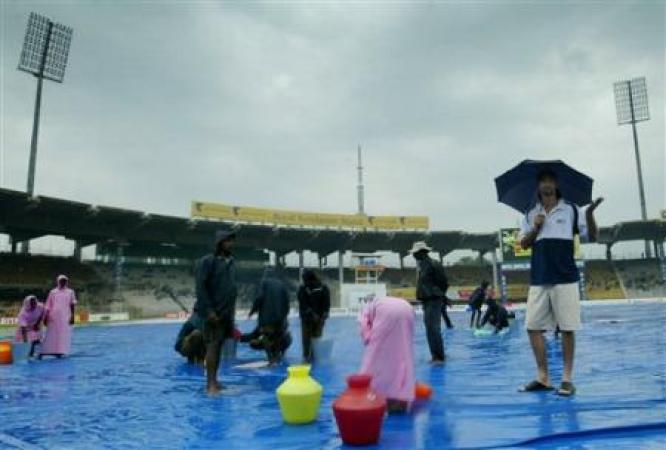 By Anil
October 18 2004
After being outplayed at Chepauk for much of Test 2, the Aussies were reprieved by heavy rains that washed out the fifth day, denying India the opportunity to level the 4-Test series. The relieved smile on Adam Gilchrist's face said it all after the umpires called off the match due to overnight rains that drenched the Chidambaram ground in Chennai, rendering it unfit for play.
Gilchrist would admit only that India "had their nose ahead" in the game. But he and his team knew well that the match was as good as lost on a pitch that had eased out into a batting paradise, with an exhausted Aussie bowling attack that had run of ideas against a rampaging Indian lineup. A mere 210 runs were needed for India to go level 1-1 with all 10 wickets intact and a whole day to knock them off.
Only 4 of 30 wickets had gone to fast bowlers in this match, and tweaker Shane Warne, despite his deceptively good figures in the first innings, had not looked remotely threatening against the top-order Indian batsmen. In sharp contrast, the brilliant Anil Kumble had skittled the Aussie lineup in both innings. As if that were not enough, Viru Sehwag after slamming a big ton in the first innings, had already made his intentions clear in the 3 overs that India got to bat at the end of day 4, repeatedly thumping a frustrated Glenn McGrath to the boundaries.
After seeing the match dominated by India, ultimately thwarted by the weather, one can see why the team that plays better cricket doesn't always win. After all, the first test in Bangalore was closely fought between two equal sides, and while Australia had been marginally better, the major difference between the two teams was unquestionably the atrocious umpiring of Billy Bowden and Steve Bucknor. Australia were considered fortunate by many to win on the back of several controversial decisions going against the home team.
The second test has been an unusual game in many respects, with Indian as well as Aussie batsmen "walking" and exposing the aged David Shepherd, known to be umpiring poorly of late and coming off a storm of criticism after he recently gave a shocker in the Pakistan-Australia game to award a narrow victory to the latter. Shepherd had failed to rule correctly on at least 5 decisions, when the batsmen decided to walk in Chepauk. If he has a shred of self-respect, Shep will "walk" out of cricket after this series, as his younger colleague Srinivas Venkat chose to do earlier this year.
In spite of earning respect when tailender Michael Kasprowicz walked in the first innings after being given not-out, the Australian team won no new fans when they argued with umpires against giving a clearly exhausted and dehydrated Mohammad Kaif a runner, and then left him lying on the pitch after he fell there from cramping and heat exhaustion, walking back quickly to the pavilion at the end of the innings without so much as a glance back at the fallen batsman or a query about his condition. Cricket should never be so ruthless.
The men of the match were Anil Kumble with a match-winning 13-wicket haul and Virender Sehwag who delivered an invaluable aggressive 155 in the first innings, and a stunning start to the second innings. These two players performed in much the same outstanding manner that Harbhajan Singh and VVS Laxman had in the previous home series against Australia.
Stand-in captain Adam Gilchrist, who like his counterpart Parthiv Patel is already being scrutinized for a poor match behind the stumps after dropping several catches, has come under fire for taking a vacation break to visit Singapore with his family in the few days ahead of Test 3. Gilchrist must remember that he is at work, and put off his vacationing until after the series ends. He would serve his team well by practising his 'keeping skills and acclimatizing himself better. He may rue this decision, given that he is increasingly likely to captain for the rest of the series after Ricky Ponting's thumb fracture looks to keep him out of cricket for the next few weeks.
The next match is scheduled for Nagpur, known for producing featherbeds that often result in draws. This series looks increasingly anti-climactic after high expectations from observers who expected to see a level of cricket befitting the best two teams in the world.