Bring on the TV gadgetry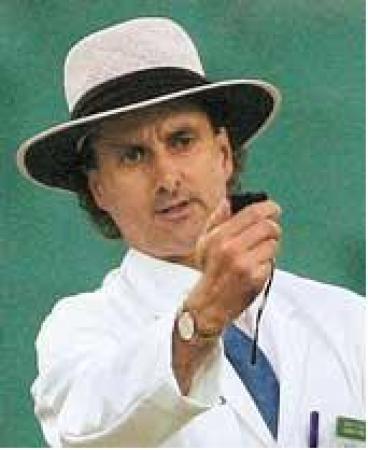 By Thaleel bhai
October 28 2004
Poor umpiring decisions in the ongoing India-Australia series in India have gone mostly against the home side, according to most observers. A game between closely-matched sides can be decided by umpiring errors. There's a joke going around in a few cricket-related emails. "An umpire makes a couple of rough decisions in a match, and after being heckled for it for some time, walks into the stands and takes a seat besides one spectator who's been making plenty of noise. After being asked what he's doing, he explains that as the best view for those decisions seems to be from the stands, he'll do his job from there."

Of course, in the technological age, if such an incident actually were to happen, the umpire would probably head over to the commentators' press box. Even without Hawkeye, the Snickometer and other similar gadgets, commentators and the third umpire seem to have just about every necessary tool for making decisions... slow motion replays from every conceivable angle, markings for determining where the ball pitched and hit the batsman, zoomers for spotting nicks and the like. What's more, these things actually would work if umpires were to use them.

When an appeal was made against Michael Clarke in the first innings (on 6 at the time), David Shepherd gave him not out on the grounds of an inside edge. Zoomed replays showed it was not the case, and the reprieve allowed Clarke to add another 85 runs. Another huge appeal was made against Simon Katich in the second innings when he was yet to score, but it was turned down with the ball apparently hitting the pad outside off stump. Again, replays showed it wasn't the case - and India had to wait until Katich had added another 99 runs before dismissing him. And across the border in Karachi, a huge appeal for a caught behind was made on the last ball of the day. Steve Bucknor decided that the ball had hit the bat and raised the finger, even though television replays - no need for slow motion or zoomers here - showed there had been no contact.

These errors have become a staple of international cricket to any viewer. There will be plenty who'll consider Indian fans right now to be grudging, whining sore losers - and plenty who'll think they've got a fair case to be arguing about. But it's not just Indian fans, or Sri Lankan fans who've recently had reasons to feel they've been robbed. In the third test against England, New Zealand's injury hit squad saw three decisions go against three key batsmen - all of which looked to have been more than a touch iffy. And a few months before, Brian Lara, Shivnarine Chanderpaul and a few other Caribbean batsmen had received a few horrendous decisions from Darrell Hair, who'd been on the receiving end of some harsh criticism. And it seems that with every game that's played, at least one or two decisions are made to attract controversy. If the batsman in question ends up scoring a big hundred after a wrongful reprieve, or has an innings terminated cheaply when he could have gone on to score so much more, more and more question marks will be raised regarding the guilty umpire.

The only question now is why the ICC has not bothered taking a major step in rectifying this. The Champions Trophy was a minor stepping stone, but since then, not much has happened. A particular incident stood out there - in one match, Pakistani batsman Shoaib Malik was the subject of a huge LBW appeal. The umpire raised the question to the third umpire as to whether the ball pitched outside leg - and as it was proven to have pitched on the stumps, Malik was given out. Such gestures aren't major wastes of time - and the few extra seconds they use up are certainly well used, as key decisions that could go wrong are kept correct, raising the overall standards of decisions that are made by umpires.

So just why isn't this happening in every test and one dayer that's being played? The technology is there, and could be used quite easily - after a huge LBW shout from a bowler, a third umpire could quickly check a replay to see whether the ball would have hit the stumps, or whether there was an inside edge - and could then alert the standing umpire to raise a finger. Hawkeye's another proven utility that would no doubt aid umpires - but the question now is actually using all these tools for the improvement of the game, rather than to just improve the TV broadcasts fans get. It'd certainly be far better to see Hawkeye determining an LBW fairly rather than having to see umpires of the like of Steve Bucknor or David Shepherd - two well past their 'Best Before' dates - continue skewing match results with the substandard decisions that have been plaguing international cricket for quite some time now.