Postmortem II: The new blood?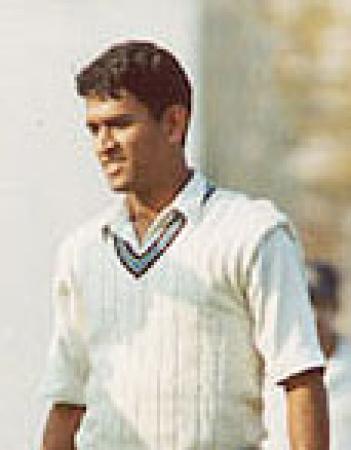 Mahendra Dhoni
By Thaleel bhai
October 30 2004
With several players having performed fairly inconsistently in the last few matches that they've been given, there's no doubt it's about time an axe or two was wielded, with a few heads on the chopping block. The problem of course, is who replaces them. It's been a factor of Indian cricket for several years now, as with the decline in the quality of domestic cricket often played, India lacks a setup from which future international talent can be picked easily. Too often, players have been successful at the Ranji or Duleep Trophy level, only to fail at the international level against batsmen or bowlers of quality.
MSK Prasad, Rahul Sanghvi, Debashish Mohanty, Devang Gandhi, Paras Mhambrey and Dodda Ganesh are just a few examples of these - and it's often a big doubt as to whether players can be called up from their domestic teams and asked to perform at international level. Many have been found to lack the required discipline, mental toughness, technique or several other key factors, and thus have had dismal international careers that completely contrast the success they've had in India.
Yet, with recent A-team tours and competitions at the Under 19 level, more and more players are being singled out now as potential candidates for international callups - not just to replace currently out of form players, but to continue with the high standards the Indian team has usually held after the retirements of several of the seniors.
The Wicketkeepers
Mahendra Singh Dhoni: With the biggest requirement right now being a wicketkeeper, MS Dhoni is one of the two players in India who seem to best fit the bill. He had an impressive one day series in Kenya (a triangular tournament between India A, Pakistan A and Kenya) where he earned the man of the series award for his impressive batting... but more than that, only allowed a total of three byes through his gloves in the entire tournament, while topping the list of dismissals; both with catches and stumpings. He's shown that he can keep well to both spinners and seamers, and has also shown an attacking flair with the bat (which can get genuinely savage at points, as the Pakistan A attack would attest in that series) - and with his safe glovework and enterprising strokeplay, could very well be the man replacing Patel behind the stumps in the near future.
Dinesh Karthik: Dinesh Karthik, however, might have a slight advantage over MS Dhoni - due to a callup for the Natwest Challenge and the Champions Trophy, where he played two games and impressed with the gloves. While not making any notable contribution with the bat, he raised eyebrows with a fantastic stumping in mid-air to dismiss Michael Vaughan, and with his attacking batting (a knock of 70 in the U-19 world cup with a strike rate of almost 200, and centuries in both the Ranji Trophy semi finals and finals last season), he seems to be another top contender for the gloveman's soon-to-be-vacant spot.
The Batsmen
Gautam Gambhir: Out of all the opening batsmen in India, Gambhir presently might stake the best claim to a test opening spot. He's shown a fine technique off the backfoot, with an enjoyment for the hook and pull shots, and despite the occasional overaggressive strokeplay that can lead to his dismissal, can take on bowling attacks with aplomb. What's more is his impressive conversion record so far in domestic cricket - to go with an average well above 50, he has 16 half centuries and 16 centuries. The only issue he might worry about is whether, with his earlier penchants for having Virender Sehwag and Yuvraj Singh open, Saurav Ganguly might ignore specialist openers yet again to try and convert another middle order player to an opening batsman.
Mohammad Kaif: Considering that Kaif's a well known fixture in the one day side, and has played a couple of games against Australia, it might seem surprising to list him in here - yet, it's only out of an optimistic hope that he does get the opportunity of making the number 6 slot in the test lineup his own. If VVS Laxman were to score big runs at Mumbai, chances are that Kaif might be again forced into the wilderness and again be pigeonholed as a one day specialist. However, he's shown that he's more than able to stand up under pressure and trying circumstances (as evidenced by his gritty 64 at Chennai), and a record of 2 half centuries in a series where most of the batting has fallen apart should help his case. Regardless of that, Kaif still has the ability - both mental, and technical - to become one of India's top contributors in the middle order in the future. While the chances of one of the middle order players being axed at the moment seem slim, Ganguly, Dravid and Tendulkar aren't getting on in years, and eventually, it's more than likely that Kaif will replace one in the side after retirement. However, it might be better both for India and for him if he can remain in the lineup and be persisted with, with his recent performances for the national and A sides.
Ambati Rayudu: Much has been said about Rayudu's talent and strokeplay, yet when seeing him bat, one gets the feeling that he could be easily exploited by a few sharp bouncers and "chin music". Regardless, Rayudu's got an excellent first class record to his name, and with his youth, plenty of time to tighten up his technique. He's been called for several A-team series recently, and while the chance of him being capped this season are slim, it might very well be that one or two more productive seasons with the bat could soon get him into the lineup.
Dheeraj Jadhav: Jadhav, much like Gambhir, has raised selector's eyebrows recently with a run glut in the domestic competition - and like Gambhir, has not been called up in the recent past due to the team management's preference for middle order batsmen to open the innings. However, with the recent callups for both him and Gambhir for the Mumbai test, things might very well be changing in the side - especially as Jadhav can be a good attacking partner for Sehwag to have. The only issue as far as his selection is the stance and technique Jadhav possesses - against spinners and medium pacers, he can be lethal - but with his exceptionally high backlift and habit of playing the ball very late, he can often get undone by extreme pace - something he could very well come up against if opening for the national side.
Shikhar Dhiwan: Considering Dhiwan is just 18, and has not played Ranji-level cricket for Delhi yet, the chances of a call up for him right now seem to be far from possible. Yet, with a stunning performance in last year's U-19 World Cup, Dhiwan had opposition bowlers at his mercy with a stunning 505 runs in the competition (when nobody else even touched 400!) Dhiwan's only been seen playing at school and U-19 level, but has shown a superb technique and a lack of over flamboyance and flair that has earmarked him as another possible talent to soon wear the Indian colours - and is tipped by some to be called up for the national side in the next 2-3 years, around the time of the next World Cup.