T4D2 analysis: The bowlers strike back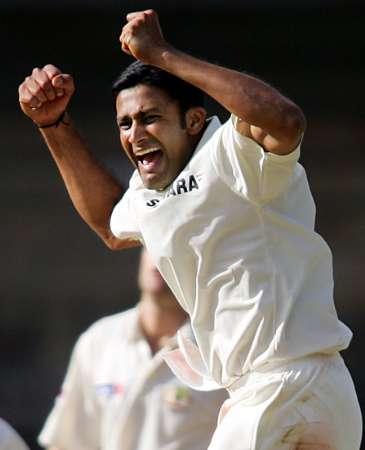 By Salil
November 4 2004
In a period when the bat has dominated ball in test cricket, the results produced on the second day pitch at Mumbai's Wankhede stadium were nothing short of alarming. Aided by several flat belters or wickets with enough pace and bounce to help the ball come onto the bat, batsmen have been in golden form in the last few years. The last 18 months have seen world record for the highest score being broken twice, two triple centuries smashed, and countless double hundreds being notched up by various batsmen - and almost all the time, it's been the bowlers suffering. It's no wonder that after having to break their backs on on tracks which they would have loved to have dug up after the game with a shovel or two, the bowlers finally used the chance they had today to produce one of the more remarkable days of test cricket. 18 wickets in a day is surprising on most fifth day pitches these days - and with batting lineups like Australia's and India's contributing to those 18 wickets, such a concept seems almost ridiculous.

Yet, it all happened today as the second day Wankhede pitch allowed the bowlers a wonderful chance to get back at some of the batsmen who've so often tormented them - and the bowlers grabbed their chance with both hands, using seam movement, spin and variable bounce to great effect. The morning session saw probing spells from Jason Gillespie and Glenn McGrath, who made Rahul Dravid and Sachin Tendulkar scratch around at the crease like a pair of novices, and before Indian fans could realize what was happening, the scoreboard read six down with Dravid alone standing among the ruins. The new ball seamed about prodigiously as Tendulkar and Laxman first poked outside off stump and provided Adam Gilchrist with catching practice, before Dinesh Karthik was bowled soon after by one that reverse swung back in. However, some spirited strokeplay from the tail made the pitch seem almost decent by most batting standards, as Harbhajan and Kumble chanced their arms to strike a few boundaries and add some vital runs to the Indian total, taking it past a hundred.

It begged the question - how bad a pitch was this, really? After Glenn McGrath and Michael Kasprowicz are slapping around the Indian spinners, it clearly was not bad enough for 18 wickets to fall due to bowlers just putting it in the right spot. A number of Indian wickets fell to loose strokeplay, or a total lack of strokeplay in Kaif's case - Kaif left one he should have played at and was caught in front, Tendulkar and Laxman did the opposite, treating every ball that came off the pitch like a spitting cobra, and ignoring run scoring opportunities in attempts to survive before finally getting themselves out. Contrastingly, while the Indians worried too much about the pitch and its behavior, the Australians did the opposite, playing their shots as if it was a day 1 wicket in Adelaide. Langer and Hayden kept on going for the big hits, and it was no surprise when they both threw their wickets away with loose shots, and Gilchrist and Clarke played as if the intent was a declaration within the next 5 overs. Clarke came down the track and smashed two into the stands - then missed a third by a mile, while Gilchrist went for a few big hits too many and got out after a promising start.

While the Indian batsmen were guilty of overcautiousness, allowing the Australians and the pitch to dictate to their mind; the Aussies gave no respect to either - and paid a similar price, losing wickets in a hurry in the final session. Damien Martyn was the lone hand who stood out, showing just how batting should be approached on the wicket - without too much paranoia about getting out, and with enough respect to the opposition bowlers, and it was his 55 that's given Australia a vital lead. Australia might be pleased at having earned a 99 run lead, yet Martyn's knock showed what could have been - had Gilchrist, Clarke, Langer and company not gone for their shots from the word go, there might very well have been a chance of the Australian batsmen building a lead of 200.

However, credit has to be given to the Indian spinners and the man who marshalled them on the field - despite a few field placing errors here and there, Dravid kept a dynamic field, not allowing the Australians to settle easily and Kumble and Kartik backed him up, despite having a dismal total to bowl at. Murali Kartik in particular has been a revelation this series - he's taken 9 wickets in 3 innings, including his career best figures, has kept the runs down with a fine economy rate - and has been one of the very few positives in this series with some tight, accurate and attacking bowling that's been a fine complement for Anil Kumble, who's as usual kept toiling non-stop with the ball in hand. His 27th five wicket haul in combination with Kartik's spell and an aggressive, yet luckless spell from Harbhajan has given India enough hope that all's not over yet... if India can finally find form with the bat, something that has to now happen sooner rather than later, and post a substantial target, Kumble, Kartik and Bhajji might very well be able to save some face for the men in blue by the end of this test.