Stand out performers and major stinkers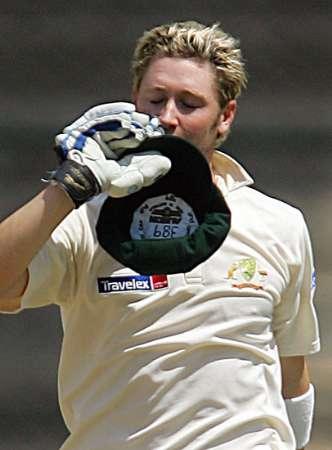 By Thaleel Bhai
November 6 2004
After another enthralling series of test cricket between India and Australia, a look at some of the standout performers - and major let downs of the series Success stories of this tour
Jason Gillespie: 10 : Unlucky not to leave with the Man of the series award, Gillespie made a habit out of tearing through the top order that had tormented him just ten months ago at home. Back then, he'd been partnered with an ineffective Nathan Bracken who barely troubled the top order, and a wayward Brett Lee who was plastered all around the SCG by Sachin Tendulkar and VVS Laxman. This time with Glenn McGrath sharing the new ball, Gillespie showed that he was at his menacing best, using the width of the crease superbly with great pace, and making the ball seam around on lifeless tracks as if he was bowling at Headingley or the Wanderers. His batting was a crucial asset to Australia too, and more than just a thorn in India's side. A fantastic partnership with Damien Martyn bailed Australia out of trouble in the Chennai test, and his batting average of 13.20 did his efforts no justice.

Michael Clarke: 9.5 : Much was expected of the new "golden boy" of Australian cricket when entering the test arena. Without even playing a match in whites and a baggy green, he'd made a reputation for himself as one of the most destructive strokeplayers in pyjama cricket, and had already been tipped by many as a future test captain. With high expectations of him, Clarke didn't let his fans down with some sterling performances in the series - starting with a sparkling century on debut in Bangalore, and hammering a couple more brutal half centuries later in the series. The extent of his strokeplay was such that on his home ground, Anil Kumble was smashed out of the attack with the sort of assault that he had never before experienced, even from some of the more eyecatching assaults from the likes of Saeed Anwar, Ijaz Ahmed and Sanath Jayasuriya. And to top it off, Clarke's canny left arm spinners, which already have fetched him a four and a five wicket haul in one dayers, brought him the best bowling analysis of the Australian tour with 6-9 in the second innings at the Wankhede. Clarke's finished the series stamping his class in the games with his sharp infielding, aggressive batting and more-than-useful part time spin - and has proven that there was more than just a grain of truth from those saying he'd be the next big thing in Australian cricket.

Anil Kumble: 9.5 : No matter how many times he was hit to the fence, Kumble always ran in to bowl his next delivery with the intent of picking up a wicket for his side - and with a haul of 27 from 4 games, succeeded to a fair extent. It was painful for him to not be backed up by the batting lineup, yet Kumble toiled relentlessly on every wicket he had to bowl on, constantly troubling the Australian batsmen with his pace, guile and variation, and got the sort of end figures he richly deserved. A lot can be said about Rahul Dravid, Virender Sehwag and VVS Laxman's roles in the side in recent times - yet, the epitome of consistency throughout has been Kumble. In his last three test series now, he's topped the wicket taking charts, once again proving there are rewards to be reaped from sheer perserverance and toil.

Damien Martyn: 8.5 : From consistently making stylish 30s and 40s, Martyn showed on this tour that he truly has matured as a batsman. Out of the Aussie lineup, Martyn was one of the very few who looked more than able to handle quality spin for long periods, learning from his errors at Bangalore immediately, and scoring crucial centuries at Chennai and Nagpur. A top score of 55 for Australia in the Mumbai test also showed just how far he had come with his ability to play on dry, turning tracks - as only two other batsmen in the entire match passed the fifty run mark in that final test. His only worry now will be having to keep this consistency going, with Katich and Clarke both doing well, and Lehmann perhaps looking to regain his place in the side.

Murali Kartik: 8.5 : After being slog swept all over the SCG in January, Kartik might well have thought his test career was over. Under Saurav Ganguly, a captain with a well known disdain for left arm spinners, he was rarely used effectively, and a dismal test record showed that. Under Rahul Dravid though, he used Harbhajan Singh's absence to make an impressive comeback, troubling the Australian lineup with aggressive, accurate spin bowling at Nagpur, before forcing his way into the XI at Mumbai, where he conjured up a match winning performance. In the fourth innings, with wickets urgently needed, Kartik was the last man most fans would have thought of with his more illustrious spin partners around... yet, it was the Railways left armer who produced a magical double strike to turn the game India's way. Hopefully Kartik can continue with this impressive run he's been on recently, and can become a more permanent member of the side no matter who the captain.

Glenn McGrath: 8 : When Marcus Trescothick treated him with the sort of respect he's normally saved for medium pace trundlers in the Champions Trophy, it looked as if McGrath's days were numbered. For the umpteenth time, he's proven his critics wrong, and that too while returning to his metronomically accurate self. Bowling a staggering 51 maiden overs in the series, McGrath choked runs superbly with the new ball, reverse swung the old ball, and troubled just about every batsman he had to bowl to - and even showed that he can wield a willow every now and then!

Virender Sehwag: 8 : Out of the vaunted Indian top order, the only player to truly click with the bat. No other Indian passed 100, and in a series marred by some dismal batting collapses, Sehwag - with the technique and strokeplay that had led to pundits claiming he'd never last as a test opener - stood alone against the Australian attack, relentlessly going after Gillespie, McGrath, Kasprowicz and Warne. The highlight was without a doubt his phenomenal 155 at Chennai, a knock that his more illustrious teammates sadly couldn't learn from. While the rest of the lineup allowed the Aussie bowling attack more respect than was due, Sehwag continued to bludgeon the bowling, finishing at the top of the Indian run charts and ending yet another successful series for him. After slamming some vital knocks in all his previous series in the last 12 months, he's earned the right to be bracketed along the top openers playing today.

Zaheer Khan: 7.5 : Statistics do not even begin to adequately Khan's performance this series. He was insipid at Bangalore, prompting calls for him to be replaced by Agarkar - yet, with Irfan Pathan injuring himself at Nagpur, Zaheer took on the mantle of strike bowler once more, and bowled a series of lionhearted, if unlucky, spells from then on. Few bowlers have uprooted Matthew Hayden's middle stump - fewer yet on subcontinent wickets. Zaheer bent his back to get pace, bounce and whatever movement he could from every wicket he bowled on, troubled the Australian top order, and even with the Indians' reliance on spin, provided crucial strikes when necessary - such as his second ball dismissal of Langer at Mumbai. 10 wickets and an average of over 36 do him no justice.
Failures in need of an axe or two?
VVS Laxman: 4 : Laxman's only saving grace was a fluent, classy knock of 69 in the second innings at Mumbai - yet, despite a knock without which India probably would not have won, Laxman's had a nightmare series by any standards. And considering that he came into the series averaging over 60 against Australia, it was an even bigger disappointment to see a complete loss of form in the first three games, with VVS poking outside off stump, getting beaten repeatedly by Shane Warne and Glenn McGrath, and having his lack of footwork and technique cruelly exposed. With only one knock of any significance in 7 innings, Laxman may well be facing the axe when the South Africa series approaches - Mohammad Kaif has impressed in the few chances he has had, while Ganguly, Dravid and Tendulkar, based on seniority or consistency over a longer term, might prevent Laxman from finding a place in the XI once Ganguly's fit.

Parthiv Patel: 3 : Five marks for the batting, minus two for the keeping. And yes, it was that horrific as any other viewer will attest. Despite a series of gutsy performances with the bat, where he showed some spunk facing the likes of Warne and McGrath, Patel was dismal behind the stumps. Those who thought his nightmare series in Australia was a one-off were proved wrong, as he consistently let byes through showing all the ability of a sieve behind the wicket, and let off batsmen far too many times. Michael Clarke was caught out of his crease more than once, but was reprieved due to Patel's incompetence with the gloves... Matthew Hayden and a few others were all dropped, and one of the most common sights of the first three tests was the grimace on the bowlers' faces, as a catch or stumping was muffed up for the umpteenth time. Patel, thankfully, was given the axe in time for the Mumbai test - and on a raging turner, where he undoubtedly would have had even more problems keeping, Dinesh Karthik proved himself to be a more than adequate replacement. Either way, it only means one thing for Patel - back to the drawing board, with a lot of glovework to practice.

Nathan Hauritz: 3 : After an 11th hour thumb injury to Shane Warne, Nathan Hauritz vindicated the words of Dennis Lillee and several others who claimed that Stuart MacGill should have been taken on the tour alongside Warne, rather than Hauritz and Cameron White. Much like Zaheer, Hauritz's figures fail to tell the whole story - in this case, flattering him. On a pitch offering extravagant turn and bounce, Hauritz managed three wickets in the first innings - dismissing 3 from the Indian tail, before being savagely exposed for a few brief moments by Sachin Tendulkar. The memorable over where Tendulkar first smashed Hauritz through cover, then into the Fanatics group in the crowd, and then into the long on fence showed just how bare Hauritz's armoury is, and how much more experience the youngster needs before he can tour again with Australia. While better bowlers have been savaged by Tendulkar in the past, Hauritz seemed to be completely out of his element briefly - dropping far too many balls short of a length to be punished, and showing an inability to bowl even 4 out of 6 balls on a length that would have worried the batsmen. And when Michael Clarke out-bowls the specialist spinner and rips through the tail in an even more impressive fashion - it just might be time to bring back MacGill, until Hauritz gets a fair bit more experience.

Akash Chopra: 2 : With Navjot Singh Sidhu having abandoned the "Strokeless Wonder" moniker almost two decades ago, the time seems right for Chopra to pick it up. Given the duties of blunting the new ball, Chopra was unable to survive it even once, looking at sea against even the slightest seam movement. Anything outside off was duly left, but when McGrath and Gillespie targeted the stumps, Chopra was unable to keep the ball out, being dismissed bowled or LBW more often than not. The only positive was his fielding at forward short leg, which, since his tour of Australia, has drawn a few comparisons to Eknath Solkar, perhaps the best fielder ever in that position. However, despite good performances Down Under and some sensational catches, Chopra's weaknesses have quickly made him cannon fodder for opening bowlers - and having been dropped from an Indian side that plenty of youngsters are looking at entering, he might very well have completed his last international innings.

Ajit Agarkar: 1 : It might seem strange ranking Agarkar here despite him topping the Indian batting averages - however, no matter how much he slogs, Agarkar will never be a test level bowler. While Zaheer Khan tried his hardest to keep things tight, Agarkar consistently bowled two or three good deliveries, then slipped in his wide long hop, half volley or rank full toss which was then smashed into the advertising boards. For Indian fans, it was infuriating - for the bowler at the other end, it was even worse. Agarkar, yet again, has shown why he will need to be pigeonholed as a one day player for the rest of his life. A few wickets per match against Australia, and the Adelaide performance cannot keep him in the side any longer - and it's about time India look into finding a backup bowler worthy of playing test cricket.