India ends series on a winning note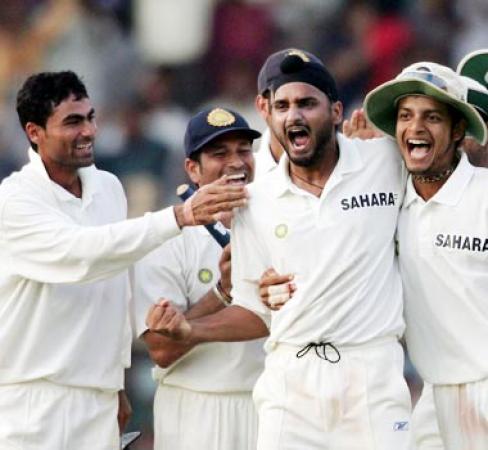 By Anil
November 6 2004
The Aussies leave Bombay on the heels of a bitter loss to India, crushed by a comprehensive failure of their celebrated batting which failed to achieve the lowest of targets on offer, unable to reach a triple-digit score after being mentally defeated by the sight of a turning wicket. Ricky Ponting, who averaged in the single digits the last time he visited India as part of Waugh's team, was wishing he had just stayed home after being fired out for an average of 11 runs upon his return in a Test match to lead Australia to one of their most miserable defeats. Lasting only 15 balls in the final innings, compared to 51 balls for tailender Gillespie, Ponting would have been reflecting once again upon his well-established weakness to spin.
India, on the other hand, had good reason to be miffed that Ponting could not be fit for the whole series, for a failing leader will inevitably affect the performance of his team in a negative way.
Psyched out by a turning pitch, the demons in the minds of the Aussies got the better of them as they were fired out for a shocking 93, trying to chase a paltry 107 runs against 3 world-class spinners shortly after India collapsed for 203 from a comfortable 182/4 on the back of a Sachin Tendulkar resurgence.
There may be calls for the embattled Ponting to step down after his deputy Adam Gilchrist led the team to a series victory at Nagpur in his absence in the "Final Frontier" for the Aussies. Not only has Ponting apparently returned to his infamous barroom brawling days in the aftermath of a very poor personal and captaincy performance with controversial media statements verging on dissent and disrepute to the game, he has been unable to digest the fact that the pitch was the same for the two teams. Unlike, it must be added, the MCG test match in December last year where Melbourne curator Tony Ware came under fire for illegally repairing a breaking pitch before the final day's play to assist the Aussie batsmen in achieving a victory target against Indian spinners who were looking ominous at the end of day 4.
In addition, Ponting also appeared to dissent umpiring decisions on two other occasions in this match, when he argued with the umpires on their suspension of play due to poor light on the first day, and later dragged his feet back to the pavilion looking clearly unhappy with the LBW decision against him to Kumble in the first innings.
A surreal match in Nagpur, where pitch conditions were straight out of Australia thanks to political infighting within the BCCI due to a disputed election, was followed by the Aussies looking as clueless as ever playing on a spin-friendly pitch. After that Nagpur match, stand-in captain Rahul Dravid had said he did not mind playing on such a pitch, so long as that curator prepares such tracks for domestic matches as well. Contrast that gracious statement by a captain undone by home conditions, to the graceless statements from Ponting undone by foreign conditions.
This series between the two leading sides in the world has not lived up to the hype, except for the match in Mumbai. It started off controversially in Bangalore, where umpires Billy Bowden and Steve Bucknor unashamedly turned in a performance not seen even in the most partisan days of home umpiring, turning what should have been a certain draw into a win for the Aussies.
After that, Australia were comprehensively outplayed at Chennai, only to be rescued by unseasonal rains that washed out the final day's play with the Indians on the cusp on victory.
That took them to fast bowler-friendly conditions in Nagpur, where a maverick politician had bizarrely set up the Indian team for failure after his ally Sharad Pawar lost BCCI elections.
Finally, many of the top Indian players were out due to injury at one time or another, including Sachin Tendulkar, Sourav Ganguly, Harbhajan Singh and Irfan Pathan, making the job that much easier for the Aussies.
Small wonder then that this Aussie team returns home unfulfilled by their fortuitous series win. At the presentation ceremony, Aussie ambassadors Matthew Hayden and Damien Martyn presented a typical picture as they mouthed obscenities and kicked and spat at the pitch as if it were a living thing, much to the bewilderment of their hosts. It was a fitting conclusion to a series that had never really lived up to its expectations.