Wisden's Top 100 Innings: Absolutely Bogus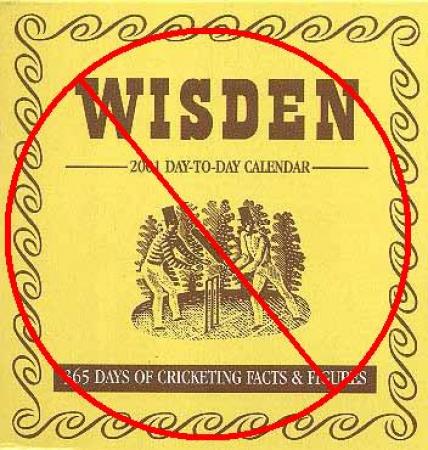 By Cavalier Carver
November 9 2004
Wisden's controversial top 100 Test innings rating fails the test of objectivity, proving to be skewed even based on its own published parameters. Wisden publishes a set of 12 parameters which are considered when evaluating their top 100 test innings of all time.
However, Wisden says only that "blahblah things are taken into account", and not what percentage of each thing counts towards the total score.
So we don't know, for example, whether a given parameter contributes 80% of the "innings rating" or 20%.
I would like to know:
1. The precise weight each parameter carries to determine the final tally and,
2. What was the logic used to arrive at that weighting.
Interestingly, they don't say a word about how many times a batsman was dropped, or how freely he scored his runs.
None of Sachin Tendulkar's record number of Test centuries make it into Wisden's top 100 list.
Let's take just one of these innings -- Sachin Tendulkar's 136 v Pakistan at Chennai in 1999 -- and compare it to Wisden's number 10 innings of all time: Brian Lara's 375 v England at Antigua in 1994, based on their own rules.
1. Batting Base points
The Batting Base points are given for Runs scored. Brian Lara, for his 375 and 400*, gets the highest Index value.
No problem. Lara gets more points, for he scored over 200 more runs than Tendulkar.
Tendulkar 0, Lara 1.
2. Pitch Index
This index is determined based on the Runs scored in a match and number of wickets, which have fallen. Normalizing is done to take care of wide variations. Additional normalization is done to reflect the pre-WW1 situation with uncovered pitches.
At Chennai, 1036 runs were scored for the loss of 40 wickets. Surely, this parameter awards more points to Tendulkar than to Lara -- in Antigua 1229 runs were scored with just 16 wickets falling during the course of the match.
Tendulkar 1, Lara 1.
3. Bowling Quality Index
The Bowling Quality Index is based on the quality of bowlers who have bowled in the innings. A minimum of 4 and a maximum of 5 bowlers are taken for determining this Index value. Care is taken that the fifth bowler (e-g, Richards) does not lower the Index determination adversely.
Can we even begin to compare Fraser-Caddick-Tufnell-Lewis to Akram-Waqar-Saqlain (version 1 where he was getting returns like Murali today)-Afridi ?
Okay, Afridi is an inferior bowler to all 4 Englishmen above, but the other three Pakistani bowlers were all superior. This parameter must go to Tendulkar.
Tendulkar 2, Lara 1.
4. Percentage of Score Index
This reflects the % of team runs scored by the batsman. Surprisingly, Bannerman's 166 in the first test ever is still the highest % score in a completed innings.
Lara scored 63% of the team's runs and Tendulkar scored 52% of the team's runs. This one goes to Lara.
Tendulkar 2, Lara 2.
5. Point of Entry Index
This index reflects the entry point and distinguishes between 5 for 1, 27 for 2, 35 for 3 etc. For the first innings of the test, the index is absolute. For the other three innings, the Index is linked to a target score, exact for the last innings and national for the other two.
Lara comes in at 1-11 and Tendulkar comes in at 2-6. This one goes to Tendulkar: he came in when team had lost an extra wicket, and for less runs.
Tendulkar 3, Lara 2.
6. After point of Entry Index
This index reflects the difference between entering at, say, 10 for 2 with a third wicket partnership of 100 and entering at 10 for 2 and the score going down to 20 for ¾.
Lara's 2nd wicket partership with Simmons yielded 1 run, and 3rd wicket parsnership with Arthurton yielded 179 runs. Tendulkar's 3rd wicket partnership with Dravid yielded 44 runs and 4th wicket partnership with Azharuddin yielded 23 runs. This parameter again favors Tendulkar.
Tendulkar 4, Lara 2.
7. Wickets falling while at crease Index
This index reflect the number of wickets seen through by the batsman. An opening batsman, carrying his bat through, gets the highest value.
Lara came in with 1 wicket down, and was the 5th wicket to fall. Thus, his tenure at the crease saw 3 wickets fall. Tendulkar came in when 2 wickets were down and was dismissed as the 7th wicket. He saw 4 wickets fall at the other end. Again, this one goes to Tendulkar.
Tendulkar 5, Lara 2.
8. Support Index
This reflects the support received by the batsman while he played his innings.
Lara had partnerships of 1 run, 179 runs, 183 runs and 219 runs. Simmons scored 1 with Lara,Adams scored 59, Arthurton scored 47 and Chanders an unbeaten 75. Total support cast: 182 runs. Tendulkar had partnerships of 44 runs, 23 runs, 9 runs, 136 runs and 36 runs. Dravid scored 10 runs with Tendulkar, Azhar 7, Ganguly 2, Mongia 52 and Joshi scored 8 Total support cast: 79 runs. Lara had more support. This category also goes to Tendulkar.
Tendulkar 6, Lara 2.
9. Shepherding of Tailenders Index
This index is based on the way the batsman has nursed the 8-11 batsmen and built partnerships. The highest value is given for a batsman who has been involved in 4 significant partnerships.
Batsmen nursed from 8-11 counts. Lara didn't nurse any such batsman, so he gets a zero for this one. Tendulkar nursed number 8 Joshi for a 36-run partnership. Tendulkar gets this one.
Tendulkar 7, Lara 2.
10. Highest score Index
This is the lowest rated parameter and is given to the innings if the same is the highest for the team.
Both score even number of points in this category, as Lara's 375 was HS for the team and Tendulkar's 136 was HS for the team as well. Even stevens.
Tendulkar 8, Lara 3.
11. Match Status Index
This is a complex index, which reflects the status of the match. The highest value is given to a successful and close fourth innings chase (Lara's 153*).
Tendulkar should get a higher rating here, as the match status was more dire compared to when Lara came out. Tendulkar's was a 4th innings chase, whereas Lara's was a 1st innings tally. Wisden mentions that the highest points are given to a successful 4th innings chase. Logic dictates that it means a good score in the 4th innings in a failed chase should mean AT LEAST as many points as a big bang in the 1st innings when the match-state isn't as developed. However, this is complex as Wisden says. I am tempted to give this one to Tendulkar, but let's be generous here and call it a tie.
Tendulkar 9, Lara 4.
12. Result contribution Index
This index is based on the sum of the 11 index values and reflects the value of the players contribution, through the considered innings, to the match result. The match should be a win (x points) or a draw (0.3x points) for this index value to be allocated. Additional weightage is given for away wins.
Lara fares better here, because his efforts were in a drawn match and Tendulkar's in a narrowly lost one. I disagree with this rating parameter: ONE player doesnt win or lose a match and how good YOU played should be independent of the result, that is dependent on TEN OTHER TEAM-MATES. However, I am playing by their rules and not mine, so I will consider it and count it in Lara's favour.
FINAL TALLY: Tendulkar 9, Lara 5.
Tendulkar outscores Lara in over twice as many categories, but apparently his innings must be at least 41.3 pts below Lara's rating (the difference between Lara's innings and #100 innings, and optimistically assuming that Wisden would rate Tendulkar's effort as 101).
Go figure!
There are several scores less than Tendulkar's that were mentioned in that list, so don't give me the "375 is a heck of a lot more than 136" stupidity.
This rating system can mean only one thing: A hugely disproportionate number of rating points are attached to 1, 4 and 6.
If that's the case, then Tendulkar's 241*, or his innings against AUS/RSA in the early 90s etc, should figure in the list as they boost Tendulkar's percentage of team runs scored. But do they feature? NO!
So I am forced to conclude that Wisden's top 100 innings is a bogus rating system -- no better than my, or your, subjective opinion.