Down Memory Lane - Volume I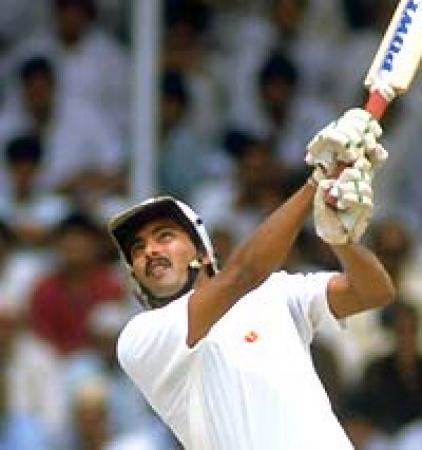 By Thaleel Bhai
November 15 2004
The moniker "Tigers at home, lambs abroad" had never been as apt for Indian test teams abroad as in the late 1980's and entire 1990's.
In December 1991, a fairly impressive (on paper) Indian team toured Australia, with a lineup comprising Ravi Shastri, Dilip Vengsarkar, Mohammad Azharuddin, Kris Srikkanth, Manoj Prabhakar, Kapil Dev, Javagal Srinath, Navjot Sidhu, Sanjay Manjrekar and one Sachin Tendulkar - all looking to prove that India was a force to be reckoned with abroad as well as at home. However, things didn't turn out well, as after dismal showings in tour warmups against Western Australia and New South Wales, India crumbled at Brisbane and Melbourne, first to Craig McDermott and then Bruce Reid, going 2-0 down in the series. The third test at Sydney, traditionally a flatter, less paceman-friendly track, was India's best - and last chance to do well if they had any hopes of winning the series.
With the apparently spin friendly nature of the track, one Shane Warne made his debut for Australia, wearing the baggy green for the first time against a batting lineup looking out of sorts and ready to be rolled over. Mohammad Azharuddin, captaining India at the time, won the toss and opted to bowl, with the pitch offering a hint of assistance for pacers on the first day, and his batting lineup in dismal form. The first day saw a dismal performance with the ball, as Australia finished at 234/4 at stumps, with David Boon on the verge of another test hundred... but things rapidly changed on day 2.
Kapil Dev used the second new ball to great effect, dismissing Allan Border early in the morning, before Manoj Prabhakar took over. As Boon watched from the other end, Ian Healy first fell for one - followed by Merv Hughes and Craig McDermott who came and went, adding a total of 3 more runs between them. Australia had collapsed to 269/8 in no time, but Boon, who had passed the three figure mark, grafted a brief partnership with Shane Warne to take the score beyond 300 - before Kapil wrapped up the innings for 313.
The Indian innings began as dismally as any others on the tour, with Navjot Sidhu falling for a duck - but amidst numerous interruptions for bad light, Ravi Shastri and Sanjay Manjrekar built up a partnership for the second wicket, taking the score to 86 before Manjrekar edged Hughes to Mark Waugh in the slips for a painfully slow 34. Dilip Vengsarkar and Shastri then were able to see out the rest of the day, going to stumps at 103/2. Shastri had looked in good touch so far, but was unable to continue the next morning due to consistent rain, which held up play for several hours. Eventually on day 3, Shastri and Vengsarkar were able to resume where they had left off, and in the evening session, after being reprived off a sharp caught and bowled chance by Shane Warne, Shastri began to open out, coming down the ground and lofting Warne into the stands.
With the "Colonel" providing solid support at the other end, Shastri continued to play his shots in what little time there was left, riding his luck with a few streaky shots as he finished the day 95 not out. The scoreline read 178/2, and with only two days play left, a draw looked to be on the cards - even if the full days' play would be possible for the final two days. As the Indian innings continued into the fourth day, India suffered two vital setbacks, with Vengsarkar falling to McDermott soon after reaching his fifty. Azharuddin was off the mark first ball with a classy four through point, but his very next ball saw him dismissed - as Azhar tried to work one into the leg side, David Boon stuck a hand out, knocking the ball into the air by pure reflex - and promptly caught to send Azhar back to the pavilion.
Sachin Tendulkar then walked to the crease, then still a youngster predicted to go on to reach huge success. After his maiden test hundred just some time ago at the Oval, India had already begun to expect a fair deal from Tendulkar, and with the score on 201/4 and India still needing another hundred-odd runs to draw level with Australia, it was the perfect time for Sachin to perform - especially considering that he hadn't been successful with the bat until that point in the series. His Bombay teammate Ravi Shastri had just reached his century a few overs ago, and immediately guided Tendulkar, helping him settle in with a good task still ahead of the Bombay pair. Both men had their work cut out if India were to turn the tables on Australia after their recently lackluster performances - and the two did, surpassing all expectations with a thrilling 196 run partnership. As Tendulkar played himself in, Shastri took the pressure off at one end by continuing to go after the bowlers, finding the boundary with some ease... and eventually brought up his 150 with a flourish, lofting Shane Warne over mid on for four - and then smashing him over cow corner for a huge six. However, one shot too many almost saw Shastri get out, as he smashed Allan Border straight down David Boon's throat at midwicket - only for Boon to drop a sitter.
Shastri immediately began to curtail his strokeplay, as Tendulkar opened his up, first driving McDermott for a straight four. As India moved ahead of Australia, Tendulkar began to dominate, slamming boundaries off Warne and Border with relative ease, as India began to extend their lead. Shortly after tea, Shastri brought up his double century with a late cut off Warne but fell just a few minutes later, trying to again hit Warne into the stands yet again and holing out to Dean Jones for a superb knock of 206, his career best. Shastri left the field to a standing ovation as Prabhakar walked in with India 84 runs ahead, and looking to add to that lead even more. Tendulkar continued to dominate as Prabhakhar worked the strike over adeptly, and the Little Master eventually reached his hundred, clipping McDermott off his pads for two to become the youngest test cricketer to score a century in Australia. From then on, the Little Master began to unveil his entire armoury of shots, smashing McDermott over mid off's head for four, then late cutting him in the same over to the third man fence. The momentum, which had swung India's way, suddenly turned yet again as Merv Hughes struck twice in consecutive deliveries, getting Prabhakar to edge one to Taylor at slip, and then Kapil Dev for a first baller as Kapil provided Geoff Marsh with some catching practice in the gully.
With rain returning to the scene, Tendulkar and the new batsman, wicketkeeper Pandit, held out for a few more overs as Australia looked for another breakthrough, before stumps were called with the score on 445/7. India's lead was 132 overnight, and with only a day left, their best chance of a win was to score a few more quick runs, declare, and attempt to bowl Australia out as soon as possible on a wearing SCG track. Azhar faced the dilemma of declaring overnight, with Tendulkar in a dominant mood, and trying to bowl out Australia the next day, before chasing whatever target was set, or whether to keep batting and let the lead increase. He chose the latter, and Tendulkar backed his skipper's decision, continuing to score rapidly the next morning. Sachin showed his class and the mindset he had even at the age of 18, as despite a well spread out field, he managed to pick twos with a combination of top placement and great running, when not finding the boundary. Pandit provided good support, blocking at one end or trying to turn the strike over, and eventually sacrificed his wicket when going for a suicidal single. Banerjee and Srinath also perished in the search for quick runs, with Banerjee holing out to Border, and Srinath being run out in the search for another quick two, leaving the Little Master unbeaten on 148, and India ahead by 170 runs.
Having added the additional 38 runs in the first half hour, the Indian new ball bowlers looked to take early wickets, and Kapil and Srinath struck in quick succession before lunch, removing Marsh and Boon to reduce the home side to 38/2. Following lunch, Prabhakar soon struck when Mark Waugh played across the line and was adjudged LBW to take the score to 55/3. India sorely missed another spinner, as on a track offering turn by the fifth day, Shastri was the lone spin option in a four pronged medium pace attack. Even then, Shastri followed up his epic 206 with the key wickets of Dean Jones and Mark Taylor, who fell to a phenomenal catch at gully by Kapil, as Australia went in to tea at 109/5. Another 61 runs were needed to make India bat again, and a few more quick wickets would have seen India pull off a stunning victory. India needed a couple more quick breakthroughs after tea to really put Australia under pressure and to give themselves a chance at winning, and Shastri followed his afternoon success with the wicket of Healy right after tea.
Healy attempted to counter attack, going for a big sweep but ended up top edging one straight to Prabhakar at midwicket, and the Indians were fired up, believing they had the perfect chance to pull off a rare overseas win - only Allan Border was left out of the recognized batsmen as Merv Hughes came out to the crease. Border though has been known for gritty match-saving vigils, and this was one of his best - both he and Hughes stonewalled their way to a fifty run partnership, and more crucially, blocked out almost two hours of bowling before Tendulkar managed the key breakthrough, getting Hughes caught at slip. It looked a case of "too little, too late" however, as Border continued his vigil, adding enough runs to ensure India would need to bat again, while McDermott held up the other end for a few more crucial overs. With just fifteen minutes left, and a lead of one run, Shastri struck again with his golden arm, having McDermott caught at silly point. By then, even if India had taken the next two wickets immediately, it was unlikely that they would have enough time to bat and knock off the necessary runs.
Even then, Prabhakar and Shastri continued, hoping in vain for another wicket, but Border continued to block away all Indian hopes of a win, and with Shane Warne defending resolutely at the other end, Australia survived without further loss until stumps were finally called. Australia were 173/8, just three runs ahead with two wickets left which the Indians had been unable to prise out, and had managed to somehow squeeze out a draw in the final session when it looked as if they would be bowled out for an innings defeat at one point. Despite the lack of a result by the end of the game, it was a heartening performance by the Indian side, who had shown for the first time in a while that they were capable of taking the fight to any opposition away from home. Against a top class Australian team, their bowling and batting lineups had fired superbly and the only disappointment for the Indians was the time lost in the game due to rain and bad light, without which India would almost surely have won, barring a miracle. Ravi Shastri earned the man of the match award, having followed his epic double hundred with four crucial wickets, but India were still left to rue what might have been as they continued to the next test without a win under their belts.