Down Memory Lane: Vol 2 (India v Pak ODI, 1996)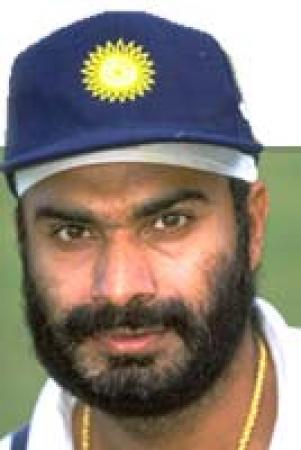 Navjot Sidhu
By Thaleel Bhai
November 17 2004
In the 1990s, India winning in Sharjah was a rarity - and winning in this fashion even rarer. Out of a handful of wins over arch-rivals Pakistan, this is one match that stands out for several records that were broken, and the style in which they fell. Having already lost once to Pakistan and South Africa in the Pepsi Sharjah Cup, India needed to win this game to keep hopes of a tournament win alive.

Things hadn't been going well for them so far. Captain Mohammad Azharuddin was under constant scrutiny from the press for his atrocious form, and the batting had looked off colour until then. Even then, after winning the toss, Azhar vested faith in his batsmen by opting to bat. He was promptly rewarded by the sight of debutant opener Vikram Rathour edging Waqar Younis to slip for just 2 runs, making the score 9/1. It was a long wait for the Pakistanis before any further wickets fell, as Navjot Singh Sidhu and Sachin Tendulkar indulged in a 231 run partnership, both plundering centuries against a hapless Pakistani attack. It may have been the second highest partnership at the time for the second wicket, and India's highest ever - but what mattered more was the manner in which the bowling was trounced. After Sidhu and Tendulkar blunted the new ball, reaching the ten over mark with a run rate just over 4, and no further wicket loss, the two capitalized as the less experienced Ata-ur-Rehman was introduced to the attack. Rehman was immediately on the receiving end, as Tendulkar signalled his intents to push up the run rate by whipping him over mid wicket for an effortless six.

At the other end, Saqlain Mushtaq entered the attack, looking to make a breakthrough and bottle up the runflow - and Mushtaq had been impressive in the series earlier, using his straighter delivery to great effect against the Indian batsmen, in particular Sidhu. Sidhu admitted in a later interview that he had been troubled with Saqlain's wrong one, and had consulted Mohinder Amarnath - who then told him to watch Saqlain's feet as he ran in. This time, armed with Jimmy Amarnath's advice, Sidhu treated the offspinner with disdain, jumping down the track and repeatedly lofting him over his head to the fence.

It said something about Sidhu's innings and his dominance over Saqlain that innings that he only found the fence 6 times - with 3 fours and 3 sixes, a number of which came off Saqlain. Otherwise, he continued to give strike to Tendulkar, allowing the Little Master to dominate with a variety of glorious strokes. Aamir Sohail and Waqar were the only bowlers lucky enough to escape punishment, as Tendulkar pulled anything short to the fence, drove anything pitched up, and found boundaries and gaps in the field with relative ease with Sidhu providing more than adequate support at the other end to maintain a superb scoring rate of around 5 an over.

With the death overs approaching, Tendulkar reached his hundred and looked to be stepping up the run rate even further, when he smashed a delivery from Waqar straight down the throat of Sohail at cover. Jadeja came in, and while going for a quick single, ended up seeing Navjot Sidhu run out at the other end, unable to make his ground in time. Sidhu had just brought his hundred up a few balls ago, and was starting to look exhausted running between the wickets - and his dismissal prompted Azharuddin to promote Javagal Srinath (who along with Anil Kumble and Sunil Joshi at various points in the 90s, had been used as a pinch hitter). Azharuddin had been in dismal form before this match, going for several matches without even a half-decent score under his belt, and amidst loud calls for his head, was reluctant to bat. Srinath chanced his arm for a quickfire 16, before holing out to Sohail - when Azhar finally walked in, with just a few overs left.

The onus was on Jadeja to increase the scoring rate, and the target of 300 - which had never before been attained by India in a one-dayer - looked some distance away. Nevertheless, Jadeja chanced his arm as well, slamming a huge six, before edging Waqar to Latif to give Younis his third wicket. A score in the range of 280-290 looked like the target India would set - until Azharuddin then reversed his form with one of the more memorable assaults in his career.

Aamir Sohail gave the ball to Ata-ur-Rehman for the final over, and Rehman's inexperience showed here, as he fed Azhar several half trackers in the over - and with the Indian captain in a murderous mood, each of them was dispatched to the fence or beyond. After smashing his second six in the over, Azhar made his frustrations public raising his bat to the press box and making a few angry gestures, before then clouting the final ball from Rehman to the midwicket fence for four more. 24 runs came off that one over, with Rehman's bowling figures reading 10-0-85-0 at the end of the carnage, and Azhar had for the first time taken India beyond the 300 score.

It was a difficult target, but Aamir Sohail looked to play a captain's innings to lead his side to a win, finding the boundary thrice early on. At the other end though, Saeed Anwar edged Prasad to Nayan Mongia - at which point Sohail made an inspired change to his batting lineup. Rashid Latif came in at number 3 playing the pinch hitting role - and both Sohail and Latif took the attack to the Indian bowlers, sending the run rate near 8 an over. Anil Kumble was brought on to change the game flow, either with a wicket or a few tight overs - but was smashed into the stands by Latif right away. Kumble soon had his revenge though, when Latif hit one straight to Azharuddin, bringing Ijaz Ahmed out to the middle. Latif had creamed his way to 50 runs in just 31 balls, and had set the tempo for a good chase - and it was up to the remaining batsmen to keep the score progressing.

Sohail did his best to prevent India from getting much momentum as he and Ijaz built up another solid partnership, with the two men rotating the strike consistently and keeping the scoreboard moving, rather than trying to consistently hit boundaries. Just as it looked as if Pakistan would be well set to chase down India's 300, with the score at 172/2, a piece of poor running saw Sohail run out for a run-a-ball 78. Srinath was immediately brought on to try and make another breakthrough, and a wild slog from Ijaz saw his off stump go flying in the second over of Srinath's spell. Inzamam fell soon after, but with Pakistan 6-down, Salim Malik and Basit Ali made an effort to hold things together.

Malik milked the inexperienced Ashish Kapoor for singles and a massive six, but fell soon after that, trying to repeat the feat against Kumble. With the required run rate climbing and few wickets left, Aaqib Javed, Basit Ali and Rehman soon joined Malik in the pavilion, after going for big hits in efforts to keep up with the run rate. Defeat loomed for Pakistan as one batsman after another holed out, and finally Waqar Younis was left as the lone spectator when Sachin Tendulkar trapped Saqlain leg before as he attempted another slog. Pakistan had been bowled out for 277 to give India a memorable 28 run win from one of their most impressive performances in Sharjah.