Master Of The Fourth - Part I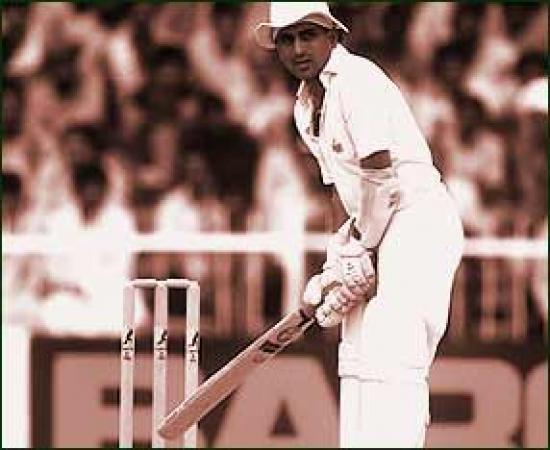 By Gaurang
November 25 2004
This is the first in a four-part "Master of the fourth" series involving four great Test matches which also contain four batting gems from the master of the fourth innings, the legendary Sunil Gavaskar.
Sunil Gavaskar was truly a fourth innings phenomenon. Not only are his 1398 runs the most in the fourth innings of any batsman in the history of the game, he also has the most fourth innings hundreds of anyone in Test history, quite appropriately numbering four.
Another interesting thing about the four Test matches that will be part of this story series is that they were played against four different opponents: West Indies, England, Australia and Pakistan, the four most powerful teams of his generation, at four different grounds, against four famous captains, Clive Lloyd, Mike Brearley, Allan Border, and Imran Khan, and resulted in four different outcomes: a Win, a Draw, a Tie and a Loss. So now just "take four" and sit back and enjoy the nostalgia trip.


Prologue
The Third Test match of the 1975-76 Series in the West Indies was scheduled to be played in Georgetown, Guyana, but non-stop rain for several days meant the match had to be moved back to Port of Spain, Trinidad, which hosted its second consecutive Test. The Second Test at Port of Spain had already given the Cilve Lloyd led West Indies a mighty scare. In that match the West Indies were bowled out for 241 in their first innings as the Indian spin trio bamboozled the West Indians and India then piled up 402 in reply thanks to a monumental 156 by Sunil Gavaskar and a stylish 115 by Brijesh Patel. Starting their second innings 161 runs behind, West Indies survived by the skin of their teeth and some dubious umpiring to end with their second innings at 215 for 8, only 54 runs ahead, before the match was called off.

In the second innings Richards was given run out and the crowd vented it's anger at umpire Gosein. Sensing the crowd was after his blood, Gosein just clammed up. He refused the plumbest of LBWs against Andy Roberts as he played back to a flipper from Chandrasekhar and then denied a straight forward bat pad catch appeal against the same batsman. India could also rue a dropped catch as two of India's finest fielders Eknath Solkar and Patel collided when Lloyd skied one early on. One of them should have called the other off, but both in their eagerness to catch the ball had neglected to do so. So despite being denied victory in the Second Test, when the Third match was moved back to Trinidad the Indians could hardly have stopped smiling and the West Indian faces would have worn worried looks.

The Match
Winning the toss must have pleased Clive Lloyd, who unsurprisingly decided to bat, thus avoiding having to face the Indian spin trio on a wearing track in the fourth innings. Medium pacers Madan Lal and Mohinder Amarnath opened the attack for India, and the West Indies got off to an untroubled start. Soon Bedi, the Indian skipper, introduced Chandrasekhar, and he immediately started troubling the batsmen. He snapped up Roy Fredericks, Lawrence Rowe and Alvin Kallicharran (for a duck) to have West Indies 52 for 3. This brought Clive Lloyd to the crease and he joined Vivian Richards in a fightback. He supported Richards brilliantly and by the end of the day West Indies were 320 for 5 with Richards on 151 not out.

The next morning however, Bedi fooled Richards into an indiscretion. Richards had just smashed Bedi for a huge six, but fell next ball attempting to repeat the shot. The tail just folded up to the guile of Bedi and Chandrasekhar, and West Indies were all out for 359.

The West Indians had packed their side with three spinners, and Andy Roberts who had managed only one wicket in the Second Test was not available. Lloyd probably felt it best to go with a horses for courses policy. Michael Holding opened the bowling with the left arm medium pace and swing of all-rounder Bernard Julien, who dismissed Anshuman Gaekwad cheaply for 6. Then Holding got one to nip back and Gavaskar was lbw for 26. Mohinder Amarnath and Gundappa Viswanath, saw off the quicks and were going well when Amarnath was stumped off off-spinner Albert Padmore. Viswanath then was bowled by leg spinner Imtiaz Ali. After lunch Michael Holding returned to the attack and tore the heart out of the Indian middle and lower order in a sizzling spell, getting rid of Brijesh Patel, Eknath Solkar, Madan Lal, Syed Kirmani and skipper Bishan Bedi to end up with 6 for 65 as India folded for 228, conceding a lead of 131 runs.

With such a big lead, one would have expected the West Indies to attack and try and pile up a big score quickly to allow enough time to bowl out India. Instead the first 15 overs bowled by Madan Lal and Mohinder only saw Rowe and Fredericks add 30 runs. Chandrasekhar was finally introduced and he immediately got rid of Fredericks to a sharp catch by Solkar. Soon Bedi and Venkat tied down Rowe and Richards. Venkat especially was bowling beautifully with lots of control and he dealt a double blow to the West Indians, snapping up both Rowe and Richards within three runs of each other, with Richards giving Solkar his 50th catch in Tests. With the score reading 81-3 Kallicharran came to the crease. Kallicharran was bowled for a duck in the first innings by Chandra, when the ball spun off his defensive prod and rolled into his stumps knocking off the bails. This time once again the same thing happened, but the bails did not fall. Kallicharran looked up to the heavens thankfully, and then made the most of this early piece of luck to register his eighth Test hundred, skillfully using his feet to counter the spin trio, while wickets fell at regular intervals at the other end. Clive Lloyd waited till Kallicharran had reached 103 not out before he finally declared the West Indies innings when the score was 271 for 6 a little after lunch on the fourth day. The equation for India was either score 403 or survive nearly five sessions in the fourth innings. Having been bundled out for 228 in the first innings, the chances of India doing either seemed extremely remote to say the least.

Right from the beginning, however, the signs looked good for India. Gavaskar was middling the ball from the first over itself, and Gaekwad looked solid in defense. The two put together a stand of 69 runs seeing off Holding and Julien, before Gaekwad fell to Raphick Jumadeen who bowled left arm leg spin. Now Mohinder Amarnath, promoted to number three in this match joined Sunil Gavaskar at the crease. He immediately looked completely at ease against the spinners. In the past Amarnath had often gifted his wicket away after getting to 30 or 40 and having the bowling at his mercy. This time he displayed great maturity and played very, very responsibly. At the end of the day, he was unbeaten accompanying Gavaskar who was 86 not out and India on 134 for 1.

The next morning, Gavaskar looked a lot less assured than the previous day. He however battled hard for nearly an hour before reaching his century. During this entire hour, the Trinidad crowd got behind him, and the famous Calypso by Lord Relator from the 1971 tour, which labeled him as "The Wall" was blaring from the boundary. Gavaskar finally reached three figures, his fourth Test hundred at Port of Spain, and the second consecutive one after his 156 in the Second Test.

But his joy in reaching three figures was short-lived, as in attempting to come down the pitch to drive Jumadeen, he was declared out caught behind by wicket keeper Deryck Murray. In any case Sunny walked off a dejected man, having battled hard for over four hours and thinking he had just handed the match back to the West Indies. However as it turned out he had merely set the stage for the other little genius of Indian cricket to take over. Viswanath joined Amarnath at 177-2 and the second new ball due. Lloyd however decided to continue with the old one for a while, and thus made a vital tactical error, allowing Viswanath to get set against the spinners.

When the new ball was finally taken, Vishy made Lloyd pay for his error. Holding bounced several ones over Vishy's head, which he easily evaded. But when Holding pitched short but not short enough to rise above shoulder height, Vishy got up on his toes and square cut it viciously to the boundary. The new ball only caused runs to start flowing faster, and the pressure was now transferred to the West Indian captain, who looked quite clueless as to what to do. By tea time India were past 300 with only two wickets down. All this while Mohinder had batted with incredible patience, though he had kept the scoreboard ticking with well placed singles to give much of the strike to Vishy.

Right after tea, a beautiful cover drive by Vishy saw him reach his century, but then disaster struck. There was a mis-communication and Vishy was stranded in the middle, to be run out for a glorious 112. A run out had seemed the only way the West Indies could have hoped to take a wicket as the Indian batsmen had totally dominated the inexperienced and over-matched West Indian spinners. The score read 336-3 when Brijesh Patel joined Mohinder Amarnath at the crease. Brijesh had just scored a sparkling 115, his only Test hundred as it turned out, in the previous Test and was in excellent touch. He batted with positive intent, putting away anything that was there to be hit, while not being over ambitious.

When the last hour and the 20 mandatory overs began, India needed 65 runs for victory with 7 wickets in hand. The excitement in the dressing room was rising by the minute, and Patel and Amarnath got caught up in it too. Amarnath was run out for 85 when the score was 392. He had batted for nearly seven hours and had been the backbone of the Indian innings. Amarnath's contribution was as vital as that of Sunny and Vishy in chasing down the mammoth score of 403, which stood as the World Record fourth innings winning total, for over a quarter of a century.

The winning hit in just the 11th mandatory over was by Brijesh Patel who remained unbeaten on forty nine. This was an amazing win, as only one other team in the entire History of Test cricket had chased down 400 to win in the fourth innings. Bradman's Australians had done it nearly 30 years before and now nearly thirty years later, only one other team, Lara's West Indians, has done so again. The euphoria in the dressing room was unbelievable and cables of congratulations from the Indian prime minister and president only highlighted the significance of the win. It remains one of the greatest come-from- behind wins in the history of Test cricket, and ranks along with the famous Kolkata miracle as among the top three Indian Test victories of all time.

Epilogue
Clive Lloyd was a dejected man after this stinging defeat. In a later television interview he defended himself by saying that Port of Spain has always been West Indies' unlucky ground, and that the crowd there has many more people who support India than any other in the West Indies. This defeat along with the drubbing the West Indies received earlier in Australia where they were subjected to shock and awe by the pace quartet of Dennis Lillee, Jeff Thomson, Max Walker and Gary Gilmour, made him determined to never trust spin again, and try to develop his own version of a pace quartet. The impacts from that fateful decision are being felt to this day in West Indies cricket, where spinners continue to receive step-motherly treatment and hankering for a pace quartet the likes of which Lloyd and later Richards fortunately had at their disposal is still evident.

Lloyd put his strategy of copying the Australians and using intimidation into play the very next match. In the fourth and final Test at Jamaica he unleashed Holding along with a young speedster by the name of Wayne Daniel, brought back Vanburn Holder (Andy Roberts was unavailable), and kept left arm seamer Julien to form the first embryonic pace quartet. Later Holder and Julien would be replaced by Roberts, Croft, Garner, Marshall, Clarke, Ambrose, Patterson, Bishop, Walsh, etc. over the next decade and a half.

Upon winning the toss Lloyd put India in and India reached 60 for no loss at lunch. After lunch the frustration boiled over and Lloyd put his new game plan into action. Holding indicated to the umpire he was going to bowl round the wicket. His intent became crystal clear as he whistled three bouncers at the head of Anshuman Gaekwad. When Gavaskar faced Holding he bowled four bouncers in a row and then followed it up with a head high beamer. He then pretended it had slipped and the umpire took no note of it. The next over the exact same dose, four bouncers and a beamer, was repeated, and now it was clear this was not frustration by the bowler, but rather a plan to intimidate and even injure, with full backing of the captain and with no likelihood of intervention by the umpire.
Despite these tactics, and while the crowd was baying for blood, Gavaskar and Gaekwad added 136 for the first wicket, a record for the first wicket by India in West Indies, before Holding bowled Gavaskar with a yorker for 66. Mohinder Amarnath now joined the brave Anshuman Gaekwad, and the score reached 178 for 1 at the end of play. Only 67 overs were bowled by the West Indies in the entire first day. Both tactics: intimidatory bowling and painfully slow over rates were soon to become the hallmarks of Lloyd's approach to captaincy.
The next day, Lloyd's frustration was even greater and the new ball was the perfect weapon for him to continue with his plan. Holding bowled one at Amarnath's head and as he got his glove in the way, it ballooned to slip. The first ball faced by Viswanath almost took his head with it. A few overs later a similar one, crushed his fingers on it's way to the slips. Just before lunch Gaekwad who had taken many body blows got hit behind his left ear by yet another short rising delivery. It knocked his glasses off, much to the delight of the Jamaican mob who filled the stands. Anshuman Gaekwad had to retire hurt, against his wishes, and while blood spilled out of his ear, not a single Jamaican cricket official was available to suggest who could provide treatment or how he could get to the hospital. India's manager, Polly Umrigar was already at the hospital with Viswanath's broken fingers. Next to be hit was Brijesh Patel whose upper lip was cut open by yet another bouncer.
All the while umpire Gosein, the senior umpire, watched on mutely. At 306 for 6, Bedi had finally had enough and declared the innings. India dismissed West Indies for 391, conceding a lead of 85. But in the second innings only three batsmen were fit to bat: Gavaskar, Amarnath and Vengsarkar. Amarnath yet again showed his fighting spirit and tremendous courage to score 60 out of 97 for 5. When he fell, Bedi declared with West Indies needing 12 runs to win. Since only he and Chandra were left to bat, he decided that it made little sense to risk injury. Lloyd's West Indies won, by 10 wickets.

Cricket had entered a new much less innocent and much more violent era. Protective equipment in the form of helmets, chest, thigh, and elbow guards slowly became normal attire, as batsmen started looking more and more like gladiators and less like cricketers.