A disgrace to test cricket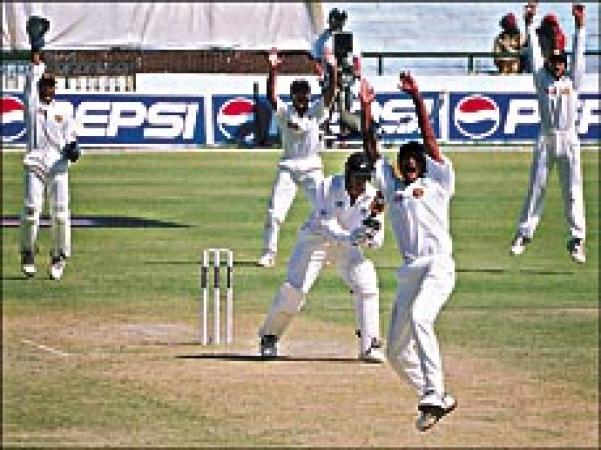 By Thaleel Bhai
November 22 2004
While watching the last half hour of the second day's play, I considered some particularly gruesome options that fans could use to get back at the curator of the pitch. Hanging him by the thumbs was one of them, making him bowl on his track for five full days to a few in form Ranji batsmen was another. And perhaps if he went ahead with that, he might just realize the sort of agony that not just the bowlers, but most fans of test cricket are going through.
Timeless tests are a thing of the past. Tracks where the ball doesn't come onto the bat and help strokemakers, and forces grafting at 2-2.5 runs an over also seemed to be in the same age, along with the abacus and the dinosaurs. And instead, two days of a farce have been played out on such a track - giving no help to bowlers, making batsmen grind their way through hours for runs, and probably ensuring the series will go to Kolkata 0-0. It might be early to predict that - after all, a blistering Sehwag or Tendulkar innings, or a shocking Indian or South African collapse could well make a result possible. Yet, a draw seems most probable from here on - and it says something about the state of the wicket that such a thing is being said with the test not even having reached the third day.
India's bowlers have toiled without much reward, with Anil Kumble the lone exception. Yes, they did err in leaving out Irfan Pathan - and yes, the selection of a spin trio might have been going a bit too far, with Zaheer Khan lacking any quality support on day 1. But even then, it's unlikely that those selection errors have caused any major change in the probable result, as even with 3 spinners and 2 seamers, India might have struggled to bowl out South Africa by noon on day 3.
The pitch has only caused the odd ball to stay exceptionally low or to kick up, and even by bowling repeatedly on a good length and line for over after over, Harbhajan Singh and Murali Kartik were unable to get much out of the wicket. Meanwhile, batsmen also struggled - the ball never did come onto the bat for stroke making, and aside from the odd full toss or wide half volley, there were far and few deliveries that could be sent to the boundary, making for a day of dismally dull cricket.
If Zaheer Khan, Harbhajan Singh, Murali Kartik and Anil Kumble take an idea from the Shiv Sena and dig up the pitch tonight with a few shovels, one can't blame them. It'll mean three days less of this nonsense. The only thing certain for the bowlers is that their bowling figures will certainly take a hit if the game continues in this manner. Maybe it might be the ideal wicket for Gautam Gambhir to score a maiden hundred, or for Tendulkar to bat himself back into form with a big score. But either way, if South Africa's inexperienced batsmen could play two of the top spinners in the world with such ease, the Indian lineup should not be too bothered by the threat Robin Peterson will pose. A run fest is on the cards for the next few days, but sadly, a result isn't. Maybe after all the talk of neutral umpires, it might be time for people to consider neutral curators if it's this hard to get a wicket right for a test match.
[Ed note: This wicket was, in fact, prepared by "neutral curators". New Zealand experts overlooked the preparation of this pitch as part of an overhaul of 10 Indian pitches by the BCCI a couple of years ago. The ongoing test here, as well as against New Zealand at Mohali and Ahmedabad last year, indicates those experts may not have delivered value for money.]
Dileep Premachandran: Pitches and Plodders