Rebuilding III: New blood on the horizon?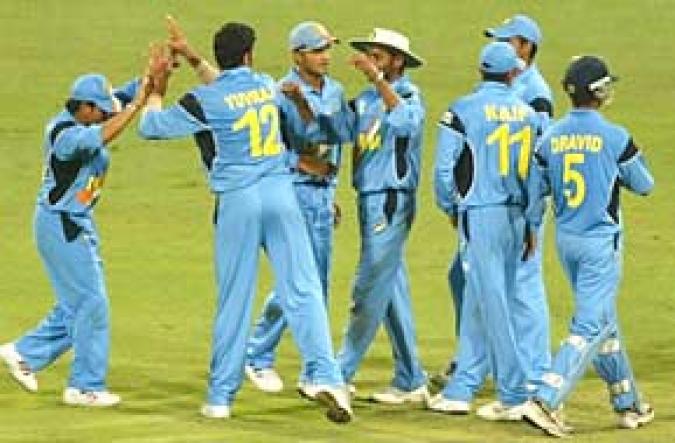 By Thaleel Bhai
November 21 2004
Part III of this series on rebuilding the Men in Blue looks at some of the young, up and coming players on the fringe of national selection and the possible selections to replace some of the current one-day lineup. Part II brought up some dismal failures in the Indian team in the last year or so, some of which were due to players well beyond their "Use by" dates, others due to players being misused and pigeonholed into the wrong places in the batting lineup. However, the big question still remains unanswered - despite criticism, and pointing out who's expendable and who isn't, how exactly can the team change for the better? New blood needs to be infused into the side... but who? A number of fringe players have been on the sidelines for some time, either having the occasional call up before being dropped, while others are just barely being recognized. To look at a few of these options; all stand out performers in the India A and Under-19 games...
MS Dhoni: The biggest void right now in the one-day lineup is due to the lack of a specialist wicketkeeper - and there are a number of selections in the domestic scene. Dinesh Karthik, who's been called up for the test side, Parthiv Patel, axed after consistently spilling catches and takes, and young, inexperienced Mahendra Singh Dhoni who captured the selectors' eye with a stunning performance recently. In a tri series in Nairobi between Kenya and the Indian and Pakistani A-teams, Dhoni earned the man of the series award for some consistent keeping and batting. Barely a catch was spilled, only a few byes were let through in the entire series, but what caught the eye was the young Bihari's attacking strokeplay at no.3. Forget pigeonholing keepers into the no.7 slot - Dhoni's shown he has what it takes to bat at the top of the lineup, with some glorious aggressive shots in his arsenal, a total disregard at points for bowlers' speeds or reputations, and the ability to sedately build a long innings and to blaze away depending on the situation's demands. By selecting him for the Board President's XI recently against South Africa, the BCCI's selectors have shown they're keeping an eye on him - and it might not be long before Dhoni continues tearing bowling lineups apart with his aggressive hitting, but this time in national colours..
Ramesh Powar: With the exception of an on-song Yuvraj Singh, India's lacked batsmen who can enter the later overs and hit boundaries to try and maximize the runs scored at the end of the innings. What's more, the side's rarely had more than four specialist bowlers, always having to rely on Sachin Tendulkar or Virender Sehwag to fill in the fifth bowler's spot. Both worries could be solved by the selection of Powar. In his debut against Pakistan, when coming out to bat with a handful of overs remaining and more than just a handful needed to win, Powar's slam-bang approach against Akthar and company showed that he can play pace bowling, and that he knows how to handle pressure. As an offspinner who's been both effective as a wickettaker and economical for Mumbai, Powar could also provide a more than useful fifth bowler option - but the biggest asset could well be his lethal power-hitting at the end of an innings. Similar hitters like Andrew Symonds, Lance Klusener and Chris Cairns have often made the difference between a competitive and a challenging total with late cameos - and Powar's ability to run hard between the wickets and to find the boundary with relative ease could make him one of the most vital cogs in the Indian one day lineup, if selected.
Dinesh Mongia: Mongia could be considered a left-handed version of Powar, but maybe without the same hitting prowess. Instead, Mongia has the ability to stack up tall scores if he comes in early, and at times when he's been given adequate time to settle in, can also be explosive in the final overs. Against spinners Mongia can be destructive - there aren't many who've been able to smash Muralitharan for a straight six - however, he's often struggled in the past against quality pace outside his off stump. In the 2003 World Cup, he looked uncomfortable against a number of top pacemen - yet, his stint in county cricket might have done him a world of good. Mongia topped Lancashire's averages in the 2004 Frizzell Championship, scoring two hundreds and two fifties in just six games, and chipping in with his left arm spin - and after some consistent domestic performances as well, with a hundred against the touring South African side recently, it might not be long before we see him make some sort of comeback in pyjamas.
Gautam Gambhir: While Gambhir's domestic record is impressive, his List A Limited overs record hides the talent he has. Yet, in recent times, Gambhir seems to have re-adapted himself to the pyjama game as some of his scores from recent A-team tournaments suggest. A number of tall scores opening the innings hopefully have been earmarked by the selectors, and the ease with which he's taken on new ball attacks will definitely have impressed those who watched him bat. Against the short ball, he's shown a good deal of ease when cutting and pulling, and his ability to set up good partnerships and build big scores will no doubt be a big factor in his possible inclusion in the future. In a post-Sachin-and-Saurav era, Gambhir might very well be the number one choice to open the innings along with Sehwag or anyone else.
Hemang Badani: At 28, Badani is definitely not too old to make another return to the one day side - and with his useful middle order batting, and sharp fielding, is another possible candidate for the one day lineup. Badani did not have too bad a series when playing against Australia and Zimbabwe earlier in the year, and his one day average of nearly 40 against the Aussies shows he can handle the top bowlers in the world as well as a good deal of pressure. Add in his sharp fielding - Badani's one of the most agile and athletic players in most Indian sides that he plays in, and is great at cutting off singles inside the circle - and with his ability to also hit the ball long and hard at times, Badani's another very plausible option for the one day middle order.
Sridharan Sriram: Like Badani, Sriram's another useful middle order player who's able to build innings well, and can later be dangerous in the end overs. Particularly in longer innings, Sriram's shown an excellent ability to keep rotating the strike if the boundary is hard to come by, and can keep the scoreboard ticking - and his left arm spin also would give his captain an additional bowling option.
Shikhar Dhawan: Dhawan's name entered numerous newspaper headlines with a series of superb performances during the Under-19 World Cup, where he smashed over 500 runs at a fine pace. Even though it's unlikely that he might enter the national side in the next year or so, Dhawan's just made his Ranji debut for Delhi, and if he can show that the Under-19 World Cup was not just a flash in the pan, it's more than likely that he'll be donning the national colours and cap in a few years. With age on his side, Dhawan has plenty of time in which to impress the selectors - and if he can show some sort of consistency and add to Delhi's already-powerful batting lineup, it's more than likely that he might be wielding the long handle at the top of the order for India in the future.