Down Memory Lane: Vol 4 - Two New Stars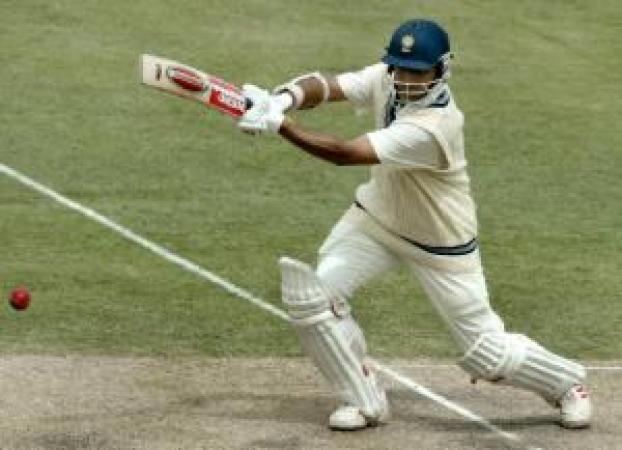 By Thaleel Bhai
November 25 2004
Ah, that familiar epithet, "Tigers at Home, Lambs Abroad". How many times did the average Indian fan read that in the papers or hear it on TV every time India toured? Prologue
Despite every effort, it seemed that India were incapable of winning overseas. Particularly so during the 1990s, when in spite of an impressive home run, they struggled every time after boarding a plane leaving the country.
Touring England in late May 1996, the Indians first had their morale dented by a dismal performance in the warmup Texaco Trophy one-dayers. Poor batting, worse bowling and horrific fielding saw them lose the series 2-0; and by that margin only because of a fortunate washout of the first game while in progress.
There was no improvement in the first Test at Edgbaston. Team selection was bizarre: six batsmen were selected, including rookies Vikram Rathour and Nayan Mongia, with Azharuddin, Jadeja, Manjrekar and Tendulkar as the only specialist batsmen with any experience. Sunil Joshi played "all-rounder", and failed to perform with bat, not even taking ball in hand. The English batsmen gleefully cashed in on a dismal debut from paceman Paras Mhambrey. Not even a masterly century from Tendulkar at Edgbaston could save India as England strode to a comfortable 8-wicket win.
Heads rolled immediately. Joshi and Manjrekar, both of whom had looked out of touch in the first test, were immediately axed. The Indians boldly replaced them with two debutants: Sourav Ganguly and Rahul Dravid.
The bowling attack was persevered with, with the result that recent debutants Mhambrey and Rathour were now joined by newbies Ganguly and Dravid. This team had such a raw, inexperienced look to it that most naturally assumed it would be cannon fodder for the Englishmen after its record so far on the tour.
The Match
It was to be umpire Dickie Bird's final Test, and both teams applauded him onto the field. But the old umpire showed little sentiment early on, as Srinath got one to move back into Atherton off the seam in his very first over to trap him in front: so plumb that even Bird, notorious for turning down LBW shouts, had to raise the dreaded finger.
Stewart and Nasser Hussain, two of the best players to have at the crease when the score reads 0/1, gritted their way through inspired new-ball bowling from Srinath and Prasad. On a wicket offering some assistance, both bowlers ran in hard, and got plenty of pace and movement both in the air and off the wicket. Hussain and Stewart were lucky to still be at the crease after countless plays and misses.
Alas, Paras Mhambrey's introduction to the attack again allowed England to take the pressure off, as he served up hit-me deliveries that were dispatched to the fence. This repeated a pattern from the first test: Javagal Srinath in particular had bowled superbly, inducing edges, seaming and swinging the ball, and generating high pace, while Prasad had provided good support. But with the introduction of the third seamer, India could not keep up the pressure on England after a fine opening burst.
Soon afterwards though, Srinath caught Stewart playing a loose shot: the ball sneaked through between bat and pad to rattle the timber, bringing Graham Thorpe out. Together, Thorpe and Hussain worked on grafting England out of trouble when one of the debutants struck. Perhaps it was a hunch on what would later become known as the "golden arm", or perhaps it was sheer exasperation with Mhambrey -- but Azharuddin tossed the cherry to Sourav Ganguly. With the last ball of his first over, Ganguly enticed Hussain to edge an away-swinger straight to Vikram Rathour, who juggled it before holding on to give Ganguly his maiden test wicket in his first over.
Graeme Hick came out, batting as if he was resuming on 150 not out, and immediately tried to smash Ganguly to the fence - but instead hit him straight down Javagal Srinath's throat at cover. Ganguly now had two wickets for next to nothing. The situation got worse for England when Prasad cleaned up Irani's stumps to reduce them to 107/5. Another wicket would have brought the bits-and-pieces tailenders to the crease, but Graham Thorpe and Jack Russell retaliated with a stubborn defiance, holding out for the rest of the day. Thorpe was bowled by Srinath the next morning.
But Russell continued his vigil with an exasperating partnership with Chris Lewis before finally being the last man dismissed for a gutsy 124, as Prasad cleaned up the tail to end with a well earned 5-for. England had been bowled out for 344, maybe a bit less than they would have liked before the match began, but certainly a fine score after the disastrous start.
Rathour and Mongia, one of India's endless makeshift opening pairs, saw out a few overs and put on 25 for the first wicket (by India's standards at the time, a fairly decent stand), before Rathour edged Cork to Hussain, bringing in Ganguly.
Sourav showed little of the nerves associated with most test debutants, instead showing the full face of his bat with a couple of glorious strokes. Both he and Mongia pushed the score along until Mongia was trapped leg-before by Lewis, bringing out Sachin Tendulkar. With just around an hour's play to go, Tendulkar and Ganguly played out the remaining minutes, giving supporters a few worries: in the last half hour, Cork managed to hit his straps with a good line, and had Tendulkar playing and missing once, while trapping Ganguly on the crease a couple of times with some loud LBW shouts. But Cork was unrewarded as India went to stumps on day 2 on 83/2, and a good distance behind.
Fans tuned in the next morning hoping for a masterclass from the in-form Little Master to lead an Indian comeback, but in the very first over, Tendulkar pushed at one in the corridor with some uncertainty, and edged it straight to Graeme Hick - who spilled it. The unlucky bowler, Chris Lewis, was immediately pasted for a couple of regal boundaries and it looked as if England would pay severely for the let off. However, Lewis came back soon after to rip through Tendulkar's defense with a jaffa that knocked back his off stump. Tendulkar out for 31, India 123/3, and an early morning collapse looked to be on the cards. But the debutant had other ideas.
Graeme Hick was brought on in a surprising move, and Ganguly immediately took on the part time off-spinner with a couple of well timed boundaries, prompting Atherton to end his experiment and bring back Mullally. The change worked: after a couple of fine hits, Azhar needlessly chased a wide one, feathering an edge to Russell. India was now in deep trouble as Ajay Jadeja came in, and didn't look like getting the side out of it as he scratched around uncertainly.
At the other end though, rookie Ganguly held things together, displaying excellent judgment and only going after anything loose. Ganguly dominated the 48 run partnership, while Jadeja tried to turn strike over wherever possible. Eventually, Jaddu fell for a labored knock of 10 in 55 balls, when he poked at one from Irani and inside-edged to stumps.
India were 202/5 as Rahul Dravid walked in for the first time in Test cricket. Another wicket would have exposed a brittle tail and given England a good opportunity to go up 2-0, sealing the series. Instead, Dravid showed the application and technique that was to become the hallmark of his game, as he resolutely blocked out hopes of another breakthrough while Ganguly carried on fluently. As he accumulated the runs, Ganguly began looking more and more dangerous -- and finally slapped Cork through the offside with a trademark cover drive to bring up his Test hundred, on debut at Lords. It had come under a great deal of pressure and with every other established top-order batsman failing, the debutant from Calcutta had put his hand up and saved the side from yet another humiliation, while silencing all the critics who had complained of his inclusion due to zonal politics.
Dravid continued to hold one end up, working the ball around without trying to find the boundary, even as Ganguly stepped up the tempo with some more elegant boundaries.
Eventually, England's bowlers resorted to bouncers. Ganguly took Lewis on with a glorious hook for four, but then got carried away and attempted an expansive hit off a straight yorker from Mullally which rattled the woodwork. But by then, India were just a boundary short of the 300 mark and out of trouble. Ganguly departed the field to a standing ovation from the crowd and his teammates.
Dravid continued through the remaining overs of the day, showing incredible application and maturity. With Kumble at the other end, the "Wall" rotated the strike well enough to keep his statemate away from the batting crease for most of the time, picking easy twos and managing to find the singles at the end of most overs. Dravid brought his fifty up just before stumps - and when the bails were taken off, India were 324/6, only 20 shy of England's total.
Dravid wasn't yet done. He continued with the same resolve and grit the next morning to put up two frustrating partnerships with Srinath and Mhambrey. Ignoring his own strike rate, Dravid kept manipulating the strike and edged closer to his own maiden hundred - but it was not to be when on 95, he pushed at one from Lewis and provided Russell with another easy catch. Regardless of the missed ton, his team and the crowd appreciated his effort and the value of his knock, and as a result of the Wall's resistance down the order, India were finally bowled out for 429: a lead of 85. The Indians' slow scoring rate and the play lost due to weather made a result unlikely, but the bowlers nevertheless bowled their hearts out, albeit to little result.
England ended the second day on 113/2, having only lost Atherton and Hussain, the latter dismissed by Srinath in the final few minutes of the day's play. Srinath had again bent his back, bowling with pace and venom; yet his fieldsmen were unable to support him in both innings, with a number of chances going down.
However, the Mysore Express struck the very next morning in his first over, bowling Alec Stewart for 66. With Graham Thorpe joining nightwatchman Peter Martin, Srinath and Prasad hit their straps harder, knowing another quick wicket would give them the chance to bowl England out cheaply enough to force a result. Martin stonewalled for almost two more hours, with the rest failing to provide him with enough support.
After almost an hour at the crease, Thorpe gloved one from Kumble to short leg. Graeme Hick walked out and labored his way to a painfully slow 6 runs before being dismissed by a sharp lifter from Prasad, who was troubling the batsmen in a superb spell of variable bounce and sideways movement. A few overs before lunch, Martin was finally forced away from the crease by a top delivery from Prasad - and by then, England were 168/6, 81 runs ahead with four wickets in hand, and two sessions remaining.
Irani and Russell were the only remaining batsmen, but Russell followed up his vigil in the first innings with another gritty knock. Both men batted out time, playing out almost two hours before Paras Mhambrey got his maiden test wicket, getting one to stay low as Irani bottom edged it onto his stumps. Until then Irani had batted well for his 41, a mixture of attacking shots to push back the close-in fielders, and gritty defense - but after his dismissal, Chris Lewis joined Russell once more. The duo had formed a frustrating first innings partnership, and again continued to chip away at the withering Indian hopes of winning the game. Another wicket might have given India a faint chance then and there, but for the final session, Russell and Lewis stonewalled until Sourav Ganguly again made a breakthrough in his first over.
Russell was trapped leg-before with a handful of overs remaining, but had done his job admirably in both innings -- well enough to be awarded the Man of the match award. Even though Anil Kumble dismissed the new batsman Mullally second ball, the wickets had come a session or two too late and India had been prevented from winning the game. A grim vigil from Russell had saved it from England, and were it not for the support he'd gotten from Lewis in both innings, and Irani on the final day, things might have turned out differently. As was the case with a number of Indian tests abroad during that time, India had impressed enough to worry the opposition and take the ascendancy, but had been unable to deliver the crucial knock out blow right when it mattered.
Epilogue
Even though India failed to win the game, it is remembered to this day as one of the more significant milestones in Indian cricket -- not as much for the team's performance as the two new stars who stood up and delivered on the big stage. Sourav Ganguly had made a brilliant first impression, and was to follow it up in the next Test at Trent Bridge with another glorious hundred, becoming one of a very select few to score centuries in his first two test innings. Rahul Dravid again delivered the goods, and yet again fell painstakingly short of the three-figure mark with a wonderful 84. Even though Tendulkar stamped his class on the final test with a classy hundred to join the run feast, the final match ended drawn to give England the series 1-0.
Nevertheless, it had given Indian cricket two brand new stars: world-class batsmen who would serve Indian cricket for a while as two of its most consistent and impressive performers ever.