Master Of The Fourth: Part II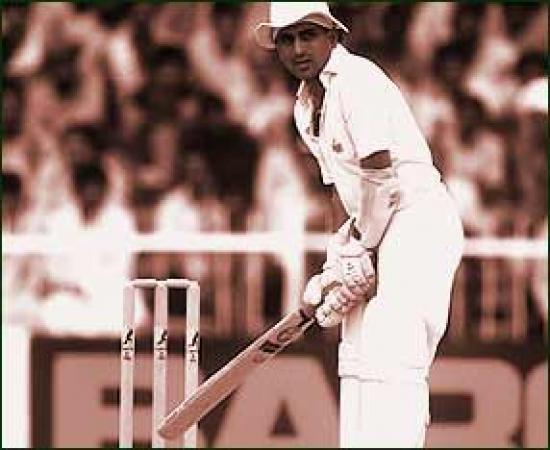 By Gaurang
November 25 2004
This is the second in a four-part "Master of the fourth" series involving four great Test matches which also contain four batting gems from the master of the fourth innings, the legendary Sunil Gavaskar.
The Oval Epic
Prologue
India began its four Test match series against England in 1979 with a loss in the first Test played at Edgbaston, where England won by an innings and 83 runs after piling up 633 for 5 declared. The next two matches were weather interrupted draws, though some excellent batting by Dilip Vengsarkar and Gundappa Viswanath at Lords was also a factor in India entering the final Test with the series still in the balance. Five days later, only nine runs kept India from a fantastic victory and sharing the series with England.

As India fought back against all odds Indian fans would have felt the disappointment of the First Test and India's quick exit earlier from the 1979 World Cup recede a bit. The fight back would have been especially sweet in light of the heavy defeats that Mike Brearley's powerful English team had inflicted on Australia, Pakistan and New Zealand in Tests during the two previous seasons.

Mihir Bose the veteran cricket writer, who is currently the sports columnist for the Daily Telegraph, in an emotional piece after the match, captured the mood perfectly. He wrote in Sportsweek's World of Cricket: "The sight of Gavaskar, all technique and elegance, as he single-handedly dismantled the English attack was more than but a treat. He made one feel proud to be an Indian!" He continued: "Whatever I did, I just couldn't bring myself to accept it – the fact that I would run out of words, fail in my task to describe, the truly glorious innings of Sunil Gavaskar, as he came out on his own, fighting for himself, fighting for India, humbling the high English, re-capturing the hearts of all cricket lovers, and proving to the world, that he is indeed, by all means, one of the greatest of all times!"

The Match
Mike Brearley won the toss for the third time in the series and elected to bat. Geoff Boycott and Test debutant, Alan Butcher, got off to a slow start, scoring 45 for no loss in two hours to lunch, as Kapil Dev and Karsan Ghavri, followed by Bishan Bedi and captain, Venkataraghavan, bowled economically. Right after lunch Venkat got Butcher to pop up a catch to Yajurvendra Singh at short leg. Soon Boycott followed his opening partner back, lbw to Kapil Dev, who then trapped David Gower right in front, again lbw, for a duck, as England were in a spot of bother at 51-3. Now Graham Gooch who had come in at one-down, was joined by Peter Willey, the off-spinning all-rounder, and the two put together a stand of 97 before Willey was caught by Yajurvendra off Bedi for an attractive 52. By the end of the day England were 245 for 5, Gooch 79 not out, and honors even.

The next morning Ghavri beat Brearley twice in one over in over-cast conditions and then moved one away for Vishy at first slip to catch Gooch still on 79. The Indians then mopped up the bottom order for 60 more runs as England subsided to 305 all out. The wickets were shared by all four main bowlers.

Having done the hard work, India let the initiative slip as they began their first innings in disastrous fashion. Chetan Chauhan fell to Bob Willis caught in the slips by Ian Botham at 9 followed immediately by Dilip Vengsarkar for a duck to the same combination. Gundappa Viswanath now joined his brother-in-law Gavaskar at the crease, and they took the score to 47 before Botham got Sunny caught behind by one that swung away very late. Viswanath played a lone hand for 62, supported only by the relatively inexperienced Yajurvendra Singh as India were bowled out for a paltry 202. The wickets were shared by the three English quicks including three to Bob Willis in a two fiery spells of fast bowling either side of lunch.

With a lead of 103, Boycott spent the rest of Saturday and the better part of Sunday in pursuit of his 18th Test century. He scored a painstaking 125, before being bowled by Ghavri. At the other end wickets kept falling as Gooch was trapped lbw by Kapil and Gower was caught behind by wicket-keeper Bharat Reddy playing a lose shot to Bedi. Boycott then managed to get Botham run out for a duck, much to the annoyance of the Somerset all-rounder and words were exchanged on field. Some late innings hitting by the English keeper David Brairstow, last out for 59, meant that Brearley was able to declare at 334-8 and leave India 438 runs to win. He had obviously considered India's prowess at chasing down fourth innings scores when he made sure the target set was 32 runs more than Lloyd had set for India at Port of Spain.

As India began their second innings before tea on the 4th afternoon, the equation was: either score a world record 438 to win or survive four and a bit sessions at the crease. Again, India's first innings effort, a paltry 202, offered little reason to hope for a miracle, especially since the win at Port of Spain was only three short years ago, and miracles are just not supposed to occur that often.

Chetan Chauhan and Sunil Gavaskar opened the batting for India, and they immediately made a much better start than in the first innings. They survived the handful of overs till tea and then batted out the entire last session of the fourth day, without much fuss, though Brearley had set a very aggressive field, including four slips and a gully as the ball was swinging around. The fielders got their fingers on a couple of hard slashes by Chauhan, but none was a genuine chance. At the end of the fourth day, Gavaskar and Chauhan walked back to the pavilion unbeaten with 76 runs on the board, with Gavaskar on 42 not out.

On the final morning Gavaskar and Chauhan walked out to a sparse Monday crowd, consisting of a large smattering of die-hard Indian supporters, with the equation now 362 runs in 300 minutes and 20 mandatory overs. Brearley's tactics were clearly to contain the aggressive Gavaskar with a widely spread field and attack Chauhan with close in fielders while also testing him with bouncers. Chauhan fought grimly, though he was clearly bothered by the tactics. A rising delivery from Botham flew over the slips as he slashed hard, and another more genuine edge off Hendrick flew at catching height through the slips, but Chetan soldiered on.

After bowling six excellent overs in his only spell of the morning, Hendrick suffered a severe shoulder strain leaving the field unable to return to the attack for the rest of the day. This was a very big blow to England's plans. But even without Hendrick the English bowling attack was still a very good and balanced one with the pace of Willis and Botham, backed by Gooch's medium pace, and two genuine spinners, the slow left armer Phil Edmonds, and the off spinner Peter Willey.


Gavaskar and Chauhan began where they left off and slowly began building their momentum run by run. Gavaskar, throughout the day, paced his innings like a seasoned race car driver. He judged each twist and turn brilliantly, and like an expert driver shifted gears as the situation demanded. At the start of the day he was cautious, then he began to accelerate. Right after the drinks breaks, he again slowed down to make sure he did not lose control, but once he had played an over or two he was again pressing the accelerator. After lunch he started in low gear but quickly shifted up from first into overdrive. His batting was a judicious mix of nudges and pushes for hard run singles and twos when the field was spread, interspersed by rasping square cuts when the bowlers dropped it short, or elegant drives through the covers when they pitched it up. When Brearley tried to cut off the nudges and glances by bringing fielders in, Sunny used his feet to advance down the track and safely chip and loft the ball over their heads for boundaries.

By lunch time India had reached 170 for no loss and England were desperate for a breakthrough. However, after lunch the openers continued serenely as their partnership reached 204, to become the highest first wicket partnership against England, surpassing Vijay Merchant and Mushtaq Ali's 203 at Old Trafford in 1936. Finally after five and a quarter hours of brave defiance, when the partnership had reached 213, Chauhan edged a slip catch to Botham off the bowling of Willis, out for a gutsy 80 and England finally had its first break.

Now Vengsarkar now joined Gavaskar in the middle and for a few overs they consolidated, as Peter Willey bowled a tight spell, and the impression was that India were looking to draw rather than win the match. But Gavaskar was just making sure the Indian innings did not skid off the path to victory. As Vengsarkar began to find his bearings, he began to use his feet to the spinners. A few years earlier Vengsarkar had first caught the eyes of the national selectors with is performance in the Irani trophy, where he had smashed Bedi and Prasanna, then at their bowling peak, all over the park for a spectacular 110. Willey and Edmonds were clearly not in that class, and Vengsarkar looked completely at ease. He also looked comfortable against pace and in fact played the shot of the day when he hit Willis straight back over his head for a straight six as if facing a medium pacer.

By tea time the score read 304 for 1 with England and Brearley nearing wits end. Enjoying a samosa and chai an Indian fan would have calculated that India needed 134 runs for victory, in about thirty-odd overs when play resumed. However the English captain had other ideas. Mike Brearley fearing that he had made a monumental misjudgment, similar to Lloyd's at Port of Spain, could sense that the game was about to slip out of his hands. He then did the most logical yet cynical and unsportsmanlike thing imaginable. He contrived through frequent field changes, long conferences between the field changes, and general time wasting tactics to ensure that England bowled a shocking six overs in the time between resumption of play after tea and the beginning of the 20 mandatory overs at the start of the last hour. This cynical ploy was not censured by the English umpires, though one felt if the shoe were on the other foot, they would have certainly had strong words with the Indian captain.

But since there was no official rule that was being violated, only the spirit of the game, Brearley got away with this scot free. The sparse population of Indian fans were vocal in their disgust with Brearley's tactics, but their loud boos, hisses and cynical hand-clapping failed to deter Brearley from ensuring that the total number of overs India got to face after tea was reduced from a possible 35 to just 26. Gavaskar however did not panic, and made sure he and Vengsarkar played themselves in after the tea break instead of trying to counter this tactic with wild strokeplay and possibly getting out. Thus a mere 24 runs were scored in the six overs before the clock struck five, and the mandatory overs began with India needing 110 for victory at just under a run a ball in 20 overs.

By this time Gavaskar was completely masterminding the innings, doing all the thinking and much of the run scoring. He and Vengsarkar put together 153 runs at better than a run a minute for the second wicket with Dilip's contribution 52 before finally Vengsarkar was gleefully caught by Botham at short mid on trying to hit one against the spin of Edmonds. Incredibly just one run earlier Botham had dropped the simplest of sitters giving Vengsarkar a life, but Dilip failed to capitalize on this let off.

When the second wicket finally fell at 366 India needed another 72 runs off 13 overs. Venkat then took a gamble which is debated to this day. He promoted the teen-aged Kapil Dev in the batting order, hoping that Kapil, who already had built a reputation for big hitting, could hit a few lusty blows and make the target a mere formality. However, Kapil showed his inexperience when he tried to launch Willey out of the ground before getting off the mark. He ended up holing out to Gooch at deep mid on for a duck. Venkat's gambit had back fired.

Yashpal Sharma now joined Gavaskar and the two of them resumed plundering runs as India reached 389 for 3 with eight overs left. At this point Brearley decided to give the ball to Ian Botham. This could have been an expensive move, but Brearley showing a keen understanding of human psychology, befitting a Ph.D in that subject, knew that Ian was the one bowler who would be quite fearless in this situation and bowl aggressively. Botham repaid Brearley's trust handsomely not just here, but with full interest later against the Australians in an incredible series that now is popularly referred to as "Botham's Ashes" where he almost single handedly helped Brearley win back the Ashes.

Gavaskar meanwhile had been passing one milestone after another. First he passed Vinoo Mankad's 184 as the highest score by an Indian in England, then he passed Nawab of Pataudi's 203 as the highest by an Indian against England anywhere. Next he eclipsed his own personal best of 220 against West Indies at Port of Spain in his debut series in 1971. Finally on 221 he drove a bit tiredly to one that Botham held back a bit, to be caught low at mid on by Gower for 221. The Indian dressing room stood as one to cheer him back, and even the entire English team clapped him off the field.

The praise poured in torrents, for this nearly flawless innings which brought India to the edge of victory. One particularly moving tribute came from England's greatest post-war opener, Sir Len Hutton. Sir Len wrote in the Observer: "I have seen many double-centuries in Test cricket but this superb innings by Gavaskar could well be the greatest of all time, taking into consideration his team's hopeless position...At the very least, it can be bracketed with Stan McCabe's 232 at Trent Bridge and Walter Hammond's double-century at Lord's both in 1938."

As the crowd's applause subsided with Gavaskar's departure, it again burst out among the Indian fans as Viswanath now joined Yashpal Sharma in the middle, one little genius replacing another. Viswanath was immediately middling the ball and he and Yashpal took the score to 410 when Viswanath who had scored 15 off 11 deliveries, was declared out caught by Brearley off Botham. There was however significant doubt as to whether it was a catch or whether Brearly caught it off the half volley. Vishy, one who always walked when he knew he was out, this time stood his ground. But the English umpire raised the finger and Vishy walked back disconsolate to the pavilion.

Next, England won another dubious decision as Yajurvendra Singh was declared lbw stretching far forward to defend an in-swinger from Botham. This was followed yet another controversial decision which saw Venkat being declared run out. Television replays suggested that the throw, which was not a direct hit, but had to be collected by Brairstow above shoulder height and then brought down to break the stumps was not in time. However there was no third umpire to refer the decision to, and the English on-field umpire had little doubt, and India now slumped to 419-7. Ghavri joined Yashpal who was playing a very handy innings, and they took the score to 423 when Yashpal fell lbw to Botham again, caught on the crease to an excellent inswinger.

In the space of a few overs the game had turned completely around and Brearely sensing that India were now completely on the back foot crowded the new man, Reddy, with fielders all around the bat. Willey dropped the first ball of the last over short and Reddy quickly swivelled around and pierced the close in fielders with a fierce pull for four. India needed 11, England needed two wickets. Finally with two balls left England still needed two wickets to win and India still needed 10 runs. All four possibilities, an England win, an Indian win, a tie and a draw were possible. As Willey bowled the fifth ball of the final over Reddy tried to hit the ball hard and straight, but only managed to trickle it into the outfield for a single.

The England team, knowing that both an English or Indian win was now extremely unlikely, bolted off the ground with one ball still remaining to be bowled. The Indian batsmen walked off reluctantly. Technically anything was still possible such as a boundary off a no-ball and another of the last ball, or a run out off a no ball and a wicket off the last ball, resulting in a win for either side. However the relieved Englishmen having achieved their purpose, with the assistance of some cynical gamesmanship and some helpful umpiring, had long ago vanished into the pavilion, having escaped by a whisker from having to share the series. There was just no way the umpires were going to get them back out.

Epilogue
1979 marked a banner year for Sunil Gavaskar. He scored more runs in that year, 1555, than any other in his career and the second highest by any batsman in Test history behind the 1710 Viv Richards scored in 1976. Sunny was at the zenith of his batting powers and was scoring centuries with such frequency that only Sir Donald Bradman had scored more centuries in fewer matches than his 21 centuries in 50 Tests to that point.

This match was also marked the peak of Test cricket's popularity in the mind of Indian fans, as a few short years later after India won the 1983 World Cup, Test cricket took a back seat to the one day game among Indian fans. It was also no coincidence that some of the key young batsmen from this match, which boiled down to a one-day chase, Kapil Dev and Yashpal Sharma in particular, would play vital roles in India's triumphs in the World Cup four short years later.