Down Memory Lane - Kambli's Moment of Glory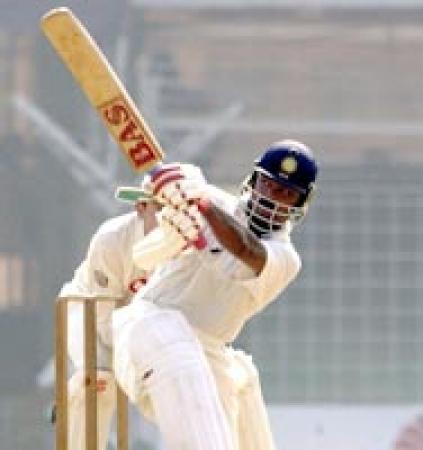 Dashing Southpaw
By Thaleel Bhai
November 27 2004
It may be a staggering statistic to the uninformed that one of India's most thrilling strokeplayers had averaged well over 50 for the bulk of his test career.
And yet was axed from the test side at the ripe old age of 23, and since then, despite only having played 17 tests with a few staggering scores to show, has never donned the whites for India again. Vinod Kambli often said of his childhood friend and frequent partner in batting massacres, Sachin Tendulkar, that "he took the elevator to the top while I took the stairs". Kambli though must have slipped a few times from those stairs - as he's yet to reach anywhere near the top, a result of his flashy lifestyle at one point, personal indiscipline and a combination of politics from the selectors and BCCI. For a few brief moments though, Kambli was held among some of the highest stars Indian cricket had ever produced as he enjoyed a series of near-Bradmanesque scores in his early career.

Prologue:
The famous partnership of 664 for Sharadashram saw Kambli and Tendulkar begin featuring among headlines at a young age, and it wasn't long before both were called up to the Mumbai team. After a number of impressive performances, Tendulkar was called into the test side to make his debut in Pakistan - and the youngster impressed all who saw him, before making the first of many hundreds at Old Trafford in 1990. Kambli kept churning the runs out for Mumbai, and wasn't forgotten either, making his debut alongside Javagal Srinath in Sharjah in a one dayer against Pakistan in 1991. Just over a year later, in early 1993, Kambli was given his first test cap as a player when called into the side for the England tour of India.

It was a wrecked England team touring - left arm spinner Phil Tufnell had been dropped controversially from the touring side for the first test, and with the chaos caused by Ray Illingworth at the helm of the team's selections, the Poms arrived in India in a poor frame of mind. Captain Mohammad Azharuddin led from the front in the first test at Calcutta's Eden Gardens, slamming a ferocious 182, before Anil Kumble, Rajesh Chauhan and Venkatapathy Raju spun England out twice. If defeat wasn't enough, team manager Ted Dexter promptly made the tourists the laughing stock of the cricketing world. Dexter always had a few headlines for the media reporters which only added to the touring sides' misery, and after a crushing innings defeat at Chennai (set up by centuries from Sachin Tendulkar and Navjot Sidhu, and some more superb spin bowling), he had already been quoted repeatedly for blaming his side's defeat on pollution, bad water and prawns from a dodgy restaurant.

Chopping and changing had been the Englishmen's response to defeat - and yet again, a number of axes were wielded, this time to Neil Fairbrother, Paul Jarvis and Devon Malcolm (who had been the new ball attack at Calcutta). After a surprising exclusion earlier on, Michael Atherton was brought back, while England added to their spin attack by recalling John Emburey, who had been until then ignored - with the Poms desperately hoping to avoid a whitewash in the final test at Bombay's Wankhede Stadium. India stuck with the same winning combination; playing their spin trio and Kapil Dev and Manoj Prabhakar as the new ball bowlers, while hoping to win a series 3-0 for only the second time in their history.

The game:

At least something went right for a touring England team that seemed to be incapable of getting anything right. Graham Gooch called the toss right, opted to bat, and within a handful of overs, England were 30/3. Gooch began the slide by nicking Kapil Dev to Kiran More behind the stumps, and a shocking runout that saw Mike Atherton and Alec Stewart end up at the same end turned the slide into a freefall. Things only got worse when Raju induced an edge to More from Robin Smith, and despite a brief period of resistance from Gatting and Atherton, Gatting fell just before lunch, edging Raju into Kapil Dev's hands at slip. 58/4, and Graeme Hick walked out with England well on course for the 3-0 whitewash.

With Atherton trying to hold one end up and scratch around for runs where possible, Hick played himself in as the two men began restoring respectability to the England total. The partnership was at 58 when Atherton played a loose drive and failed to middle the ball, hitting straight down Manoj Prabhakar's throat at mid on. Wicketkeeper Richard Blakey came in and immediately showed off his inexperience, looking uneasy against the spinners. It didn't seem like it would be long before Blakey walked back - and it wasn't, as Kumble trapped him on the backfoot plumb in front of the stumps for just one run.

England looked dead and gone at 118/6, but Chris Lewis again showed his batting ability with a gritty vigil alongside Hick. Both kept the Indian spin trio at bay, adding another 93 runs to give the total a hint of respectability, before Lewis was trapped leg before by Kumble for a fighting 49 - one short of what would have been a well deserved half century. England needed something of a miracle to get out of jail, and as Hick grew in confidence and approached the 90s, Emburey continued to hold one end up with dogged defense. England finished the day without any further wicket loss, at 239/7 - and with Hick unbeaten on 99.

The century was a minor matter, as Hick would need to put up a big score if England were to even show some competitiveness in the match. On the third ball of the second day's play, Hick reached three figures - and from there, didn't look back. In one of the few bright moments in his England career, Hick began to tear into the Indian bowling while Emburey blocked away. The partnership had accumulated 51 runs before Kapil finally made a key breakthrough, getting rid of Emburey - and several overs later, dismissed Phil DeFreitas for 11. 279/9, and it looked as if England would be bowled out for under 300 yet again in the series.

Instead, Phil Tufnell - often a rabbit with the bat in hand - blocked 40 balls for an unbeaten 2, as Hick began to go for broke and plundered the bowling. In a sight that had been rare in the series, the Indian bowling was dominated briefly on either side of lunch as Hick used his feet to the spinners and showed the array of shots that has made him one of the most destructive on the county circuit. The new ball was called for, and Hick treated it with disdain, belting it over square leg for six as the score went into the realm of something competitive. Finally, after 68 valuable runs had been added, Hick finally top edged a hook as Kapil Dev took a stunning running catch to end the England innings at 347 - a superb recovery after being 118/6.

England's hopes of coming back in the series were quickly punctured by a 100-run opening partnership between Manoj Prabhakar and Navjot Singh Sidhu. Prabhakar primarily employed defense, hitting only four fours and a six in his 134 ball knock as Sidhu took on the role of the aggressor, but with stumps approaching, the Delhi all rounder edged Graham Hick to Blakey to give England their first wicket. Sidhu continued to mix defense with a good deal of aggression against the spinners, as Vinod Kambli came out to the crease. Kambli played a few shots to get to 20 by the close of play, as India ended on 144/1, 203 behind England.

Sidhu began the next day looking scratchy and uncertain, and scored an additional 10 runs slowly - before finally prodding forward and giving Robin Smith catching practice at silly point. India had lost two wickets then with 174 on the board, and it almost became three, as Kambli came down the track to Emburey in his next over, only for DeFreitas at long off to drop a sitter. With his childhood friend Tendulkar at the crease, Kambli settled down as the two Bombay youngsters began to delight their home crowd. On a pitch where runscoring was not easy and the ball wasn't coming onto the bat, Kambli and Tendulkar nevertheless managed to score runs at a fairly decent rate, putting away anything loose to the fence and capitalizing on scoring opportunities wherever possible. Tendulkar showed a good deal of self restraint as he didn't dominate the bowlers (attested to by his strike rate), yet kept the runs coming as the duo slowly batted England out of the game.

Kambli brought up his hundred to a huge ovation - it was just his third test, and his maiden hundred had come up in just 168 balls, and to make things even more pleasant, on his home ground with Tendulkar at the other end. After reaching his century, Kambli stepped up the scoring rate even further to establish himself as the aggressor in the partnership. The afternoon session saw the spinners in particular treated with disdain by the young left hander - and with Graham Gooch at a complete loss of ideas to resort to, the England captain tried slowing the over rate down deliberately to 12/13 an over (with spinners at both ends) to try and irritate the batsmen. It worked as well as most of his previous decisions in the series, as the Achrekar duo kept on piling on the runs. Tendulkar played the supporting role and looked to be nearing his own century, when Phil Tufnell had him leg before in the final hour. By then, the duo had combined for a partnership of 194 runs and had put India in the lead. With Azharuddin, Amre, Kapil and More to follow, India had intentions of only batting once and making England bat last on a wearing track.

After ending the third day at 397/3 with Kambli on 164, the Indians continued to pile on runs on the fourth morning. After Azhar was trapped LBW to Lewis early on, Kambli was joined by another Mumbaikar - that too, another from the Ramakant Achrekar line of talented Bombay batsmen. Praveen Amre immediately imposed himself on a weary England attack as he found the boundaries with ease, turning the run flow into a torrent as the English bowlers struggled to find a way to break through. Just before lunch, Kambli brought up his double hundred to a resounding cheer from his home crowd. It was his third test only, and the youngster had played superbly - and it looked as if India had a new star in the making.

However, just after lunch, England were given a brief respite as Amre played a loose slash to Hick and was caught by DeFreitas at point. Kapil Dev came in as Vinod Kambli continued to pile on the runs, slamming a run-a-ball 22 before hitting Emburey straight to point. Two balls later, Kiran More followed for a second-ball duck, and when Kambli slashed Chris Lewis straight down the throat of Mike Gatting to make India 563/8, it looked as if England's miseries in the field were coming to an end. Kambli departed to another standing ovation from his home crowd, having scored a superb 224 off 411 balls and having seemingly begun to fulfil the hype about him.

The tailenders had other ideas - Kumble and Chauhan both went for broke with a few wild hits, as Chauhan cleared the fence twice, smashing his English offspinning counterpart for consecutive sixes, with Kumble joining in. Both eventually holed out to deep midwicket to end the Indian innings at 591, to give their side a massive lead of 244. England's start mirrored the way their first innings got off the blocks with Manoj Prabhakar running riot through the top order.

Prabhakar generated pace and swing, as well as getting some uneven bounce from a wearing pitch, and after trapping Stewart LBW, soon cleaned up Gooch's stumps with a wonderful yorker, before bouncing Atherton, who edged one haplessly to Kiran More. 34/3, and England were in dire need of a rescue operation. Robin Smith and Mike Gatting came to the rescue, seeing England through the day without any further wicket loss, and reaching their half centuries early the next morning to give their side a bit of hope of pulling out a draw. A rush of blood ended the hopes at Gatting swiped at one from Chauhan, missed completely and was stumped despite a slight fumble from More. Graeme Hick joined Robin Smith, and yet again, England lost a couple more back to back wickets, sparking one of their dreaded collapses.

Two deadly topspinners from Kumble bowled Robin Smith, and then Richard Blakey off consecutive deliveries and it looked as if it would take another Hick miracle to save England. Instead, the wickets kept falling - Lewis was unable to replicate his vigilant performance from the first innings and edged Raju behind the stumps, and Kumble got the key wicket, getting one to kick up off a length which Hick gloved to Amre at bad-pad. Emburey followed, edging Kumble to slip and despite a couple of wild hits from DeFreitas, it was all over for England a few balls later as More whipped the bails off to remove DeFreitas. The collapse had only been a matter of time - aside from Hick, none of the new batsmen had looked comfortable at the crease with the ball turning and bouncing sharply, and once Smith and Gatting fell, England hopes vanished along with them.

England were bowled out for 229 to give India another crushing victory - this time by an innings and 15 runs, and a 3-0 series whitewash. There was little consolation in Graeme Hick being named man of the match (a controversial decision, after Kambli's fantastic double hundred) - as the tourists prepared to pack their bags after one of their most humiliating defeats in recent times.

Epilogue:

It looked to be the birth of a new star - Kambli had topped the runscoring charts for India that series and followed up with a run that could only be described as Bradmanesque - even if the opposition quality was anything but. The youngster's next few innings saw him score 227, 125, 5, 140, 5, 82 and 57 - and by then he was averaging 113.28. Such a number could only go down, and it plummeted dramatically. When the West Indies toured India, Kambli struggled against the bounce and unerring lines of Walsh and Ambrose, and in six innings, made scores of 40, 0, 0, 6, 18, 0 - a sudden return to reality. What's more, his technique - or lack of it - against a short ball had been cruelly exposed and exploited by the West Indian quicks, and the nightmare run continued in tests until selectors finally discarded him.

Kambli's weaknesses were immediately preyed upon in one dayers, and almost every time he came out to bat, he would be met with a barrage of short pitched balls and a packed cordon of slips and gullies. It was no surprise that despite having a stunning first class average (just under 60), Kambli never again did look as if he fit in at the international level... and with the mix of politics in the BCCI selection committees, and his flashy, indisciplined lifestyle, Kambli was in and out of the one day team. He never did make it back into the test side, despite his earlier glories - and now at 32, while still performing for Mumbai, it seems that his international career will be bracketed alongside plenty of others who showed a good deal of promise - and often converted some of it - but couldn't last at the highest level of cricket for long enough.