Down Memory Lane - Shane Warne's nightmare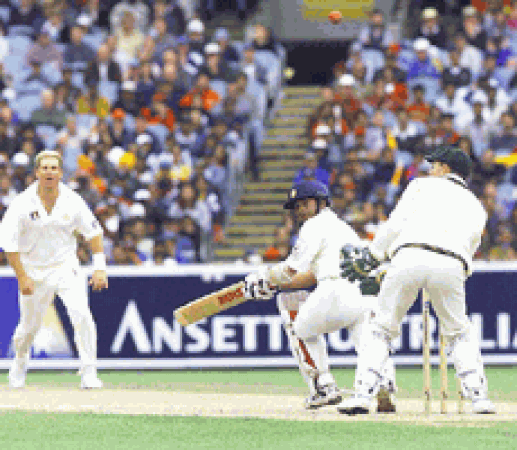 Warne who?
By Thaleel Bhai
November 29 2004
If Shane Warne ever starts speaking of the nightmares he's had in his life or career, expect the words "Sachin Tendulkar" to warrant a few mentions.
After a series of hammerings from the Master Blaster in 1998, Warne famously admitted that Tendulkar coming down the track to him had given him nightmares - but it wasn't just him.
1998 was a golden period for the batting genius from Mumbai, who took on every single bowling attack he faced with a grin on his face, and with bat in hand, proceeded to send fielding sides on numerous leather hunts. In that one calendar year, Tendulkar only played five tests yet hammered three hundreds and a half century, averaging over 80 in those twelve golden months. In one dayers, he was even just as (if not more) destructive, smashing just under 2000 runs with 9 centuries and 7 fifties at an average of 65. Yet, numbers don't tell the whole story. The volume of runs he scored say nothing about the manner in which he dominated the bowlers with Tendulkar taking on the quickest or most accurate the world had to offer, pulling, cutting and driving with panache while using his feet to the spinners with lethal effects. Time after time in those twelve months, Tendulkar gave bowlers - many more than just Shane Warne - a number of nightmares as he piled on the runs.

Prologue:

In late February 1998, Mark Taylor led the Australian team onto Indian shores for a three test series to challenge for the Border-Gavaskar trophy. The trophy had been conceived in 1996 and was won by India in a one-off test at Delhi, and aside from that one-off test, Taylor's Australians had not played much test cricket in India recently, but were confident of their chances, coming in with a formidable lineup. In addition to Taylor, the batting consisted of the Waugh brothers, talented youngsters Ricky Ponting and Greg Blewett, and Taylor's aggressive opening partner, Michael Slater. The bowling though seemed to lack bite - both Glenn McGrath and Damien Fleming were unfit to tour, and Paul Reiffel and Michael Kasprowicz only had the possible backup of Adam Dale and Paul Wilson, neither of whom had ever played a test before. Stuart MacGill and off spinner Gavin Robertson were two members of the spin trio, but it was clear - the major figure in the bowling who would need to take wickets would be the much-hyped legspinner, Shane Warne. Much had been made of the clash between Warne and Tendulkar, and it began in stunning fashion.

Fresh from the airport, Australia prepared themselves for a three day warmup game against Ranji champions Mumbai. Sachin Tendulkar was not only available for selection in that warmup - but he would be captaining Mumbai, and the Master Blaster arranged a plan for Australia's strike weapon to be taken apart. After Australia won the toss and batted, Slater powered his way to a quickfire 98, and with Greg Blewett and Ricky Ponting chipping in, scoring 100 runs between them. A few useful lower order contributions got the Aussie total to 305/8 by stumps, at which point Mark Taylor sportingly declared.

On day two, Warne's nightmare began. Youngster Amit Pagnis was on strike when Warne came onto bowl, and refused to be intimidated by the leggie's reputation, using his feet and taking him on right away. Pagnis hit a quickfire 50 before Wilson dismissed him, at which point Tendulkar made his way to the crease. It was the beginning of one of the most ferocious knocks in first class cricket, as Tendulkar promptly caned the Aussies all over the Brabourne Stadium. Reiffel, Dale and Wilson got some stick - but the main recipients were Warne and Robertson. Both were repeatedly met almost halfway down the track, as Tendulkar either launched them over midwicket, through the covers, or right back over their heads. The end figures said it all - Warne, 16-1-111-0, Robertson, 15-0-96-1. By the time Tendulkar declared, the Australian psyche was shattered.

Mumbai had blasted their way to 410 in less than 80 overs, and Tendulkar had been the destroyer in chief, with 204 runs in just 268 minutes - the innings taking just 192 balls, with 25 fours and 2 sixes. Australia, shell shocked from the hammering, collapsed meekly to 135 all out, as Mumbai overran a low target to take a 10 wicket victory. Before the first match itself, Tendulkar had laid the gauntlet down with the calculated assault on Warne and Mumbai's clinical victory, and India awaited the first test at the Chidambaram at Chennai to see whether Tendulkar would make it 2-0 in his personal battle against Warne. Much had been made of the contest in the test series, and Tendulkar had continued his preparation for Warne by practicing in Chennai on deliberately roughed up pitches, with Laxman Sivaramakrishnan and Anil Kumble bowling around the wicket repeatedly at him.

The game:
On a pitch taking plenty of turn, both sides had opted for spin-heavy attacks with Australia selecting Gavin Robertson to complement Shane Warne, while India had gone in with their usual spin-trio of Kumble, Chauhan and Raju, playing only six batsmen. Azharuddin won the toss, and had no hesitation in batting first, no doubt looking forward to the prospect of seeing his spinners trouble Australia on the final day. Nayan Mongia and Navjot Singh Sidhu opened the batting to start, and got India off to a fine start. After a sedate beginning, Sidhu opened up at the sight of the spinners - Gavin Robertson's first over in test cricket saw him hit for a straight six and a four to long on, as Sidhu began using his feet and lofting aggressively. Warne also got the same treatment with another huge six, and the openers brought up the 100 run partnership without much difficulty. After lunch, Michael Kasprowicz finally made the initial breakthrough as Mongia played a loose cut shot, edging straight to Healy.

Sidhu fell in the very next over to a superb piece of fielding. For some time, he had been using his feet to come down the track and either blocking Warne or lofting him - but when a forward defensive prod pushed the ball to Mark Waugh at silly point, Waugh quickly flicked the ball at the stumps before Sidhu could return to his crease. Tendulkar came out after two quick wickets with the score reading 126/2 and got off the mark with a glorious drive off Warne, whom he punched back down the ground for four. Perhaps having swayed a touch by the Tendulkar v. Warne hype from the media, or just having been deceived in flight, he walked back four balls later after unsuccessfully trying to dominate Warne - having come down the track, Tendulkar went for a big drive, only to edge it straight to Taylor at slip. Warne was overjoyed, having gotten his own back after the caning in Mumbai. Azharuddin and Ganguly failed to make any major contributions, falling for 26 and 3 successively, but Dravid and Kumble's stonewalling saw India end the day on 232/5, a poor score considering their fine start.

Buoyed by the success on the first day, Robertson and Warne ripped through the lower order as the remaining five wickets fell for just 10 runs. Both finished with 4 wicket hauls, and India were bowled out for a dismal 257. However, Harvinder Singh and Anil Kumble struck back immediately to have Australia at 57/3, and it was clear India wouldn't be conceding much. Australia's middle order struggled against the spin trio of Kumble, Raju and Chauhan, and nobody ever looked comfortable, as one batsman after the other got starts, and was then dismissed. Ponting was caught behind for 18, Blewett was trapped leg before for 9, and when Mark Waugh got a leading edge to Ganguly at silly point, falling for 66, Australia looked to be in some trouble at 137/6.

Ian Healy however saw his side through the day with some gritty batting with Paul Reiffel and Shane Warne that took the score to 193/7 at stumps - giving Australia hopes of coming close to the Indian total. The next morning, Warne fell quickly to Kumble - but Gavin Robertson showed some impressive all round qualities as he and Healy surpassed all expectations with a 96 run partnership. The two resolutely blocked out the bowling for over three hours, adding vital runs and frustrating the Indian spinners and seamers, until Healy fell to Raju, ten short of what would have been a well deserved hundred. Robertson though went on to reach his maiden half century, before finally edging Srinath behind to end the innings at 328, with Australia having taken a significant 71 run lead.

Mongia and Sidhu again looked to be getting India off to a good start, before an inspiring bowling change from Mark Taylor ended their partnership - Greg Blewett's innocuous medium pacers caught Mongia playing across the line, and trapped him leg before for 18. Mongia later was fined for dissent, as he claimed he had inside edged the ball onto his pads, and showed his bat to the umpire while leaving. Rahul Dravid came out and gave Sidhu ample support as the Sikh began to once again lay into the spinners, hitting Robertson and Warne straight and long. India ended the day at 100/1, 29 runs ahead and with the match in the balance.

With just fifteen runs having been added the next morning, Sidhu gave Robertson his fifth wicket of the match, before the Little Master walked in. Having been beaten in the first innings by Warne, this time it was Tendulkar's chance to bring about a few more nightmares. Rahul Dravid at the other end was reduced to a mere spectator as Tendulkar proceeded to savage the bowling. A fourth-day pitch with two spinners getting the ball to turn and bounce awkwardly was made to look like a flat belter as the Little Master took the bowling by the scruff of the neck. By lunch he had overtaken Dravid and brought up his fifty, literally scorching the outfield with some searing drives, pulls and cuts, and even with the Wall's departure, Tendulkar kept going.

Dravid was unlucky to be dismissed in a freak manner, with the ball looping off the back of his bat for a simple catch, before Mohammad Azharuddin walked to the crease. Australia had been on the receiving end of a caning for a while, but their hopes of recovering were short-lived. Tendulkar showed no mercy for anything short, cutting or pulling with exquisite placement, and still treating Warne and Robertson like second-rate trundlers. Azharuddin settled at the crease and soon joined in, cashing in on the mental and physical fatigue of the spin trio of Robertson, Warne and Waugh as Tendulkar continued to hammer the leather to all parts of the ground. When Warne bowled over the wicket, Tendulkar used superb judgment in coming down the track or staying back in his crease, reading Warne's googly superbly - and when Warne switched to around the wicket, he was slog swept out of the rough and into the cow corner stands. Most memorable though, was one particular shot against Robertson, whose dream debut after the first three days had turned into a nightmare. Flighting the ball and pushing it through had both seen the boundary boards taking a hammering, but Tendulkar decided to spare the boards for once, and danced down the pitch before lofting Robertson straight over his head and deep into the stands as the fielders looked up in wonder.

By then, Australia were keeping as many fielders on the boundary as possible, and even when Sachin took singles, there was no respite. Azharuddin played some glorious wristy shots both sides of the wicket, while using his feet with all the poise and elegance of a ballet dancer, adding to the headaches for the spin twins. Pace didn't work either, as Tendulkar raced to his hundred - the second fifty coming in a mere 63 balls. Tendulkar raised his bat to a standing ovation from the crowd, but kept going - despite being overcome by cramps just after reaching his milestone. Tendulkar used the tea break to recover, and continued to add to the bowlers' agony. Azharuddin also stepped the pace up, but fell for a quickfire 64, and Saurav Ganguly joined Tendulkar. Ganguly blazed away to 30 runs at a fair clip, smashing four boundaries against a weary attack, and just after Tendulkar had reached his 150, Azharuddin made the declaration with India leading by 347. The Australian bowlers had again been caned all over the Chepauk, and the Baggy Greens were exhausted and dispirited after being on the receiving end of one of the greatest shows of batsmanship test cricket has ever seen.

In 14 overs before stumps, the Indian attack took full toll of the fatigued Australian lineup. Srinath made the initial breakthrough, beating Slater with some quality swing bowling and knocking his stumps back via an inside edge. Kumble followed with the wickets of Taylor and Blewett in consecutive overs, and Australia were reeling, going to stumps at 31/3. It wasn't long before Jumbo stuck again the next morning, this time claiming Mark Waugh off a bat-pad decision that drew some criticism. Paul Reiffel, Ricky Ponting and Steve Waugh followed in quick succession, with umpire George Sharp raising the finger thrice to Venkatapathy Raju's appeals - and Australia were on the brink of defeat at 96/7.

Drawing comparisons to the band playing on as the Titanic went down, Ian Healy and Warne added a hint of respectability to the scoreline as both scored 30s, but defeat was inevitable. The mix of defense and counter-attack never really did worry the Indians, as it was a matter of time only - and once Warne fell, Robertson and Kasprowicz followed without a hint of resistance. From 153/7, Australia were bowled out for 168 runs, and after a see-sawing contest until the fourth day, India had come out clear winners by a margin of 179 runs. Both sides had been almost level with each other after three days, with some gritty batting and quality bowling from both sides until then. On the fourth day, Tendulkar's innings changed the face of the match, and took it away from Australia's reach. It had been a glorious innings, undoubtedly one of Tendulkar's best as Warne, Robertson, Reiffel and Kasprowicz were treated with utmost disdain, and with Tendulkar not even waiting for loose balls - but preferring to thrash even the good deliveries all over the Chidambaram. At the end of it all, one man and his bat had made the difference between two sides evenly matched - and there was only one possible Man of the Match.

Epilogue:
Tendulkar v. Warne wasn't over yet. In the second test at Kolkata, the entire Indian top order joined in the fray in a stunning run glut. VVS Laxman and Navjot Sidhu hammered 90s to get India off to a rollicking start, Rahul Dravid followed with 86, Ganguly scored 65, Tendulkar an imperious 79 in just 86 balls - but captain Azharuddin stole the spotlight with a regal 163, as India piled on 633 runs, before winning the match by an innings and 219 runs - a crushing margin to give them the series win. Tendulkar's bat may not have been fully responsible, but India had the Border-Gavaskar trophy firmly in their grasp with the series won at 2-0.

Tendulkar wasn't satisfied though, and in the final test at Bangalore, decided to plunder the Aussie attack all over again. The Chinnaswamy Stadium at Bangalore became the scene for another massive hundred (177), yet, this time it wasn't a match winning innings. Michael Kasprowicz pulled a measure of dignity for his side out of the fire with a stirring spell of pace and reverse swing that won Australia the match, but even then, the series was India's - or perhaps more accurately, Tendulkar's. Two statistics stood out at the end as Azharuddin raised the trophy to celebrate yet another dominant performance on home soil.

Tendulkar in 3 test matches, had plundered 446 runs at an average of 111.50 and a strike rate of over 80. Warne, on the other hand, had 10 wickets in the series at an average of 54 and a strike rate of 100 - Tendulkar had clearly come out on top in the the battle between these two here. Australia had suffered enough at Tendulkar's bat, but the Little Master showed no mercy. Another hundred was to follow in the one day tri series in India, but the Little Master had saved the best for last. At Sharjah, in the Coca Cola Tournament between Australia, India and New Zealand, Tendulkar was to top his previous innings and cement himself as undoubtedly India's greatest batsman since Gavaskar. The golden run was to continue through the next twelve months, and almost no bowling attack was spared as Tendulkar began to rewrite almost every record in the book, going as far as to even raise the expectations his fans had of him.