Standouts and failures - A player by player analys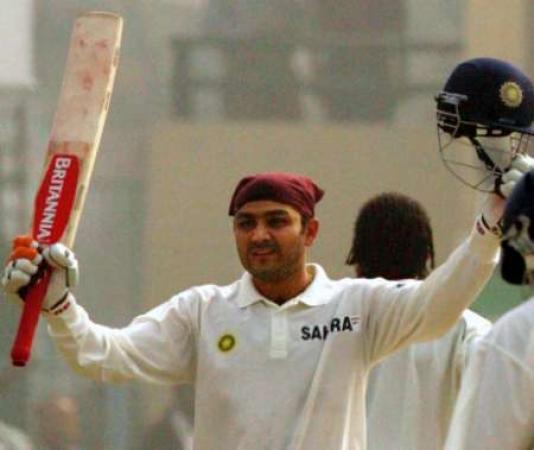 Man of the series
By Thaleel Bhai
December 3 2004
With both India and South Africa both having suffered slumps in the recent past for one reason or another, a number of new faces and old faces were under scrutiny this series. Several questions had been asked before hand - how would some of the newer and inexperienced South Africans hold up against a still-formidable Indian lineup at home? Could Tendulkar, Dravid, Laxman and Ganguly shake off their recent form? Would India's new wicketkeeper be able to hold onto catches and not miss stumping chances, or would the hunt for a keeper continue? Looking back at some of the failures and stand-out successes of the tour, with marks out of 10...

Virender Sehwag: 9.5
Sehwag has top scored for India in the last 3 test series that have been played. In the last 6 matches, he's been the only one to cross the hundred run mark - and he's done it twice in that time frame. Yet, more than the runs, it's still the style in which he scores them - and even on low tracks where the ball wasn't even coming onto the bat, Sehwag made the wicket look like an absolute belter at his end. At Kanpur, when Sehwag was smashing Robin Peterson to all parts of the Green Park, India looked as if they would force a result out of a certain draw if he kept going. It says a lot about his batting and the style in which he dominated the bowling - and of course, his consistency. One score of 10 was the only disappointment as he cashed in during all his other stints at the crease with a thunderous hundred at Kanpur and a blistering 88 at Kolkata - and with his average of 87.33 for the series, the South Africans will no doubt be glad to be leaving India - if only for the fact that they won't need to bowl to him for a while now.

Makhaya Ntini: 9
Ntini came into the series with a shocking discrepancy between his averages in South Africa and outside - particularly in the subcontinent, where he had often struggled. Leaving India, he doesn't have the best bowling figures and average - yet, has done enough to silence a number of critics. After what seemed to be a perpetual inability to hit the right length, Ntini managed to finally adapt to the requirements of bowling in the subcontinent, and showed a new skill - his ability to reverse swing the ball. With his sharp delivery angle and the reverse swing, Ntini became a real handful for the Indian batsmen to face, and in the second test at Kolkata, where the pitch had something in it for all bowlers, bent his back and troubled the batsmen with some hostile bounce and pace. Even more impressive was his attitude - on the field, he was consistently keeping the team spirits up, and showed amazing stamina and dedication for his side, particularly in a superb extended spell of 12 overs on the fourth day's morning.

The spin jugalbandhi: 9
One couldn't do without the other here - it was a glorious sight at Kolkata and even on the final day at Kanpur to see Harbhajan Singh and Anil Kumble troubling the batsmen from both ends with loop, turn, bounce and their numerous variations. Both bowled superbly and supported each other, and formed the bulk of the Indian attack superbly yet again - the duo took 23 wickets in the 2 tests, and in the current form both men are in, plenty more wickets look to be ahead. As long as these two are playing for India, Saurav Ganguly will never need to worry about his side's ability to take wickets. The mixture of guile and cunning was resisted well enough in the first test, but there was only so much the South Africans could take from these two, especially on a wearing pitch... and future opponents will definitely be wary of the spin duo's abilities to run through any batting lineup.

Zander de Bruyn: 8.5
A calm, level head, fine temperament and a good technique meant that Zander de Bruyn filled the shoes of his more illustrious, and missing colleagues to a good effect. Making his first knock in a pressure situation at Kanpur, Zander showed his mettle with a composed 83 - then impressed further when he grafted away to an unbeaten 32 at a time when the spinners were running rampant, and wickets were falling all around him. Even his bowling was impressive - despite the military medium pace, Zander kept it tight with a consistent line and few loose balls, while extracting whatever he could - a hint of movement off the pitch if the conditions assisted him, or reverse swing. Having begun his career with the scalps of Saurav Ganguly and Sachin Tendulkar will not hurt his confidence - and with the ability and temperament he's shown, Zander might well be the next Cronje-esque allrounder that South Africa's been looking for.

Saurav Ganguly: 8.5
With clouds of a ban over his head, Ganguly performed admirably. He only had two knocks at the crease, yet averaged just under 50 and led the side from the front. His batting wasn't overly aggressive, yet he took on the South African bowling with aplomb, going after the spinners when possible and not showing fear of hooking the short ball - and some more decent knocks, at times when the rest of his side looked to be struggling, silenced a few of those who keep arguing that he isn't a good enough batsman to be in the side. Aside from a selection blunder at Kanpur, his captaincy was superb - he rotated his bowlers well, attacked with his spinners and seamers well, and used his spare bowling resources well. Coming under heavy criticism both times when he took hold of the ball, he made vital breakthroughs - particularly with a glorious inswinger at Kolkata to bowl Jacques Kallis - and of course, handled the media as well as anyone can expect him to, with a few parting jibes at the visitors at the final presentations.

Andrew Hall: 8
Prior to this series, Hall had been a genuine hit-or-miss player with little technique, and the reputation of a lower order slogger who could bowl a bit. He took on the role of opening as a new challenge and excelled, showing a great deal of patience and technique against the spinners at Kanpur, and also impressed with the ball, picking up a few wickets while keeping things tight. Aside from a spell in Kanpur where he was slammed all over the park by Sehwag, Hall impressed with a pace of almost 140 kmh (just below Ntini, and a yard quicker than Pollock), and the ability to move the ball a bit off pitches that didn't offer much help and some useful reverse swing. With Klusener well past his prime, South Africa have been looking for a replacement for some time now. Hall's sometimes-explosive batting showed he could be up to the part at times, but he lacked the consistency. Hopefully this series might be able to get him closer to a permanent all-rounder's place in the side.

Zaheer Khan: 7.5
Since that dismal performance at Bangalore against the baggy greens, Zaheer's bowling has improved by a good deal - and again, Khan was bowling superbly with both the new and old ball, generating pace, movement and bounce wherever possible. Like Pathan again, figures don't tell the story - Zaheer led the Indian attack admirably at Kanpur, despite lacking any support - and with good support at Kolkata, was dangerous. Khan beat the bat several times in most spells with some superb accuracy and consistently getting whatever he could out of the pitch, and who knows, had a few plays and misses ended up as edges and nicks, his figures for the series would have been far closer to what he deserved after some quality bowling. 3 wickets and a series average in the 50s do him no justice whatsoever.

Irfan Pathan: 7.5
The value of some players is only known when they've failed or aren't available. When Pathan was axed from the playing XI at Kanpur, the lineup had a bare look to it. In the field, India lacked a spark, and the bowling lacked bite - Khan tried hard, but had almost zero support as the spinners were literally useless on a dead wicket. In the second test, Irfan only took two balls to make his mark, and his three wicket haul for the game doesn't give any indication of how well the youngster bowled, troubling the batsmen with some quality pace and swing in the first innings, and also making a useful contribution with the bat.

Jacques Kallis: 7.5
Failed to cash in on a flat track at Kanpur, but delivered the runs when it mattered. A superb hundred in the first innings at Kolkata was followed by another useful half century, as Kallis finally showed that he can handle spin to some extent with his first substantial knock in Asia, living up to his reputation as one of the top batsmen today. South Africa were unlucky that he was suffering from a side strain and couldn't bowl in conditions where he would definitely have made the ball talk in the air, but with him as a bulwark in the middle order, the Saffie fans shouldn't be too concerned as far as their run scoring's concerned. With Kallis having been in a golden run of form earlier in the year, and continuing to show he can pile on runs, England's bowlers will be wary in the coming months.

Rahul Dravid: 7
It's a tribute to Dravid's consistency that he's now consistently expected to produce the goods. Before the start of the Australia series last month, Dravid had an admirable record - at least one double century in his last three test series. Recently though, he's undergone a bad patch of form - and even then, showed his adhesive qualities as a batsman this series. Very rarely did Dravid look in good touch, as he often failed to cash in on full tosses or long hops that a year back would have disappeared to the fence. Even then, he showed amazing grit and mental strength to put a price tag on his wicket, stay at the crease for long periods every time he batted, and ended with a series average in the 90s. And of course, the bowlers in the side would be more than pleased that his form with the bat doesn't seem to spread to his fielding - as he again showed why he's one of the top specialist slip fielders in the game today.

Graeme Smith: 6
Tried to lead from the front by example, getting good starts in 3 of his 4 innings - but each time, failed to go on and make a big score that would have helped the team greatly. His captaincy was good, yet not overly inspiring - and the gameplan his side used in both tests showed that Smith still has a lot to learn as a leader. Hopefully might perform better on the faster, harder wickets in South Africa against some of the bowlers whom he thrashed a year ago in England.

Dinesh Karthik: 6
Karthik didn't perform well enough with the gloves to make every viewer feel that he could clearly be the long-term keeper for India. In Kanpur, he looked fatigued at points behind the stumps, and in the first innings at Kolkata, struggled against Kumble, often getting up too early and spilling a couple of catches and takes. However, he made amends in the second innings with some fine takes when the ball was kicking up towards chin height from a good length, and showed that he does have the ability to bat - and a good temperament to go with it. The youngster showed at Kolkata an ability to stonewall through good spells of bowling and attack anything loose, while also exhibiting excellent maturity - and without Karthik's vital contribution with the bat, India's lead might well have been only a handful of runs rather than an imposing 106. His keeping though to the seamers was excellent - and if he can work harder on his glovework to Harbhajan and Kumble, he might soon become the long term solution behind the sticks.

Gautam Gambhir: 5.5
Gambhir impressed in his first knock when he stroked a glorious 96 to help post India's second highest opening stand ever. Both his leg and off side play, as well as his running between the wickets seemed superb - but since then, the Proteas attack has found - and exposed a few weaknesses. Gambhir's been out LBW thrice in five innings, and Pollock exposed him as having a genuine problem against balls moving back into him in the first innings at Kolkata, when he looked scratchy and eventually was dismissed according to plan. In the second innings, he was troubled by bounce and turn from South Africa's part time spinners at some points - surprising, considering the spin quality he's often faced in India - but what was more surprising was his judgment of what to leave and what to play at, when he got out padding up to one just outside off stump from Rudolph. Hopefully he can work on these weaknesses of his, else when he comes up against more dangerous and ruthless opposition, he might find himself in the position of many former Indian openers and struggling to cut it at the highest level abroad.

Shaun Pollock: 4
Perhaps one of the first signs that the "Use before" date is approaching. Pollock continued with his usual metronomic accuracy, yet failed to trouble any of the batsmen, picking up only four wickets and never really threatening any of the Indian lineup. He chipped in once with the bat, but aside from a brief cameo, was a major non-performing asset in the South African lineup - and if he doesn't recover his form by the England series, South Africa could really struggle. His "all rounder" status took yet another blow... a useful cameo on a flat track was his only contribution with the bat, as both times when he was needed to perform with the team in trouble against the spinners, he fell cheaply (albeit once to a shocking decision).

Sachin Tendulkar: 4
Tendulkar never really looked comfortable in his first two knocks - first being bowled by Andrew Hall when the ball was reverse swinging, and then playing one from Zander de Bruyn back on for two low scores, to continue a drought. Much like the Australian series though, he ended the series on a higher note with a good unbeaten contribution to the run chase - marked out by some savage blows off Justin Ontong. Again Tendulkar looked solid in his last knock of the series - and hopefully, this can be the first step to him regaining his form.

Hashim Amla: 3.5
Making his debut with a fair deal of hype at Kolkata, Amla initially impressed in the first innings. After almost a day of stonewalling and defense, Amla's aggressive approach was a refreshing sight for viewers as he showed no fear in using his feet to the Indian spinners and played some bold strokes before being bowled by a beauty from Pathan. Amla though struggled in the second innings, as might have been expected of a raw newcomer on a fourth day pitch against the Indian spinners. Nevertheless, he showed a fair deal of talent - and definitely seems like one for the future South African middle order.

Jacques Rudolph: 3
61 runs in one innings, 5 in 3 others. After some good patient knocks against Sri Lanka and Bangladesh's spin attacks, Rudolph was expected to be one of the star performers with the bat on this tour, but ended up being one of the bigger disappointments. Kumble and Harbhajan Singh constantly troubled him, and proved that despite earlier successes against spin, Rudolph's technique even on flat tracks needs some readjustment.

Murali Kartik: 3
After Kartik's stellar performance against the Australians, this was a massive letdown for the side. At Kanpur, Kartik looked flat in the first innings and bowled to contain, staying over the wicket for a good portion of the time. Even then, he couldn't get his leg stump line quite right, and often served up the odd full toss or long hop - and bowled a lot poorer than his series economy rate of 1.66 shows. A better performance in the second innings, this time with the left armer going around the wicket and getting some good turn, loop and bounce, was not enough to keep him in the side for the second test, and compared to his other spinning colleagues, Kartik looked second-rate this series.

Justin Ontong: 3
Batting at 9, Ontong barely performed with bat or ball in the lineup. As an "all rounder", the only thing that could be said was that his batting and bowling both seemed to be on a par with each other - with both leg breaks and off spin, he bowled a number of loose balls that were repeatedly punished, failed to keep runs down or trouble batsmen even when bowling on the fifth day, and his batting also looked scratchy - certainly nowhere near an adequate replacement for Nicky Boje.

VVS Laxman: 3
Laxman looks to have left his form from last winter in Australia. A substandard run of scores since then was followed by him (surprise, surprise) getting bowled by Ntini after a scratchy knock of 9 at Kanpur, but Laxman looked to slowly be regaining his touch at Kolkata with a somewhat fluent looking 38. Even then, the manner, and time when he threw his wicket away showed that he's still prone to one of his oldest weaknesses, and needs to prevent himself from getting out to such soft dismissals or losing his stumps.

Thami Tsolekile: 2.5
A disappointment with gloves and the bat. Struggled to make any impact with the willow whatsoever, and looked like a walking wicket most of the time. Behind the stumps, his technique was poor - standing too far towards the leg side, he pulled off some fine leg-side takes, yet missed a handful of takes and catches, and put up a performance that will ensure the South African selectors start rethinking about Mark Boucher.

Boeta Dippenaar: 2.5
For a player of his talent, a test average of under 30 is shocking - and yet again, Dippenaar failed to make the most of his ability. At Kolkata he looked out of sorts with two single figure scores, and even with his current vice captaincy, should be under a lot more pressure for his place in the batting lineup. Unless he begins performing, and doing so consistently, South Africa will need to replace him - and soon.

Martin van Jaarsveld: 2
Van Jaarsveld's shown some danger signs to the selectors of possibly being one of those domestic bullies who struggles on the international circuit. He had two brief, scratchy stints at the crease where he rarely ever looked in control, and seemed to provide a free wicket to the Indians. Like Rudolph, he will need to reassess his technique against the spinners - after a fairly decent tour of Sri Lanka, he looked completely out of sorts against Kumble, Bhajji and Kartik at Kanpur - and his contribution to the side wasn't helped by him dropping a number of catches, including a real sitter.

Robin Peterson: 1
Peterson entertained many with an aggressive cameo which, had he shown any bowling ability, would have him earmarked as an all rounder. Sadly, on spin friendly tracks, he showed inabilities to turn the ball substantially, to extract anything from the pitch or to show any sort of variation in pace or turn. The only sort of variation Peterson had was in length and line, when he was either bowling long hops or half volleys, and either bowling a foot outside leg or wide of off and going all over the park. South Africa needs to worry about the lack of spinners it has in the game - Adams has shown inconsistency, and without Boje, the cupboard looks bare. This was the best spinner they had in South Africa to send across?