The axe finally falls on VVS Laxman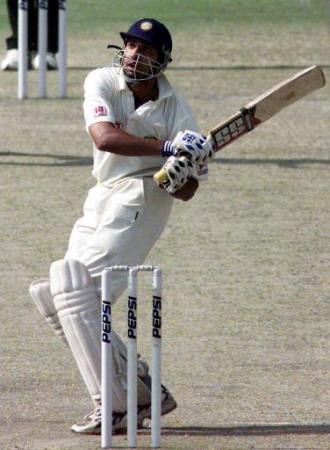 By Thaleel Bhai
December 5 2004
It's come as a surprise to a fair number of people - a pleasant surprise to many of Laxman's critics, and an unpleasant shock to others. But has VVS Laxman again gotten the short end of the stick from the selectors, or is this axing justified? Out of the entire one day lineup, VVS Laxman has been one of the most heavily analyzed players in recent years with plenty of ongoing debate about his place in the side. There's little middle ground - there are many who believe that Laxman's one of the best equipped batsmen to play at the no.3 position for India, and has again been given the short end of the stick - and there are plenty more who've been clamoring for his removal from the one day squad for a while now.

Following a controversial axing for the 2003 World Cup, Laxman was recalled for the TVS Cup in India last year, almost 12 months ago - and since then has been a fairly regular fixture in the one day side. Laxman quickly made the no.3 position his own, and enjoyed a fine run in one dayers - batting at one-down after his recall, he's averaged just over 45, with 5 hundreds and a half century in the last 14 months. But even then, with an aggregate of 960 runs in 23 games, he's still been given the boot from the side for the upcoming one day series against Bangladesh - a decision that's raised plenty of eyebrows, with the Hyderabad Cricket Association now getting involved, and Laxman himself making a number of comments to the press.

What can't be disputed is that Laxman's had one of the more successful runs with the bat at that position - and a number of times too, in pressure situations. Of the five hundreds that have come in those 23 innings, three have come against Australia and one against Pakistan in a series-deciding game. And what's more telling has been the time when he's batted - in all those innings, he's come in at an early stage within the first 10 overs, and after opening partnerships of 1, 37, 1, 0 and 34, with India having lost at least one or more early wickets.

Laxman, though, is the sort of player who thrives in the early overs. A superb timer of the ball when on song, he's shown a great ability to get momentum going with boundaries early on when fielding restrictions are applied in one-dayers, before then settling down and rotating strike - but coming in at other points in the game, he's struggled a good deal. After decent opening stands, it's not surprising to see Laxman walk out, struggle to piece the gaps in the infield and promptly begin dragging the scoring rate down, and throwing away momentum - which is vital in the one day game. It's not the only headache he's caused for the selectors with his batting.

Laxman's biggest problem seems to be the manner in which he consistently throws away starts. For a person with 5 hundreds in the last 14 months, it might sound strange - yet Laxman has too often been either cleaned up by a full and straight ball early on in his innings, or even more frequently, has gotten out giving catching practice to fielders with needless soft dismissals. In his two most recent games; he got out to an atrocious pull shot that had no placement whatsoever, hitting straight down the throat of the one fielder in the midwicket/square leg region, and at Kolkata against Pakistan, a needless prod gave Kamran Akmal catching practice. It's these sorts of dismissals that so often have fans slapping their foreheads, with almost no price tag being put upon the wicket.

Another worrying factor for selectors is the discrepancy between his average in the first and second innings - as Laxman seems to be more of a liability than anything else when chasing a target. Top order batsmen generally are expected to carry a good portion of the workload when a run chase is on, yet at number 3, Laxman has very rarely ever performed. Since his recall, he's only averaged a shade over 21 in the second innings - and on the occasions that he's gotten off to a start, has thrown his wicket away - his highest second innings scores are all in the 30s, saying a good deal about his ability to lead a chase.

However, the biggest factor in the case against Laxman needs no statistics. In one day cricket, fielding is paramount and can so often make the difference between a win and a loss. A dropped catch, or a handful of runs conceded can often tilt the balance and momentum - and in one dayers, fielders like Paul Collingwood, Andrew Symonds and Yuvraj Singh are vital in saving runs just by their reputation, as batsmen frequently don't risk quick singles or twos when the ball goes to quality fielders. In stark contrast, batsmen just need to get the ball near Laxman, and more often than not, there's an easy chance for a single, or two if VVS is in the outfield. Statistics don't exist to show how many runs a fielder's conceded, but if they did, Laxman would have a fair number given away each game - a fair percentage of the runs that he usually scores.

It's no surprise then that the BCCI's "five wise men" have finally lived up to their moniker for once by dropping Laxman, for utility players - but others better suited to the one day game. And of course, there's the big picture - the 2007 World Cup just around 28 months away. By the time it comes around, VVS Laxman would be 32 - and with his knees, would be even more of a liability with his inabilities to field and run between the wickets. The possible replacements in Dinesh Mongia and MS Dhoni aren't just better fielders - they're both better utility players. Dhoni's had a good deal of success at the India-A level with his aggressive strokeplay as a batsman, and could be far more potent than Laxman batting at no.3 if given the chance - the young Bihari wicketkeeper's shown a natural ability to belt the cover of the ball and find the boundary with ease, and in a number of innings, has finished with exceptional strike rates.

Mongia too is another useful bits-and-pieces batsman - at the top of the order, he's shown a penchant for piling up big scores, and down the order or in the later overs, he can belt the ball a long way - another difficulty Laxman has, as he's not a natural lofter of the ball. And with the additional utility of Dhoni's keeping and Mongia's left arm spin and fine fielding, the decision to replace Laxman with one of the two certainly cannot be criticized. The selectors deserve credit for making this bold move - now once can only hope that they perservere with the youngsters being called up, and don't bring Laxman back at the first failure.