Ranji in Review (Elite Group)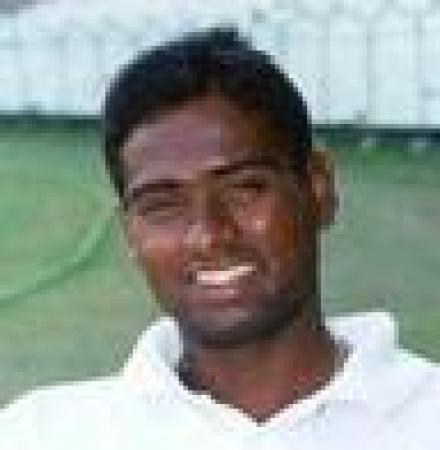 Sridharan Sriram
By Thaleel Bhai
December 7 2004
Four rounds in, and the Elite group of the Ranji looks interestingly poised, with a few familiar names still dominating. Mumbai and Punjab are leading their respective groups, with Mumbai having innings victories in their last two games, and Punjab three comprehensive wins to dominate Group B. A notable statistic so far in the series has been the number of games with results - 12 out of the 28 played so far have ended up with results, with a number coming agonizingly close. A few hours ago, Madhya Pradesh and Delhi went to an anti-climax - chasing 173 for a win, MP had gotten off to a solid but sedate start, with 102/2 on the board, and a run rate of over 5 needed. A few risks led to wickets, and Amit Bhandari capitalized with three quick breakthroughs as MP eventually went 8 down. With 17 runs to get, and 2 wickets in hand, and result was possible, but sadly, the game ended up drawn. It's not been the only nailbiter finish - Delhi made heavy weather of a target set by Gujarat of 157 runs in 30 overs, losing 9 wickets relatively cheaply - and it was left to Rahul Sanghvi and Amit Bhandari to hold up the fort for the last few overs to scrape out a draw at 102/9.

With a growing focus on more result-oriented tracks though, Ranji games have been more enjoyable to follow this season than many of the run gluts that took place in the past. What's been impressive to see has also been the teams' focus on trying to force results - after a 'patta' wicket at the Chinnaswamy Stadium that saw Karnataka pile up a total of 619/5 in an innings, Karnataka made a case to shift their next home game to the RSI Ground in Bangalore, which yielded a result. However, the number of draws still show the degree to which sides lack bowling attacks. Punjab's had a good deal of success due to two games at Mohali, where its seam attack has excelled, and due to the runs piled on consistently by the top order - but a number of weaker teams have been unable to win a single game due to the lack of bowling depth.

Maharashtra have only had one bowler of any standard (Iqbal Siddiqui) in their side and have hence suffered, but their batting's also been weakened significantly by the loss of Abhijit Kale to the bribery scandal earlier. With Kale banned until the end of this calendar year, and Dheeraj Jadhav showing none of the consistency that had him topping runscoring charts last season, Maharashtra have struggled to make runs with scores of 123 all out against Punjab, and 83 all out against a none-too-lethal Hyderabad attack.

On the flip side, Mumbai - aiming for their third consecutive Ranji title - started dismally with only two points from their first two games, but have shot to the top of their group with two crushing innings victories against Bengal and Andhra Pradesh - this too despite the loss of Munaf Patel and Aavishkar Salvi to injury. Ajit Agarkar's axing from the Indian side seems to have been well timed from their perspective - Agarkar's only taken a single five-for in the opener against Railways, but has chipped in with key wickets in every other game, and the spin trio of Powar, Bahutule and Kulkarni has been consistent in recent games. The Mumbai batting though has been in good form - despite Vinod Kambli's unavailability for the last two games, youngster Vinit Indulkar has shown his talent with some impressive knocks, while the opening combo of Mane and Jaffer have continued to keep piling on the runs. The famous lower order depth has also come good, with Agarkar and Ramesh Powar continuing to add to their run tallies. Powar though, a key figure in Mumbai's last two trophy wins, hasn't yet found the same consistency he had in those two seasons - but a superb all round performance with a ten wicket match haul and a half century against Bengal will no doubt give him confidence, and Mumbai will be hoping that one of their top utility players can again hit peak form when it matters this season.

Punjab's been the "Mumbai" of the other group with some dominating performances. Out of the top five of Ravneet Ricky, RS Sodhi, Yuvraj Singh, Dinesh Mongia and Pankaj Dharmani, at least one seems to have fired in every game, and all have come among the runs at some time or another, with Sodhi in particular having impressed with a massive double hundred in Punjab's latest game. The bowling though has been what's put Punjab on top. Gagandeep Singh's taken 25 wickets in just 3 games with four five-fers - a major factor in his call up to the Indian side, and with Navdeep Singh and RS Sodhi chipping in with wickets consistently, Punjab have consistently run through opposition lineups after piling on the runs - a sure-fire tactic for success at any level of cricket.

Gujarat, a team with few 'name' players has also impressed with 8 points so far in the season - one win and three draws including the nailbiter with Delhi. "Patel Power" seems to have become the main basis for Gujarat's success, with Niraj and Timil Patel leading the batting averages, and medium pacers Lalit Patel and Siddharth Trivedi topping the wickettaking charts. Parthiv Patel's return to the side after being axed from the Indian test squad has also provided a good keeper - with his glovework being ignored by the Indian media, it can only mean he's done a good job so far - although his batting seems to have taken a step back, with the youngster only averaging a shade over 20 with the willow.

Baroda also have 8 points so far with a win and 2 draws, positioned 3rd behind Punjab and Tamil Nadu in Group B - and so far, a good mix of youth and experience in the lineup has worked for them. Satyajit Parab and Jacob Martin have been the bulwarks in the batting lineup with Parab already slamming two hundreds in his first two games. Newcomer Yusuf Pathan has also impressed, and while yet to make an impact with his leg spin, attracted a good deal of attention with a hard-hit 92 not out against Maharastra. Meanwhile, ex-Mumbai spinner Rajesh Pawar and swing bowler Rakesh Patel have been the key wickettakers - and Baroda will no doubt be hoping for a few more consistent performances from them.

Tamil Nadu meanwhile, have failed to show the same dominance they had over their group last season - but have nevertheless been impressive with a win and two draws. The batting, while not flashy or overpowering in the runs scored, has been consistent with veteran Sridharan Sharath still showing good form, beginning the season with two centuries and a fifty. Sridharan Sriram and Hemang Badani continue to keep knocking at the national selectors' door with some more consistent performances and the combination of Sriram's recent consistency and the question marks over VVS Laxman's recent performances in the test side might well mean a test cap is not far away. Tamil Nadu though have struggled to take wickets - one of the weaker bowling lineups in the Elite Group has meant that they've been unable to take 20 wickets in some games (which cost them a probable innings win against UP) - and despite their batting, their bowling issues will definitely hamper their chances of winning this season.

Delhi, a team expected to dominate this Ranji, have been disappointing though. With the loss of Gautam Gambhir and Virender Sehwag to the national side, and opener Akash Chopra being in dismal form averaging just 23.7 so far (with only one half century), a batting lineup looking strong on paper has failed to pile on the runs with any consistency. Shikhar Dhawan's been impressive in patches here and there and shows a good deal of promise already as an opener, but the rest of the lineup seems to have lost form - Jadeja and Manhas, two of the other expected runscorers, have only had a few decent scores between them, and it's been rare to see any of the batting convert starts into big runs. With Gambhir looking to be a fixture in the national side for some time now, it's imperative that some of the other veterans in the side put their hands up and perform, if Delhi is to move up the charts. For the moment though, it looks as if things will continue in this vein, with Mumbai and Punjab dominating their groups, and the remaining teams playing catch-up.