Preview of the India v. Bangladesh Test Series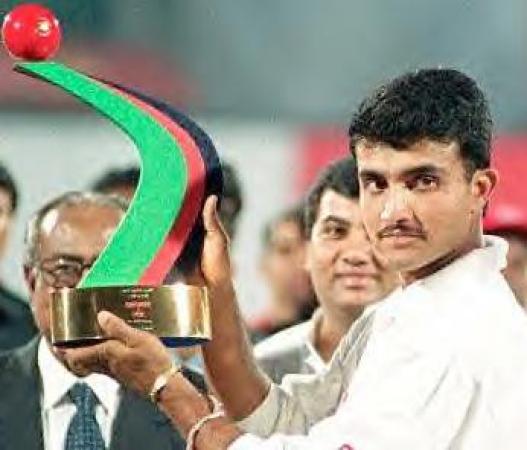 By Captain of Bhangra
December 7 2004
Captain of Bhangra looks at the upcoming two-test series between India and Bangladesh, starting on December 9th. This will be the first bilateral meeting between the two teams, who only have met once in tests for Bangladesh's inaugural test match. History was made at the Bangabandhu National Stadium in Dhaka, on the 10th of November, 2000, as for the first time ever, Bangladesh took to the field in a test match, their opponents being India. After a grand opening ceremony, Bangladesh captain Naimur Rahman won the toss, and elected to bat, and the tigers were under way. This remains as the only test match played between India and Bangladesh, however, that will change this week when the two nations meet in their first ever test series.

Many fans will remember Bangladesh putting up a fight against the Indians, and they scored an impressive 400 off the back of Aminul Islamís 145, despite debutant left arm seamer Zaheer Khan getting his first test wicket for India, to leave Bangladesh on 10-1. Sunil Joshi was the pick of the Indian bowlers with his 5-142 off 45.3 overs. In reply, India made 429, with fifties from Sadogopan Ramesh (58), Indiaís new captain Saurav Ganguly (84), and a top score of 92 by Sunil Joshi batting at number 8.

Bangladesh skipper Rahman took 6-132 off under 45 overs. The paltry lead, however, was not an issue, as a different Bangladesh side seemed to turn up for the second innings, and they were skittled for just 91, with Javagal Srinath (3-19), and that man Joshi again (3-27) doing most of the damage. The victory target of 63 was reached with only the loss of Ramesh (1) as a mark on a 9 wicket win where SS Das (22) and Rahul Dravid (41)saw the visitors home. India had won comfortably within 4 days, despite Bangladeshi heroics prior to their 2nd innings.

That was over 4 years ago, but many will want to know how the two nations have fared since then, particularly as India are about to play 2 tests, and 3 one day matches in Bangladesh. Firstly, the hosts, Bangladesh. After 4 years, and 32 tests, they await what would be their 1st test victory. Many have been critical of the tigers, and have demanded their test status be stripped, as they have failed to be competitive in some matches, however Steve Waugh is amongst the list of those who have lent their voice to keeping Bangladesh at this level. The main argument being that lots of nations struggle in the test arena at first (India themselves waited 20 years and 25 matches for their first win).

In that inaugural test, Bangladesh showed they have fight, and capability to take on the big sides, and they went one step further on September the 10th, 2003 when they ran Pakistan so excruciatingly close to defeat in Multan, Inzamamís defiance rescued Pakistan from yet another humiliation at the hands of Bangladesh (as in the 1999 World Cup in one day cricket), He scored 138 in ensuring that Pakistan scraped a victory by just one wicket. The main problem with Bangladesh seems to be how they show such spirit in flashes, but still struggle against the established nations.

In contrast, India has had an amazing time in test cricket in the 4 years since that test. Many Indian fans will now tell you, that the man who was leading India as captain for the first ever time in that match, is now the greatest captain India has ever had. They could bring up statistics to back their claims, as Saurav Ganguly is now the Indian captain with most test wins under his leadership. While everyone is aware of Indiaís ODI exploits in the last 4 years, which have crash landed dramatically this season, one is asked to acknowledge the remarkable time India have had in test cricket in the last 4 years, and particularly the last year.

India have drawn away to Australia, winning a test there for the first time since the early 80ís. They then proceeded to crush Pakistan 2-1 in Pakistan, where both of the wins were by an innings. Awful form in ODIís rubbed off on Indiaís test side as they lost 2-1 at home to Australia, but the reply was a quick comeback in the form of a 1-0 series win over South Africa. Indiaís record for 2004 is 10 tests, 4 wins, 3 drawn, and 3 losses, with 2 series wins. India is now up to 3rd in the test rankings, compared to being 7th when they last played Bangladesh.

Bangladesh are rooted to the foot of that table, as they have been since receiving test status. In 2004 they were not strong enough to test New Zealand, who inflicted a 2-0 whitewash on them, however, many will have noticed their performance away to the West Indies, which showed some promise. People will say that the West Indies is in decline, and while that is true, showing fight away to a team that has the likes of Lara, Gayle, Chanderpaul, and Sarwan, is commendable.

All eyes will be on Virender Sehwag in this series, this man has had an electric year in tests, and he will be eying up more runs, in his trademark brutal fashion. Rahul Dravid meanwhile has borne the brunt of some unfair criticism recently, despite being the backbone of the teamís voyage towards the top end of the table. He is still ranked as the best batsman in the world and may play a role. Irfan Pathan will be playing his first test against a lower table side, and will expect to do well - since his emergence on the international scene last year, the youngster has made a name for himself and already earned a reputation with impressive performances against some top sides.

Harbhajan Singh and Anil Kumble will be called into action to do what they do best, and Kumble will be eying that wicket that will make him Indiaís highest ever test wicket taker while Bhajji needs 15 to get to 200 test wickets. Bangladesh are a team that, when their players do fire, they donít all fire at once. Any batsman in their side can suddenly pose a threat to India. India will be wary of seamer Tapash Baisya, who can surprise the best of batsmen with a delivery, while Mohammad Rafique will want to exploit any turn.

Regarding this test series, Indian fans will not be happy with anything less than a 2-0 win. However, this should not be taken for granted, as if Bangladesh find their Multan 2003 form, India could be in trouble. Bangladesh will be hoping for, but not expecting, a first test win, and will be happy if they can avoid a 2-0 defeat. In terms of rankings and respect, Bangladesh have everything to gain, while India are in a precarious position, and will be under some degree of pressure.