A triumph of grit over flair?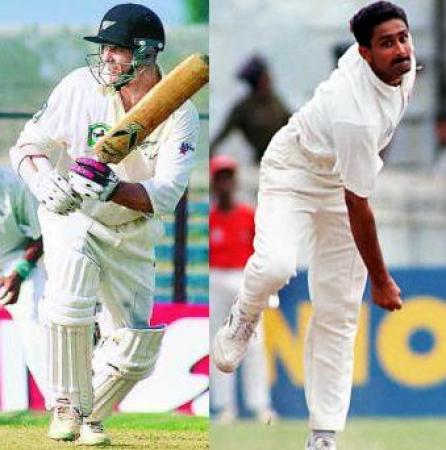 Two of a kind?
By Thaleel Bhai
December 11 2004
A look at two of the game's epitomes of grit and determination - one having reached a new high with his 435th test wicket, a national record, and the other having retired from cricket just a day ago... Few would have ever wanted to watch a Mark Richardson innings, and fewer might have enjoyed it after sitting through the entire knock. Lots of straight bat defense, and even more of leaves from a man with superb judgment of his stumps' location - and the odd boundary, most of the time achieved using the pace of the ball or a bit of width, rather than any particular flair in his shot. A testament to the older, less exciting openers in the class of Boycott and Wright who believed in graft and more graft, Richardson would rarely have drawn spectators to the stands unlike a Sehwag, Lara or a Flintoff - yet, was just as reliable, if not more, when it came to accumulating the runs, as an impressive average of almost 45 would show - with a number of his runs coming on bowler-friendly Kiwi wickets.

Only a blind man might argue that Richardson had the same sort of talent that so many batsmen today have. His cover drive was more of a well timed push using the pace of the ball, his leg side play seemed to involve plenty of bottom hand punches and clips, and he rarely ever showed the flair or elegance that's so often on view when a player like Saurav Ganguly or Kumar Sangakkara stands at the crease. Yet, Richardson's statistics - and performances against some of the world's better bowling attacks, often in adverse conditions - showed that he could do as much for his team as more stylish, dominating batsmen. As a former tailender, Richardson reinvented himself as a grim, adhesive opening batsman, the sort last seen a couple of decades ago. Yet, the amount of perserverance and grit Richardson put in paid off, as not only did he excel at it - he became his country's top batsman for some time, opening the batting with amazing success.

Despite numerous jokes about his snail-like pace, and comparisons to some of the best stonewallers around, Richardson plodded on with innings after innings, producing runs in conditions few others could. In the first test of that "Wonderbra" series in 2002, it was Richardson who put New Zealand in the driver's seat. With the Indians seaming the ball around sharply after having been skittled for 161, Richardson stuck to the crease for 407 minutes, or just under 7 hours to grind out an invaluable 87. At Lord's earlier in the year, against a rampaging Steve Harmison, he ground out another pair of valuable knocks, painful for any spectator to watch, yet runs without which his team might have been embarrassed woefully. One can only imagine what sort of runs more gifted players like VVS Laxman, Yousuf Youhana and their ilk might have churned out, had they even a tenth of Richardson's grit and determination.

Richardson's retirement will no doubt come as a blow to the cricketing world, who've lost one of the most reliable and gutsy batsmen in cricket today. Few batsmen seem to have the technique, determination or mental strength today to withstand barrages of pace, bounce, and raw hostility from 22 yards away, or a sharply seaming ball on a greentop - Rahul Dravid is one of a select few remaining in the game today, and until yesterday, when he announced his retirement, Richardson was another. Yet, with the retirement of players like Richardson and Gary Kirsten, and rise of flashier, more exciting players like Sehwag, Clarke, Sarwan and company, players of Richardson's and Dravid's mould aren't out of the game completely. After all, a bowler from perhaps the same mould as the 'Rigger' had probably one of the greatest moments of his cricketing career yesterday.

Few things are on a par with an innings 10 wicket haul in cricket, especially if it's against your team's arch-rival, or a number of other 10-fors that Anil Kumble's taken in matches which so often he's single handedly won for India, but the wicket of Mohammad Rafique would have still rated fairly highly. With the one delivery that's flummoxed more batsmen than most of Kumble's other tricks, the faster, quicker one, Kumble eclipsed Kapil Dev and moved on to become India's highest ever wickettaker - an amazing feat for any bowler, but especially one who for the last decade and a half, has been told that he's not a conventional legspinner, can't turn the ball and never will succeed at the highest level.

True, Kumble has never been a conventional spin bowler, relying more on awkward bounce and subtle variation rather than big ripping leg breaks that spin from outside leg to off stump, or beautifully flighted deliveries with an orthodox action. Unlike modern contemporaries Warne and Muralitharan, he's rarely ripped through lineups with miraculous, headline-seeking deliveries like Warne's "Ball of the century" or Murali's doosra, yet uses a method that could make him the Richardson of bowling - or make Richardson the Kumble of batting. Persistence, grit, determination and more persistence have been what have gotten him most of those 436 wickets he has now. Perhaps the perfect example could be the dismissal of Adam Gilchrist in the Chennai test earlier this year.

With Gilchrist having promoted himself and slamming a hard-hit 49, he gloved one down leg side which Parthiv Patel fumbled, tried to cling on to - and finally spilled. So many bowlers would have lost heart, dropped their heads, and when running back in, been slapped through the off side or savagely swept for a four. Instead, Kumble continued on with the same grittiness and determination to earn another wicket, and bowled Gilchrist around his legs with a perfect googly. It sums up Kumble perfectly - never one to drop his head after a rough decision, a spilled catch, or a big hit by a batsman. As a truly unorthodox spinner, he's stuck it out through any hammering he's copped from a quality batsman, still figuring out ways to sucker the batsman into giving him his wicket, rather than retreating. Unlike Warne, who so often was banished to the outfield after some of Tendulkar's savagery, or Muralitharan, who often didn't bowl with the same heart and fire when being attacked abroad on less spin-friendly tracks, Kumble never did take a step back whether he was being caned all over the park, or was bowling on wickets offering no help.

Hopefully he'll keep progressing forward - after all, from 436, the 450 mark is not far off, and the chances of one of the Pakistani batsmen being #450 in a few months' time are highly probable. After that, 500 could be there for the taking - and going on, Kumble seems to have few limits. Kumble is only 34, and looks to be improving every series he plays. While so many bowlers look to be breaking down at that age, and appear a shadow of their old selves, Kumble still has the stamina and spirit to get through 35 overs in a day without flagging, or losing his rhythm.

What's more, he's getting even better - a couple of years ago, he was nowhere near the bowler he is today - and might well be reaching the peak of his career as a bowler, rather than the twilight most people are seeing in his future. Just a year ago, he troubled the Australians on foreign soil, then ran through Pakistan on a flat belter at Multan - before coming up with some more stunning performances recently. He's still shouldering a good portion of the workload, still troubling batsmen 22 yards away with relentless accuracy and almost every imaginable variation in pace and turn, and opposition players might still see him as the major cause for concern a few mor years from now. If youngsters like Harbhajan, Pathan and Zaheer want to aim for that "top wickettaker for India" billing Kumble now has, they will have their work cut out for them, as that target will be moving further and further away in the next few years, as long as Kumble keeps running in to bowl.