Should a youngster be blooded against Bangladesh?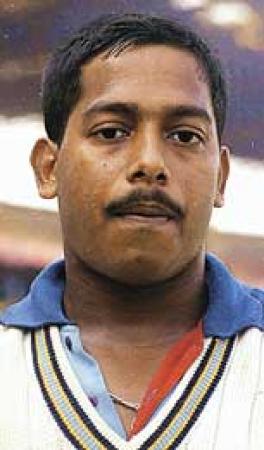 By Thaleel Bhai
December 14 2004
With the recent talk of Saurav Ganguly potentially resting Sachin Tendulkar to give Mohammad Kaif a game, plenty of speculation has come up as to whether one of the bowlers or another batsman may be asked to cool his heels to blood one of the two debutants. Both Shib Shankar Paul and Gagandeep Singh have been instrumental in their domestic sides' success recently, with Gagandeep in particular starring for Punjab with 25 wickets in 3 games so far. However, while the move to give Kaif a game instead of Tendulkar cannot be argued - Kaif has been unfortunate to be forced onto the sidelines despite a number of fighting, gritty knocks against the world champions - the other question is whether either Paul or Gagandeep deserve such a gentle baptism in test cricket.

Take Irfan Pathan and the circumstances of his debut. After years of success on the U-16 and U-19 circuits, Pathan was given perhaps one of the hardest opponents and venues to make his debut against. A superb Australian lineup on a flat wicket at Adelaide that did little for him, followed by a game at Sydney on an even flatter track. On those wickets and against opposition who could demolish even good bowling, it was a genuine baptism by fire - good balls were punished, and Pathan's mental strength and determination came under severe testing.

The end result was a player who grew vastly from such an experience, learned a good deal from those outings, and hasn't failed to impress since then. This is the complete opposite. The Bangladesh lineup seem to have a collective inability to bat throughout a single day, with most of the top order either needing a map to find their off stump, or needing something to calm down the bloodrushes that spur on such ridiculous shots as those which led to Habibul Bashar's dismissals.

Few players have taken five fors on international debut, and for Gagandeep or Paul, who've occasionally come up against tougher opponents in Ranji cricket with batting lineups like Delhi, Tamil Nadu or Mumbai, it might barely be a step up. In fact, with all due respect to the opposition, if the pitch is anything like that at the Bangabandhu, it might be even easier for them to take wickets and could pose a misleading picture for the side. And India will no doubt be wary of such issues, with other players like Jacques Rudolph making sensational debuts against Bangladesh, and ending up giving themselves unreasonable expectations to live up to.

Then again, the promotion from the Ranji side to the national XI has often shown unexpected results and important signs, which could be vital ahead of the Pakistan series in April, India's next round of test cricket. Players like Paras Mhambrey who've been sensational at the domestic level have had well noted failures the moment they've stepped onto the international scene, and to avoid the possibility of such a situation against Pakistan or another better opponent with untried newcomers, India might well look to just give one of these two a game.

There's very little possible benefit for both Paul and Gagandeep, who might have been tested more playing for their own Ranji squads - and the only really bright side for them is a handful of cheap wickets - albeit, ones that have little name value. The bigger question though is the issue of whom to drop. With Harbhajan, Kumble, Zaheer and Pathan all bowling superbly in their last few games, there's very little reason to rest either of them - especially with the lack of international cricket in the near future which will enforce some degree of rest.

However, if Ganguly is truly keen on blooding one of these youngsters, the axe may well be headed in the direction of VVS Laxman. A mixture of poor scores, soft dismissals every time he's gotten a start, and some horrendous form since the Australia series began has moved his head closest to the chopping block. With Dinesh Karthik having shown glimpses of potential, it might not be too much of a gamble to see how he'd fare with added responsibility coming in at six, particularly with the strength of the opposition bowling.

The only issue that could prevent Laxman from being replaced by one of the two youngsters is Ganguly's bullheadedness and consistent preference for 6 batsman, a keeper and 4 bowlers. Some risk has to be taken if one of these two are to get a game, else their trip across the border might have all been for nothing. Moving outside the comfort zone - even if against Bangladesh - would be a brave decision for the skipper, but if one of the new blood can perform and show their ability at the international stage, the gamble could pay off in a big way.