The lazily elegant art of the soft dismissal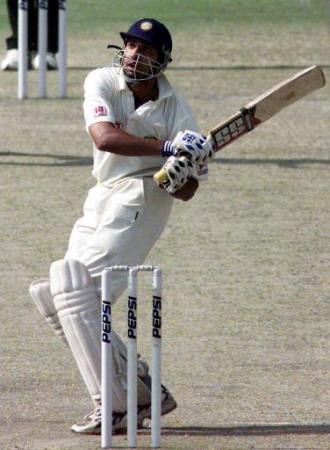 By Thaleel Bhai
December 18 2004
7 hundreds in 98 innings is no indication of talent. After all, didn't Steve Waugh proclaim that it would be a "miracle" to get VVS Laxman out; didn't Laxman's "lazy elegance" on both sides of the wicket have Australian commentators and journalists struggling to describe him... When VVS Laxman is in form and gets going, a number of his critics will shut up and just watch his glorious strokeplay. In Sydney at the beginning of this year, he stroked Brett Lee all over the SCG with an array of dazzling shots on the way to a glorious hundred - prior to that, he'd come up with a number of gems at Adelaide, Kolkata, and other venues where he'd piled up some massive scores in thrilling fashions.

Yet, such instances are far and few when Laxman is concerned - and the luster of such innings is often being overshadowed by his ridiculous inconsistency. This is a player who has the sort of shots in his book that only a handful of batsmen throughout history have had - the ability to drive leg spinners bowling outside his legs through mid off, or to whip good length balls from outside off through midwicket and mid on. Throw in a little application with all the talent, and no doubt, you'd have a true world-beater in your ranks.

The problem is that application, or even a little bit of common sense most of the time. All the comments about "lazy elegance" are rarely ever questioned - mainly because few fans would question the man's elegance with a piece of willow in hand, or his apparent laziness. It's become more and more frequent to see - rather than putting a price tag on his wicket, Laxman ends up starting with a handful of glorious drives and flicks, then plays one loose shot too many - either the brainless waft outside off, or the overambitious drive or a gentle lobbed push back to a bowler, and after plenty of promising starts, ends up in the pavilion.

It's no surprise then that for such a talented player, who has the ability to rattle up some massive scores - four of those seven hundreds were well over 150, with one being his famous '281' rescue knock - his batting average right now is just a shade over 43, begging the question of what might have been. After all, with the single minded grit and determination of a Rahul Dravid or Steve Waugh, or even a portion of the application players like Justin Langer, Marvan Atapattu and Shiv Chanderpaul show, Laxman could have acheived so much more.

A number of Laxman's dismissals in recent times tell the whole story - a shambolic run out at Multan, a loose waft at Umar Gul at Lahore, a wild flash to gully followed by a senseless hook at Nagpur against Australia, a needless drive against South Africa at Kanpur, and finally the caught and bowled against Bangladesh earlier today. It seems to be the mentality of most quality players to cash in whenever possible, as there are number of times when batsmen are beaten by bowling that's just too good, or shoddy umpiring - yet, on occasions when Laxman's gotten a start and been looking good for a big score, he's thrown his wicket away in a manner lacking any semblance of hard work or application.

It's no wonder that his career stats make for some dismal reading in comparison to a number of his peers, or the runs he could easily have gotten with his talent. 7 hundreds and 20 fifties out of 60-odd games, with a number of pointless, self inflicted dismissals have done his run aggregate and form no good - and perhaps ten years from now, when statisticians look back upon his career, there won't be much worth going over.

One famous innings at Kolkata and a couple of other knocks here and there could make him seem like a one-hit-wonder, when he had the strokemaking ability to be so much more - perhaps the ultimate loss for Laxman, a player who could have easily ended up in the pantheon of Indian greats like Tendulkar and Dravid, but probably will just be remembered as a fairly decent player.