The Bangladesh tests: A waste of time?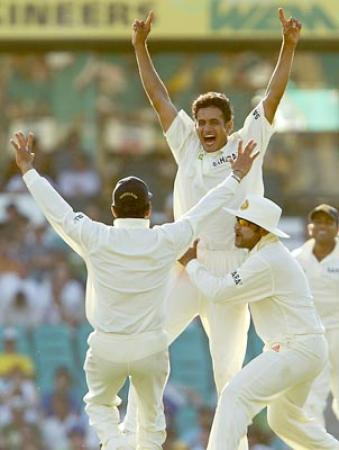 Man of the series
By Thaleel Bhai
December 22 2004
The two tests against Bangladesh were almost called off at the 11th hour due to a few sudden threats - and some will wish enough had been behind the threats to end the series prematurely. After all, few expected anything less than a 2-0 series whitewash, and both being comprehensive wins for India. Yet, despite the pessimism that this series might only serve to bump up batsmen's batting averages and improve bowlers' wicket tallies, there were a number of positives within the series to savour. Taking a look at a few...

Irfan Pathan:
Prior to the series, Pathan's statistics were such that few would have thought him to be one of the brightest young prospects in world cricket, and Wisden's Upcoming Cricketer of the Year. Superb spells against Australia that had held the likes of Matthew Hayden on a tight leash went unrewarded, and despite some consistent probing swing bowling, Pathan rarely ended games with large bagfuls of wickets. This series has finally gotten him a good deal closer to the average his bowling ability would demand, as Bangladesh had no answer to Pathan's sharply inswinging deliveries and had him leaving with the Man of the Series award under his belt.

What was particularly noticeable was Pathan's ability to get it right to the new batsmen - a number of times he was on a hattrick, as seemingly more often than not, a new batsman would be greeting with a delivery just around off stump to edge behind, or an inswinging one on middle that would rap the pads and trap him plumb. Hopefully the youngster from Baroda can grow from the confidence and delight Indian fans with more of these incisive spells.

Mohammad Ashraful:
Saurav Ganguly claimed that he'd played the innings of the series, Ravi Shastri was moved to the point of comparing him to a young Aravinda de Silva - indeed, Ashraful's defiance in the first innings at Chittagong was the sort of shot in the arm Bangladesh needed this series. Ashraful, since scoring a hundred on debut, has proved he has plenty of potential - but most of it remained untapped. However, the youngster went a long way in fulfilling it when he played himself in with resolute defiance at first, then opened up with his full range of shots. Harbhajan Singh was repeatedly met a few feet out of Ashraful's crease while Zaheer and Pathan were treated with the dissecond rate galli medium pacers, as Ashraful raced to a superb unbeaten 158.

Bangladesh cricket has plenty of positive signs for its future with talented youth like him in the lineup - and even though Ashraful has been around in international cricket for a few years, he's just 20. If he could refine his game in the next few years, with plenty more ahead of him, Bangladesh might have their first major star.

Mashrafe Mortaza:
Few bowlers have claimed Rahul Dravid's scalp for a duck, especially by clean bowling him. Mashrafe Mortaza now belongs to an elite class, and might be poised to add plenty more treasured scalps to his wicket tally in the future. Despite coming back from a long injury layoff, Mortaza bowled as if he'd never been away - in spite of a lack of pace, Mortaza showed immaculate control, with an ability to move the ball around in the air and off the pitch, and to trouble the top batsmen. Five wickets in the series did him no justice, but if he keeps bowling like this, his figures will soon start to match his ability.

Gautam Gambhir:
Gambhir's had a mixed bag so far in his career - a dismal start against Glenn McGrath and Jason Gillespie, a sparkling 96 at Kanpur, and not much else. But after a disastrous run out after a bad call from Sachin Tendulkar when Gambhir had been looking good, the Delhi youngster cashed in at Chittagong to score a fine hundred. Plenty of aggressive strokes and a dominating partnership along with Rahul Dravid ensured that Gambhir's place in the side will be safe for some time - and with the pressures of a maiden test century now gone, Gambhir can hopefully start playing his natural game more often and use the confidence he's gained from this series to raise his game in the future.

Sachin Tendulkar:
A century against Bangladesh might not seem much to brag about, but Tendulkar filled a few holes in his resumé with his unbeaten 247 - joining a select club of players to have scored hundreds against every test playing nation. More important though was the manner in which he dominated the bowling at Dhaka and slammed his way to his highest test score yet, perhaps a signal that the dismal run he had for some time now in whites might be behind him. Indian fans can only hope now that with the wait for the record-tying 34th century having ended and the pressure there relieved, and with his first major dominant innings for a while, Tendulkar can bring back some more sights of his old self in the future.