Ranji in Review: The performers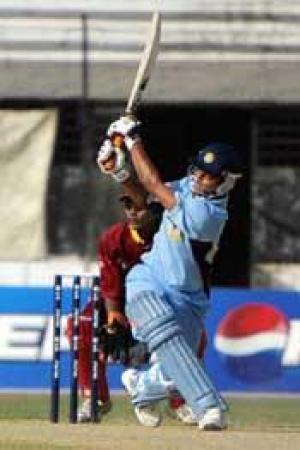 By Thaleel Bhai
March 1 2005
With the preliminary league of the Ranji Trophy having ended, the berths for the semi finals are full and it'll be a while now before the trophy itself is decided. In the meanwhile, a look at some of the players who've stood out and failed this season in the Elite group...
Knocking on the selectors' door:
Wasim Jaffer (Mumbai):
After two more seasons where he's been ignored by the selectors following a few poor performances in whites for India, Jaffer again is making a case for himself in the way he knows best - by the sheer weight of runs scored. The frequency of throwing away good starts seems to be diminishing, as shown by his three hundreds and one fifty in the league so far, and with 590 runs at an average of 59 so far this season, Jaffer's been one of the main cogs in the successful Mumbai lineup. If he can keep up his form and perhaps lead Mumbai to their third consecutive Ranji title with a few more big scores, that next India cap might not be far off.
Gagandeep Singh (Punjab):
A burst of wickets in the first three matches saw Gagandeep called up for the Bangladesh series, and despite not being given a game, Gagandeep at least has made a mark now on the selection radar. In Mohali he's been lethal as Punjab's strike bowler, and one of the main reasons as to why they've had so much success this league, with 28 wickets at an average of just over 16, and a strike rate of only 36.7 balls per wicket.
Yalaka Venugopal Rao (Andhra Pradesh):
A superb all-round season by the Andhra middle order batsman will have put a hint of pressure on some of the big names in the middle order. Two tons and two fifties in six games saw Rao eventually rack up 585 runs at an average of 58.5 - but what might attract the selectors even more is the possible all-round option he might bring to the side. Venugopal Rao took on bowling duties well for AP, taking on the fourth-heaviest workload for the side with his off breaks, which brought him 20 wickets at just 23.55 each - fantastic figures from someone who might soon be given his maiden test cap with his current form.
Ajay Jadeja (Delhi):
Taking on the Delhi captaincy in Sehwag's absence seems to have done wonders for Jaddu. With a number of captain's innings, he's taken over the runscoring duties in the absence of a number of players called up to the national team at some points, and ended his season with an average of 75.33, and a phenomenal aggregate of 452 runs from the middle order, with two hundreds. Throw in 9 useful wickets, and his inspiring leadership for Delhi, and Jadeja's return has been a welcome boon for the state. With the reputation forced on him during the match fixing scandal and the way in which grudges are held in the politicized selection process, it's unlikely that Jaddu's efforts will help him get back to the national team - but if that is the case, Delhi fans will be happy knowing their state will have the luxury of having one of their top performers and captain leading from the front at all times in the near future.
Ramesh Powar (Mumbai):
With bat or ball, Powar seems to be consistently making an impact for Mumbai. Two seasons ago, when the batting lineup seemed to struggle at various points, Powar consistently fired with the bat from down the order to help Mumbai to yet another Ranji title. This time, with Bahutule, Agarkar, Munaf Patel and Salvi unable to play due to either callups or injury, Powar led from the front with the ball. 31 wickets, an average of 19.80 per wicket, and a strike rate of 46.4 say a lot about how he's again bolstered the Mumbai team with the ball.
Young guns standing out:
Shikhar Dhawan (Delhi):
After a stunning success in the Under 19 World Cup, plenty of eyes were on the youngster who began his maiden Ranji season - and did not disappoint. Dhawan piled on the runs (461 of them) at a respectable average of 41.6, slamming a ton and two fifties - and has shown plenty of promise in producing the goods a number of times for a batting lineup that at various points was missing the likes of Akash Chopra, Virender Sehwag and Gautam Gambhir.
Suresh Raina (Uttar Pradesh):
Dhawan's teammate during the juniors' World Cup also showed a fair deal of promise - and also impressed with the bat this season. Despite failing to reach three figures even once (albeit with four fifties), Raina scored a total of 482 runs at 43.81 for his state, topping the run scoring charts by a fair distance. More runs - and a few more big scores and less wasted starts - can only improve his chances of moving to the next level in cricket.
Vinit Indulkar (Mumbai):
With Vinod Kambli's absence depleting the Mumbai batting, Indulkar put his hand up and delivered the runs to make sure one of the most senior players wasn't missed. Indulkar came third only after Muzumdar and Jaffer in the Mumbai run aggregates, and piled on a total of 492 runs with a hundred and three fifties - and at just 20, there's a bright future for the young Mumbai stylist. After just over 10 matches, Indulkar's average is an impressive 50.5 - and if that number doesn't change too much, it might not be long before the selectors take notice.
Yusuf Khan Pathan (Baroda):
After some of the comments from his brother Irfan in the national team, a few eyes were on Yusuf Pathan to see if he could deliver the goods for Baroda - and the youngster impressed many in his debut season. A few hard hitting knocks down the order saw him bolster Baroda's often-brittle batting, and while his leg spin may not have run through sides, Pathan showed a good deal of promise with his 17 wickets. A bowling average of 28, economy rate of 2.40, and a batting average of over 35 certainly bodes well for Baroda.
Niraj Patel (Gujarat):
After some indifferent seasons in the past, Patel stepped up a gear this year as he finished the season at the top of the run aggregate table for the Elite group. 2 hundreds, 4 fifties and 735 runs saw him suddenly turn Gujarat from what usually was a 'lower end of the table' team into a viable threat for one of the semi-final spots. Despite his efforts though, Gujarat failed to make the next stage - but with Niraj Patel in their lineup and after his form of this season, they will be viewed as a bigger threat by the other teams when the next season begins.
The failures:
Ambati Rayudu (Hyderabad):
Rayudu was once touted as the next big hope for Indian batting, but perhaps due to bowlers finding out more about his weaknesses against the short ball, or due to the expectations on him to perform, he had a miserable season. Rayudu failed to cross 50 even once in his 6 matches, and ended the season with a paltry aggregate of 143 runs at just 13 per innings - definitely not what was expected from someone who was at one point expected to be one of the next in line for an India call up.
Dinesh Mongia (Punjab):
After a productive season for Lancashire, there were hopes that Mongia could return to India and show some improvements in his game - with enough results to perhaps earn a recall. But even though he earned a brief call up for the ODIs against Bangladesh, Mongia seems to have left his batting form in England. 6 innings yielded a 131 runs at an average of 21.83 - and 108 of those came in a single innings. Aside from that one ton, he's done very little to help his chances of returning to the national squad.
Sarandeep Singh (Delhi):
After taking ten wickets in three tests with Harbhajan Singh and Anil Kumble both injured, Sarandeep Singh's bowling form has seemed to only go downhill following his return to the domestic squad. After a fairly unimpressive haul of 15 wickets in the 2003-04 season, Sarandeep's form has slumped even more, as he only managed to buy 11 expensive wickets (at 56.90 each) this season for Delhi. The economy rate of 3.35 hasn't done much good either, and it's been a steady decline for someone who once seemed like a very plausible candidate to join the Indian spinning ranks in the long term.
Sadagoppan Ramesh (Tamil Nadu):
Any hopes Ramesh had of a return to the national side might have been killed off for good with this season. 5 innings only brought him 55 runs at a strike rate of just over 36, and an average of 11, and things went from bad to worse as he ended up facing an axe from the Tamil Nadu starting XI and suffering from injury. With Gambhir looking in good form alongside Sehwag, and the likes of Shikhar Dhawan, Wasim Jaffer and Dheeraj Jadhav making rapid strides, Ramesh might as well give up on any remaining hope of playing again for India.