Master Of The Fourth - Part 4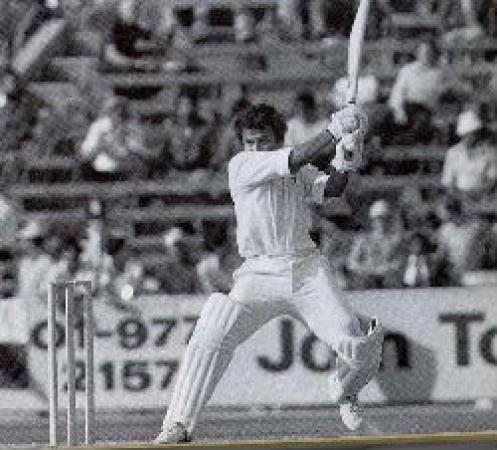 By Gaurang
February 12 2005
Sunil Gavaskar, that master of impeccable timing with bat, displayed the same sense of timing when he finally decided to call it a day. Prologue
---
Just before Imran Khan's Pakistan toured India in 1986, Sunny had announced that this series would be his final bow in Test cricket.
He already held the dual records of highest runs scored in Tests and maximum Test centuries. He was so close to the never-breached 10,000-Test run landmark that it was certain he would pass it as well.
Gavaskar's exit from the game, just like his entrance, was thus destined to be memorable. He was going out at the top of his game, when people would ask why, instead of why not?
Despite all that, few could have imagined that his last turn at bat was to be a final fourth-innings masterpiece from the undisputed "Master of the Fourth".
By the time the Pakistanis reached Bangalore for the fifth and final Test of the series, it had deteriorated into an attritional stalemate with all previous matches ending in draws. The slow low turners that the BCCI had produced meant that the scoring rate plumbed abysmal depths.
In the 4th Test at Ahmedabad, Pakistan scored a measly 130 runs in a full day's play on the opening day of the match, sorely trying the patience and equanimity of the long-suffering Gujarati public. However they eventually celebrated Gavaskar's achievement of 10,000 Test runs, a new record in cricket, even as the match petered out into yet another desultory draw. With two attacking cricketers like Imran Khan and Kapil Dev as captains, this lack of initiative was puzzling to say the least.
It had all came down to that one match in Bangalore, with the public screaming for a result. India prepared a dusty turner, knowing full well that Abdul Qadir -- the main Pakistani spin threat -- had been frustrated and was suffering a loss of confidence and form, which saw him take only four wickets in three matches at a cost of over 60 runs each. But Imran had the luxury of dropping Qadir for this match despite the spin-friendly wicket because he had sent for Iqbal Qasim, the orthodox slow left armer, mid-way through the tour. Such was Imran's influence with the PCB at that stage, that they readily sent Qasim over.
The Match
---
Imran won the toss in this crucial Test, and naturally elected to bat. Within a few hours, he was having second thoughts about that decision. After just about a dozen overs, the Indian spinners were bowling in tandem at both ends. Kapil Dev had already provided them the vital breakthrough, clean bowling opener Rizwan-uz-Zaman for a duck. Then it was all Maninder Singh, as the orthodox left-arm spinner tore through the middle and lower order of Pakistan to finish with an astonishing 7 for 27 in 18 overs, and the Pakistanis had been skittled for 116. By the end of day's play, India were 68 for 2 and clearly in the driver's seat.
The next morning, excellent bowling by workmanlike off-spinner Tauseef Ahmed scalped Gavaskar, Srikkanth, Mohinder Amarnath and Vengsarkar, but India had overhauled the Pakistani total with the loss of only 4 wickets. At this point, the Indians became over-confident and went for the big shots. On such a wicket, that was suicidal and the last six batsmen were bundled out for an additional 29 runs. Iqbal Qasim and Tauseef Ahmed shared all ten wickets between them, taking five apiece.
India had squandered a huge opportunity to put the match out of Pakistan's reach, and instead were now faced with a counter attack. In his autobiography, Imran later wrote that he told his players before the start of the second innings not to worry about winning or losing, but only to concentrate on not giving up their wickets cheaply, and fight for every run. The Pakistani team evidently listened to their captain, for six of their top seven batsmen with the exception of the unfortunate Rizwan-uz-Zaman, whose moment would come later, scored in double figures, with Ramiz Raja top scoring with 47. Even tail-ender Iqbal Qasim chipped in with a handy 26 after being promoted up the order as a left-handed batsman to counter the left-arm spin of Maninder and Ravi Shastri. At the end of the second day, Pakistan were 155 for 5 and already over 120 runs ahead.
The next day a desperate Kapil Dev constantly rotated his three spinners Maninder, Shastri and Shivlal Yadav in search of quick breakthroughs, but instead the bowlers took an over or two at each change to settle down, and the Pakistani batsmen took full advantage of this opportunity. In particular the fiesty Pakistani keeper, Salim Yousef, cobbled together a 9th wicket stand of 51 runs with Tauseef Ahmed to take Pakistan from 198-8 to 249-9. Salim Jaffer, the left arm swing bowler and last man, lasted 4 balls and the innings ended at the same score.
India now needed 221 runs to win with nearly two and a half days to do it, while Pakistan were looking for 10 wickets in the same amount of time. Mercifully, a draw looked impossible this time: either India or Pakistan would win.
It really boiled down to which team could hold its nerve better. By now, the pitch had gone from nasty to vicious. The ball was bouncing and turning so much that playing on it was like walking through a minefield blindfolded. Imran sensed that the Indians were spooked by the pitch and opened the bowling with Wasim Akram and slow left-arm spinner Iqbal Qasim. However, the early breakthroughs were provided by young Akram, who removed Srikkanth and Mohinder Amarnath in quick succession with the score at 15, bowling his quick left-arm leg-cutters.
It was left to the two Bombay veterans, Gavaskar and Vengsarkar, to repair the damage. They played with brilliant technique, watching ball onto bat, playing as late as possible, with soft hands. The score moved to 64 before Tauseef provided Pakistan with a crucial wicket, bowling Vengsarkar for 19. Kiran More was sent as nightwatchman but was adjudged LBW to Tauseef for 3, and at the end of play Gavaskar and Mohammad Azharuddin were holding fort with the scoreboard reading a perilous 99-4.
India needed 122 more runs with 6 wickets in hand at the start of the 4th day's play. Imran has acknowledged in his autobiography that the only obstacle between Pakistan and victory, in his mind, was Sunil Gavaskar. As the Indian innings sank slowly, like a capsized ship with water seeping in, Sunny kept hope afloat. Azharuddin fell with score at 123, Shastri at 155, Kapil himself at 161, but even with only tailenders Roger Binny, Shivlal Yadav, and Maninder Singh left, Indian fans were still looking for an unlikely win with Gavaskar standing strong.
Sadly, it was not to be. Like Bradman, whose last innings -- a duck -- prevented him from finishing with a 3-figure career average and kept him in the realms of the mortals, Gavaskar too in his last innings perished just 4 runs away from what could have been a sensational 35th Test hundred but more importantly, a sensational victory; the perfect way to end a glittering career.
Local boy Roger Binny hit a few lusty blows before being last out for 204 and India ended 16 runs short of the win. Imran Khan had led Pakistan to its first series win in India, and returned home a hero. A crowd of over 200,000 greeted the team at Lahore, stretching from the airport to the heart of the city. It took India seventeen more years for Sourav Ganguly and his men to return the favor, by winning India's first series in Pakistan. Surprisingly, or perhaps because the win was expected, Ganguly's team received no such welcome when they returned.
Epilogue
---
A poignant aspect of Gavaskar's innings was, not for the first time, the role of an Indian umpire. Umpire Ramaswamy had no hesitation in declaring him out caught by Rizwan-uz-Zaman, whose only contribution to the match until that point was one solitary run. Sujit Mukherjee in his book
Matched Winners
describes what happened that day.
Mukherjee writes, "...with his [Gavaskar's] own score at 96, he played back defensively to a ball from Iqbal Qasim. It turned and stood up more than the batsman had expected, touched something in its passage, and was caught exultingly at first slip by Rizwan-uz-Zaman. The height of contact suggested that the ball had brushed Gavaskar's arm-protector or upper shirt sleeve. Umpire Ramaswamy thought otherwise and Gavaskar left the crease without a moment's hesitation as soon as he saw the verdict. Tragic as the episode was, it also had a dimension of grandeur that could only have suited a career as profoundly great as that of Sunil Gavaskar."
Many years later, in the foreword to Umpire M.V. Gothoskar's book, Gavaskar wrote, in citing a superb decision by the gargantuan umpire Swaroop Kishan, "If only Mr. Swaroop Kishan had been the umpire in my last Test innings, perhaps the story of that Test would have been different."
This is the only public reaction he has expressed to that unfortunate decision: in a book by an Indian umpire many years later. Yet another brilliant sense of occasion and timing by the "Master of the Fourth."