Down Memory Lane: Carnage at Centurion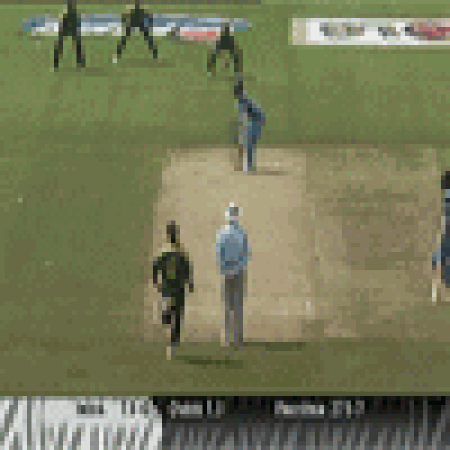 A master cuts loose
By Gambit
February 13 2005
A clash between two bitter rivals in the 2003 World Cup was marked by an innings of the highest class from Sachin Tendulkar, one of the finest batsmen of his generation, who saved something truly special for the big stage. Prologue

"I am targeting the entire Indian team but Sachin Tendulkar is my main target. I love to bowl to the bigger names and Tendulkar is one of them. I will also go for (Virender) Sehwag." Shoaib Akhtar said on February 27th, 2003, adding that bowling to the Indians is easier because they struggle against genuine pace.

Those were arguably some of the most fateful words uttered in the India-Pakistan rivalry, particularly in World Cups where Pakistan had a 0-3 record against India - a poor record which they would be looking to improve in a few days' time.

For the first time ever, India and Pakistan were placed in the same pool for the 2003 world cup and their clash was scheduled on the 1st of March 2003 at the Supersport Park, Centurion. The build up to this game was immense. India and Pakistan had not played each other since the summer of 2000 due to bilateral cricket games being blocked by the government, and this game was being eagerly anticipated by fans on both sides.

The anticipation reached its crescendo when after crushing defeats to Australia and England, it became apparent that this game was pretty much a do or die affair for Pakistan, net run rates and relying on other results notwithstanding. But then again, fans of both nations always regard such clashes as do or die affairs.

In each of the previous World Cup games between these two sides, the side which had won the toss had elected to bat and had won the game. That side was India. On the morning of 1st March, Indian captain Sourav Ganguly again displayed his legendary luck with coins as he lost yet another toss and Pakistani captain Waqar Younis elected to bat first on a Centurion track which had something in it for the bowlers but had more to offer for the batsmen.

The Match:

Pakistan got off to a solid thanks to the opening pair of Indiaís old nemesis Saeed Anwar and Taufeeq Umar. Anwar was not quite his fluent self but still made merry against the Indians yet again. Zaheer Khan got the first breakthrough for India by castling Umar, before Nehra followed up with the wicket of Abdul Razzaq. Inzamam ul Haq, after a fallow run in the tournament so far, strode out to the pitch in hopes of getting some runs against his name - but 3 balls later he was heading towards the pavilion after another self inflicted run out. Youhana and Anwar then combined to put together a stand of 73 which was ended by Srinath. Anwar eventually brought up his 20th ODI ton in the 39th over only to get out the next over to a superb yorker from Nehra. With the score on 195/5 at that stage, it took some powerful late-over hitting from Rashid Latif (who copped a fearful blow on the helmet from Zaheer Khan during his innings) and Wasim Akram as Pakistan ended with a score of 273 that was highly competitive.

India had never chased over a total of 222 in a World Cup game, and if their record in the World Cup against their arch rivals were to remain intact, they would have to make history against a quite potent Pakistani attack comprising the celebrated duo of Wasim and Waqar, backed by the pace of Shoaib Akhtar. Opening Indiaís batting were the double barrelled shotgun pair of Tendulkar and Tendulkar Mark II, Virender Sehwag. The excitement was electric and the nervousness palpable among fans of both nations.

In a break from recent times, when Sehwag usually would take first strike, Tendulkar decided that he would face Akram's first over. The third ball was punched forcefully off the back foot through cover for 4 and the Indians were off. Another boundary from Sehwag ensured a very good over for India with nine runs coming off it. But the next over saw all eyes turned to the cricket - it was one of the most highly anticipated clashes of the tournament; the Rawalpindi Express against the Maestro from Mumbai. Shoaib Akhtar vs Tendulkar. Pace vs Grace. Hubris vs Humility.

The first ball was a wide and Akhtar was off line but not off speed. The second delivery was quietly defended and a single was taken off the third. Akhtar was working up a pace off 150 kmph and above. Tendulkar was seemingly quiet and Sehwag took a single off a wide ball to get Tendulkar on strike again.

The next ball (and Tendulkar's response) would feature on every World Cup highlight reel, as one of the definining moments of the tournament. Akhtar steamed in and sent a 151 kmph bullet short and wide outside off stump. Tendulkar lashed out and smashed it over third man for a huge six. Akhtar was shocked, and the Pakistanis in the crowd were stunned... the Rawalpindi express steamed in again and hurled an even faster 152 kmph delivery, which Tendulkar whipped away with a swift clip of the wrists, sending it racing over the square leg boundary for four more.

As the Indians in the crowd danced and celebrated, one wondered how Akhtar would respond to this destruction? The Pakistani paceman ran in and bowled his fastest delivery of the over, timed at 154 kmph. What looked to be a defensive push met the exocet and the ball went screaming to the long on boundary. Akhtarís pre-match talk had backfired, not with a whimper but a massive bang. as the Little Master had come out on top. The much awaited clash between the two had resulted in Akhtarís humiliation: 18 runs had been smashed off the over and India had raced to 27 without loss in just 2 overs. Further salt was rubbed into the wounds as after a tight over from Wasim, an irate Waqar Younis took the ball from Shoaib and decided to bowl himself.

The response was almost a carbon copy of the earlier carnage - a similar short and wide delivery was smashed by Virender Sehwag over the third man fence for a bigger six. Tendulkar Mark II was doing what he did best; imitating his idol stroke for stroke, 6 for 6. The only one losing in this competition between the two was Pakistan. Tendulkar finished the over by clipping Waqar for 4 and 11 runs came off the over. India were galloping away with 39 off the first 4 overs. Akramís next over was treated with disdain as Sehwag smashed two powerful boundaries as India brought up their fifty in only 5 overs.

Waqar's bowling change though paid off in his next over. A slightly slower ball and some shrewd field placing saw Sehwag smash one straight to short cover as Ganguly walked out, only to be greeted by another slip in the cordon. Rather than a short ball or one outside off, Ganguly was sucker-punched with a full, swinging delivery that caught him napping - and more importantly for Pakistan, caught him plumb LBW. Kaif safely negotiated the hat trick ball safely but Waqar had left a billion Indians feeling jittery. All but one Indian was unmoved, and this one mattered the most that afternoon. The next over was Akram decided the fate of the match. Tendulkar drove a ball uppishly but was dropped by Razzaq who was not at the edge of the circle where his captain had placed him. Akram was livid, Razzaq shocked and India relieved.

Tendulkar continued the carnage, slapping Waqar for two consecutive 4ís the next over and then proceeded to hit a gorgeous back foot cover drive off Akram in the next over. He brought up his 50 off 37 balls and then hit Waqar for another cover drive to finish the 10th over which fetched 13 runs over for India and India were 88/2. Captain Waqar decided to bring back Akhtar in the hope of picking up a wicket but Kaif and Tendulkar had other plans. Kaif cover drove Akhtar for a delectable boundary and Tendulkar continued savaging Akhtar by slapping him for another 4, taking nine runs off this over to add to the 18 off the previous one.

The Bombay bomber had exploded and these three were the ones worst hit. Waqar brought on Razzaq and Afridi but the misery for Pakistan continued. Kaif gave admirable support to Tendulkar and was eventually dismissed for a sensible 35, dragging one back onto his stumps. Yet, the carnage continued at the other end. Despite cramps and muscle strains in his legs that saw him limping, the Little Master continued to pepper the boundary boards with some ferocious hitting, a combination of raw aggression, classy strokeplay and sheer bloodyminded determination to win. Tendulkar was visibly struggling to stand at times, let alone run between the wickets, yet continued in a heroic display, before finally being forced to call for a runner when collapsing after a quick single with his score on 98.

Just after he'd called for the runner, Pakistan's torment ended. Shoaib Akhtar, returning for another spell, sent down a fiery bouncer that reared up from back of a length, and was fended to gully as Younis Khan took a fine catch. The slaughter had ended - Tendulkar was out for 98 off 75, and Centurion rose to applaud the little man as he limped off the field, having played a true champion's innings on the biggest stage of all. The magnitude of his slaughter had left everyone spellbound and had turned what could have been a difficult chase for India to a facile one which Yuvraj and Dravid duly finished with a brisk 99 run partnership that, after the carnage witnessed earlier, seemed almost anti-climatic. Yuvraj in particular was superb against the pacers and made a well deserved half century at almost a run a ball while Dravid held the other end up and ensured India did not suffer any more hiccups. Finally, in the 46th over, the Wall finally pulled Waqar Younis through midwicket for a four to end the game as the Indian contingent in the crowd, and millions other fans around the world celebrated. India had won convincingly, keeping their flawless World Cup record against Pakistan intact, and were on their way to the Super Six.

Prologue:

Things weren't as rosy for Pakistan though: their final game against Zimbabwe was washed out and the players returned home where they felt the repercussions of the losses from the selectors and fans. Waqar and Akram never bowled again for Pakistan after this match, as following a generally shambolic performance in the tournament, heads rolled with several big changes being made.

For Indian fans though, it was part of a golden, albeit brief, period in their one day history. After a disastrous start to the tournament, with a scratchy performance against Holland and a dismal collapse against Australia, this was the ideal tonic to show the Indian team had truly turned things around and were peaking. The momentum continued and the Indian juggernaut burst through the Super Six stage and the semi-final, thrashing Sri Lanka, Kenya and New Zealand convincingly, before finally being beaten by Australia in the finals.

There was only one choice for the Man of the Match after the blitzkrieg from the Master Blaster - and as Tendulkar accepted the award, he reiterated India's 4-0 record in the World Cup against their rivals. Pakistan would need to keep waiting another four years if they were to try and set it right. The golden run of form continued though for Tendulkar - while he didn't quite reach the same destructive levels later, he followed with a couple more sparkling knocks against Sri Lanka and then Kenya in the semi-final. Tendulkar ended the tournament by smashing his own record for the runs scored in a World Cup by what seemed like a Himalayan mile, scoring 673 runs in the tournament - over 200 runs clear of the next man on the list, and was the only outright contender for the Man of the Tournament award a few weeks later, with his masterful batting having added a new dimension to the biggest one-day contest in cricket today.