Jaggu Jujitsu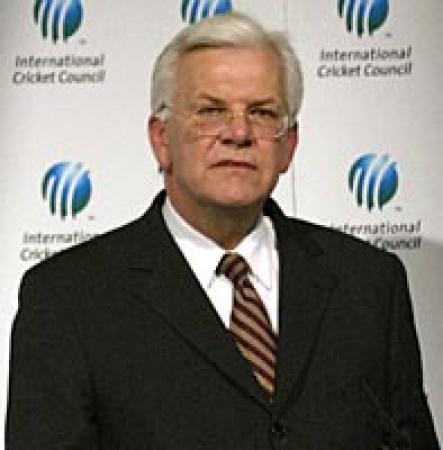 Part of the problem
By Gaurang
February 19 2005
Are Indian cricket fans in their own version of the Bill Murray movie "Ground Hog Day", where the protagonist goes through the same day again and again? Yet again, they're going through the pangs of "will they or wonít they" get to see a much anticipated series due to a TV rights fight. But what is hidden from view, and what most media critics donít seem to understand or if they do understand, are loathe to highlight, is that the constant tardiness, the last minute deals, the just-in-time TV coverage (no this is NOT a good management principle, at least in this context) is a symptom of a great struggle that is going on behind the scenes.

The parties in this battle are the BCCI, the ICC, and several TV companies, from the global behemoth, ESPN Star Sports which is owned by Disney and Rupert Murdoch, to Zee Telefilms Ltd., the tiny by global standards, but feisty, Indian media company owned by Subhash Chandra, not to mention the staid old public TV channel in India, Prasar Bharti/Doordarshan.

At the most basic level the contest is about control of TV broadcast rights for matches played in India. As has been acknowledged by the ICC on many occasions, matches involving India provide approximately 70-80% of all revenue the ICC earns. This is a figure that dwarfs every other sources of revenue in the game. Most of this money comes not from gate collections, but from TV rights revenue. Companies eager to reach an audience of over quarter of a billion who by recent estimates have total disposable income equivalent in purchasing power parity to something like $ 500 to 600 Billion, are willing to pay huge sums to get their message across via TV screens. This is the engine that is driving the present feeding frenzy which has now found its way into the Bombay High Court.

Currently the ICC which has rights to all ICC sponsored events, such as World Cups, mini-world cups, World XI v. Australia matches, gets a significant chunk of the revenue, when India or Indian players participate in their events. The BCCI gets a very small share of the profits of ICC events. For example the BCCI received $ 9 million for the Indian teamís participation in the 2003 World Cup, that too after months of delay by the ICC on the flimsiest of legal theories, while the ICC collected $ 220 million from the sponsors.

The last time BCCI sold rights to cricket played in India, it received the then astronomical amount of $ 54 million for 6 years. In August 2004 before the start of the current season, in a closed bid contest, overseen by the global accounting firm PricewaterhouseCoopers International, Zee TV won with the highest bid of approximately $ 250 million.

The losing bidders, ESPN Star Sports then said they were willing to up the ante. BCCI ever the shrewd businessmen, decided to ask Zee TV to match that. Zee TV immediately matched the offer and even put down $ 20 million in good faith down payment towards their final bid of $ 308 million, which is over three times Zee TVís current annual revenues. Zee TVís Subhash Chandra was taking a huge gamble and trying to catapult his company into the big leagues of global media companies with this deal. However ESPN Star Sports indicated that they would file a legal action against BCCI if it awarded the rights to Zee TV.

ESPN's reasoning was that Zee TV failed to meet one of the requirements of a qualified bidder, i.e. at least two years experience broadcasting live matches. The BCCI faced with two hostile bidders fighting over who should be allowed to pay it MORE money, scuttled the entire bidding process, and proposed fresh bids.

This naturally enraged Zee TV who felt that BCCI had gone back on a promise. BCCI argued that since it returned the $ 20 million down payment, there was no binding contract. Zee TV then invoked sections of the law that were favorable to it, but which required that the BCCI be viewed as an arm of the Indian government and filed a separate petition to the Supreme Court. The Supreme Court recently quashed that line of reasoning by declaring that the BCCI was NOT an arm of the Indian government.

Meanwhile the row over who should be given the RIGHT to pay BCCI more to broadcast cricket played in India continues in the Bombay High Court. A decision is expected soon, but if it is anything like the courtís decision before the start of the Australian and South African tours, it will be nothing more than a temporary stop gap, which will allow the series to go on, and the BCCI to at least earn some money, to the tune of over $ 1 million per day of cricket broadcast, in the interim. This compares to the little over $ 2 million per day that Zee TV had offered. So while technically BCCI will be posting a "loss" it will actually be earning $ 1 million per day, an amount much higher than it got in the previous contract it had with Prasar Bharti.

Why are Zee TV and ESPN Star Sports so keen on paying such large sums of money for the TV rights to matches played in India? The answer has to do with more than their desire to support cricket. Zee TV which a decade ago was the leading independent TV channel in India has now been pushed to third place behind Star TV and Sony. The deal for the right to broadcast Indian cricket was Zee TVís bid to become numero uno again. It had planned a pure sports channel supported by its Indian cricket broadcast rights. Those plans have been put on hold indefinitely.

Meanwhile news reports have indicated ARY Digital, a Dubai based private TV channel recently agreed to pay the PCB $ 43 million for all Pakistan based matches till 2008. Clearly other small private broadcasters are considered good enough to telecast live matches in other markets without ESPN challenging them in court.

ESPN are clearly concentrating on the BIG markets. The biggest money spinners in cricket remain India based matches and ICC multinational tournaments where India is one of the teams. ESPN has already sewn up deals for ICC tournaments including the 2007 World Cup, even though they bid 100 million dollars below what a combination of Zee TV and Trans World International (TWI) bid for those events. Now they are going after the Indian rights. They say monopolies are bad for consumers. Yet due to the lack of candor and transparency by BCCI, Indian fans, a frustrated lot, are willing to risk a monopoly just as long as they donít have to put up with the predictable uncertainty of who will broadcast the matches. In the end the fans always get to see the matches, and last time they even got to see it FREE on Doordarshan, not on some private cable channel. If however either ESPN or Zee TV wins, that may become a thing of the past.

Meanwhile the BCCI itself makes money whether Zee TV or ESPN eventually wins the broadcast rights, and the more they wrangle, the more BCCI can potentially wring out of them. The danger however is that the cozy relationship between ESPNís Murdoch and ICCís Speed, both Australians, could result in Indian cricket, if not Indian cricket fans, getting the short end of the stick in the long run. The deal for selling the world cup rights to Murdoch, though he bid nearly $ 100 million less than Zee TV/TWI for that indicates this.

One can envisage a scenario where the ICC under the pretext of mismanagement by the BCCI decides it will either set up a puppet administration or more radically, take over administration of the game, at least at the international level, and for a limited time, in the name of Indian cricket fans. If this seems far fetched, one has to only look at the ICCís recent moves in the United States, for a blueprint of what is possible.

If however Jaggu can wrest a healthy chunk of change for Indian cricket while also preventing a monopoly in terms of who has the broadcast rights to cricket in India, he will also have pulled off a jujitsu act worthy of his reputation as a man who follows you through a revolving door and comes out ahead on the other side.

As for the loses incurred by BCCI as reported by cricinfo and other media outlets, they are of the kind that accountants donít allow you to take as deductions, against real income, i.e. they are considered purely speculative.